About a month ago, I spent 10 glorious days in The Big Apple. Two of my roommates from college live there and how do you pass up the opportunity to basically be a New Yorker without the ginormous hotel bill? You don't. It's not too often this southern girl gets to see two of my dearest friends, so it was a no-brainer when I planned this trip. And boy did I plan it…foodie style! I ate and ate and ate and came back with five extra pounds to show for it. Thank goodness for Central Park or that number would have been much higher!
This is the first post in a series of five (I wasn't kidding about the eating!) where I'll take you on my adventures from one of the best places in the world to eat. I took a Flavors of New York Food Tour from City Food Tours. It was the second day I was in town and I swear I brought the heat with me. It was scorching that day and I remember sweating, a lot. Thankfully it was all in the name of food and I'd do again in a heartbeat!
Let's get down to business and find out "So, how's it taste?"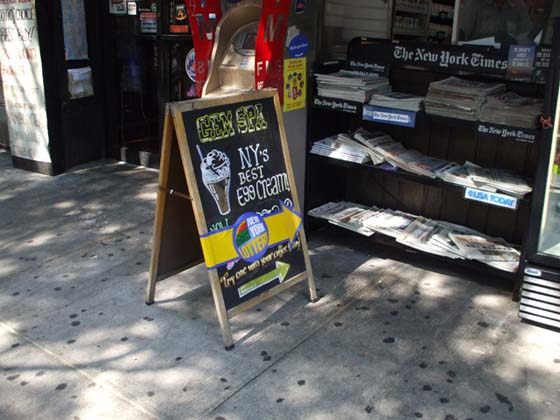 First stop was Gem Spa at 131 2nd Avenue. From the outside it didn't really look like the sort of place that should be on a food tour. But they boast it's the home of New York's best egg cream. I can't really say yay or nay to that, as this was my first taste of an egg cream, but I was pleasantly surprised at how much I liked it…make that loved it!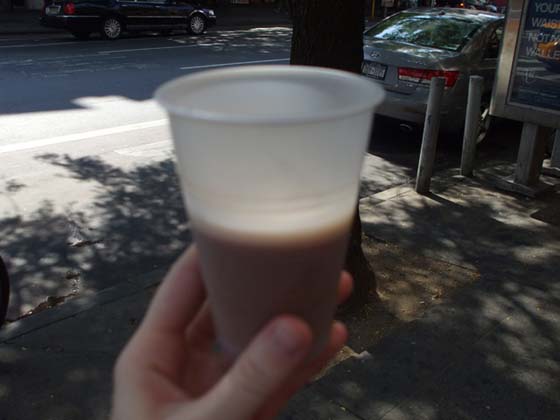 There's no egg or cream involved in this drink, which I was happy about. The name "egg cream" made this stop on the tour one I thought I wouldn't enjoy. It's milk, chocolate syrup (authentic egg creams are made with U-bet's), and seltzer. That's it. It tastes like a thinner, bubblier version of chocolate milk with a nice layer of froth on top. Read the theories on how it got the egg cream name on Wikipedia.
Second stop was the East Village Meat Market at 139 2nd Avenue.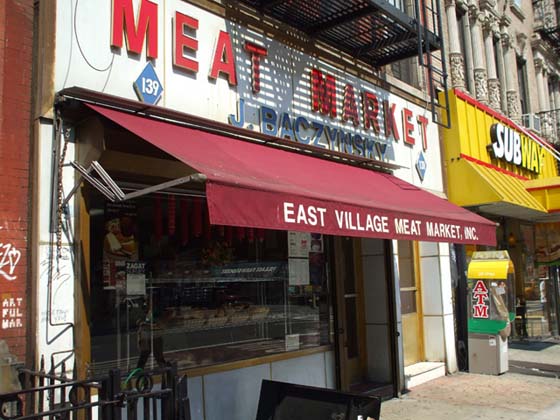 This Ukrainian and Polish market is owned by Julian Baczynsky and we sampled salami on bread with homemade mustard. A simple snack, but wow. The salami had so much flavor, add in the mustard and you get a spicy little kick. Doesn't come close to those pre-packaged meats I've been buying.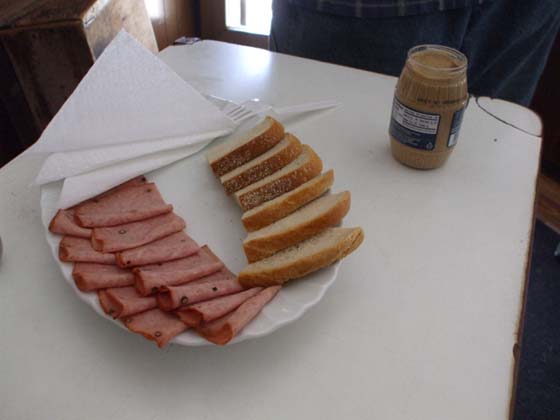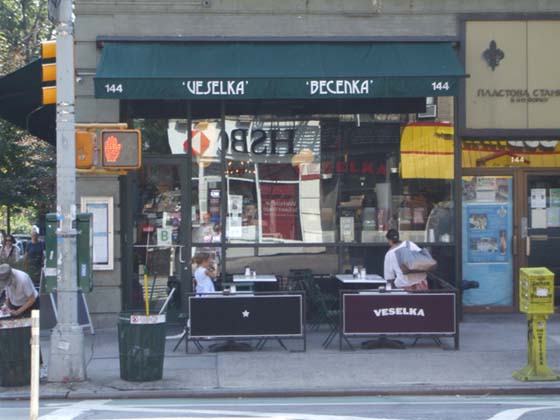 Across the street, we stopped into Veselka at 144 2nd Avenue. A cute, little Ukrainian soul food restaurant that's open 24 hours. Brunch is supposed to be one of the best in this part of town. On our visit, we sampled the borscht and pierogies.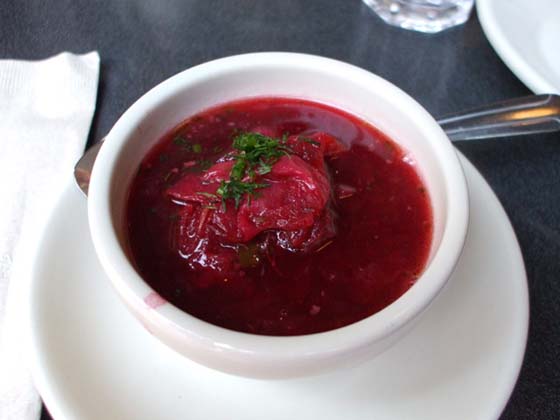 I'm not a fan of beets, so naturally I've steered clear of borscht. I didn't turn up my nose though, and dove right in. It was hard to resist that beautiful red color. I didn't hate the soup, but I didn't like it much either. I could still taste the beets of course, and to me they taste like dirt. I slurped down a few spoonfuls and then called it a day so I could make room for the pierogi.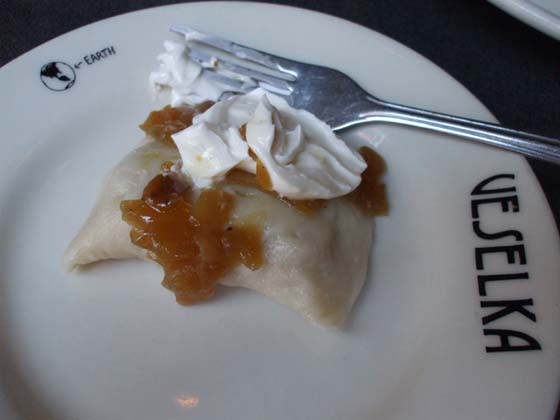 I love pierogies. Handmade, Ukrainian-style dumplings stuffed with potato and smothered in sauteed onions and sour cream. Yes, please! They also offer applesauce as a condiment. I could have eaten an entire platter of these.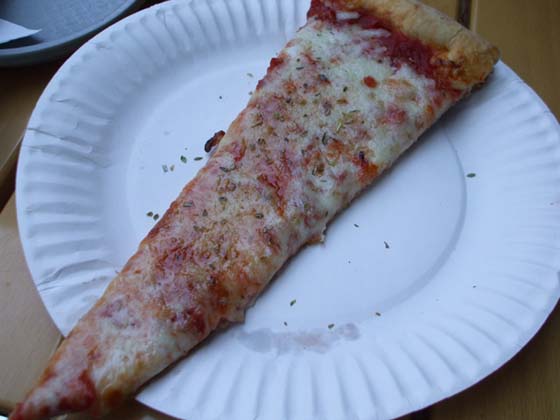 Next on the stop was the obligatory New York pizza slice. I'm sure you can argue on the best pizza in this town, but it's all the same to me. It's hot, it's cheesy, and it's thin-crust, crunchy good. I'm not going to debate, I'm just going to eat.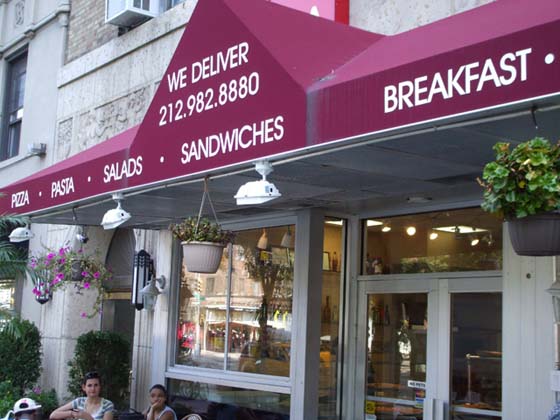 This slice of yumminess came from Pomodoro Pizzaria at 51 Spring Street. Tasted like the good stuff to me! I'm envious of New Yorkers that get to walk anywhere and grab pizza by the slice. Nothing like that in walking distance of my house.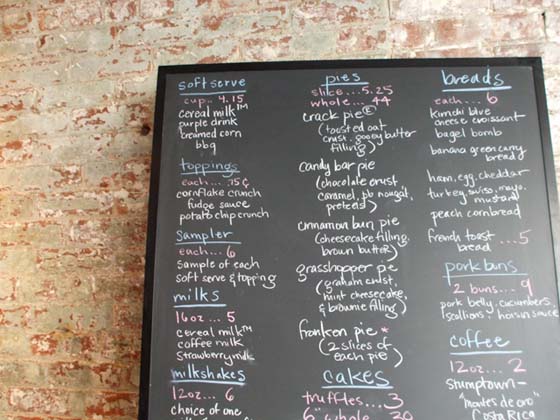 This next place got me super excited. The sun was blaring down all afternoon and I'd just eaten hot pizza, hot pierogies, and soup. I was so ready for momofuku milk bar and some soft serve. What's cool about this place is that the menu changes daily and you can find some strange creations on the board. Notice the creamed corn and bbq soft serve? Um, I skipped those.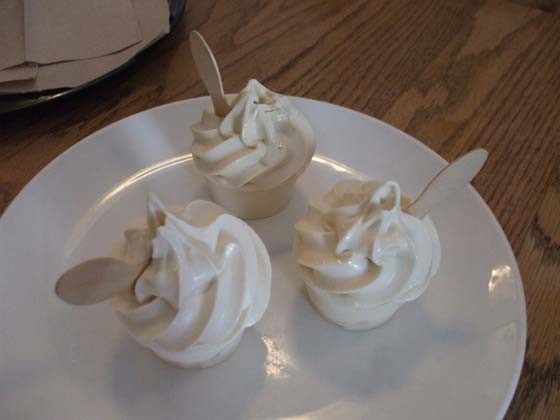 We had the cereal milkâ"¢ soft serve and the compost cookie®. Yep, you're seeing my little symbols correctly. You won't find these flavors anywhere else. Which is a bummer until momofuku decides to head down south. I loved the cereal milk! It tasted exactly like your milk tastes after you finish a bowl of sugary cereal. Sounds gross to some, and my fellow tourists didn't care for it, but it reminded me of being a kid and I devoured every bite. I also sampled the purple drink soft serve and it tasted just like the purple drinks that came in those little plastic barrels. I don't know how they do it! Ah, a little bit of nostalgia.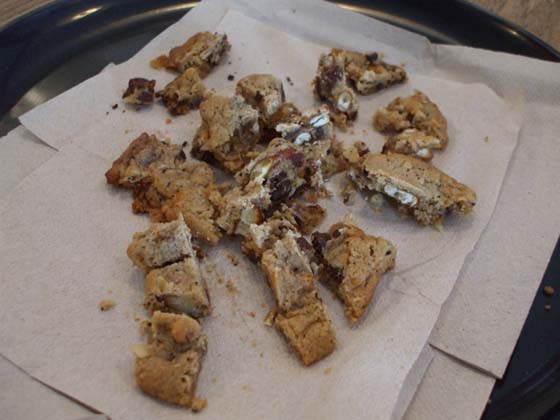 I also really liked the compost cookie. Again my fellow tourists didn't care for it, but score for me because I got the rest of the cookie! It lives up to its name with chocolate chips, pretzels, potato chips, coffee, oats, and butterscotch. I couldn't really taste the coffee or the potato chips, but you could see the coffee specks and feel the crunch from the chips. It reminds me of those monster cookies or kitchen sink cookies.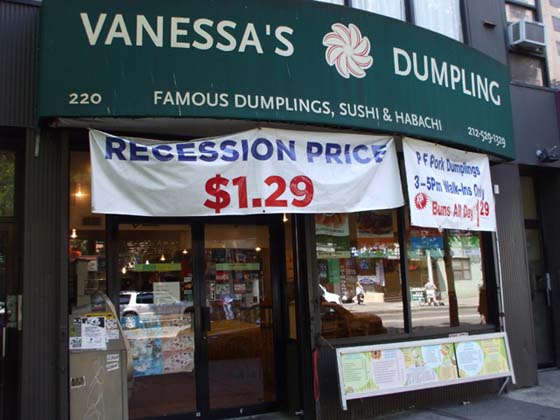 By this point I was getting pretty stuffed, even with all the small bites were were having. But I continued on for food's sake! In Vanessa's Dumplings at 118 Eldridge Street, we sampled the chive and pork dumplings and the sesame pancake. Again, I liked both, and this place was cheap! I'd eat here all the time if I lived near it.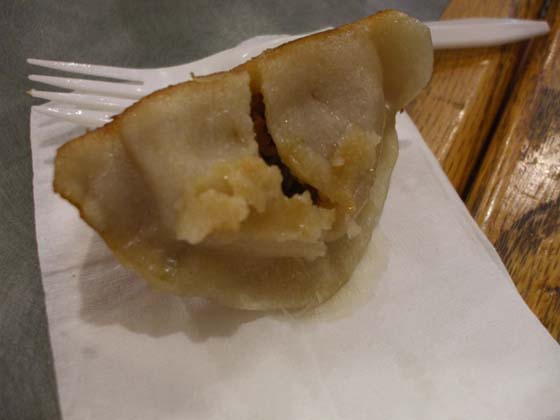 The fried dumpling was crispy and cooked perfectly. The pork had a nice flavor and just a hint of chive. This was also my first introduction to Sriracha. Hot, but addicting! I put it on my dumpling and my bites of pancake.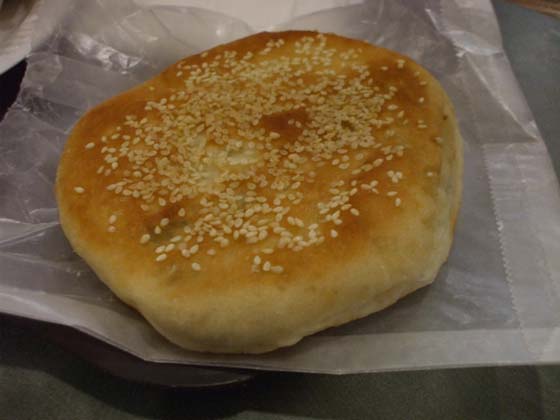 The pancake looks like a bagel with no hole and is a bit dense, but surprisingly light. Bits of chives were scattered throughout the pancake and the sesame on top added some nuttiness. I really liked sopping up the Sriracha with it. A nice little snack.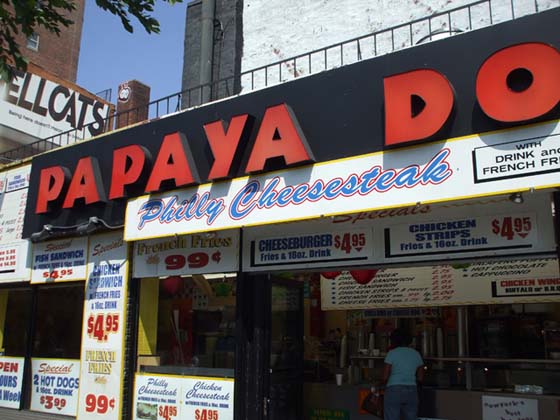 We found our way to another New York staple…the hot dog. Again, you can argue all day on the best in town, but it's just a hot dog to me. We tasted hot dogs with red onion relish at Papaya Dog on 239 1st Avenue.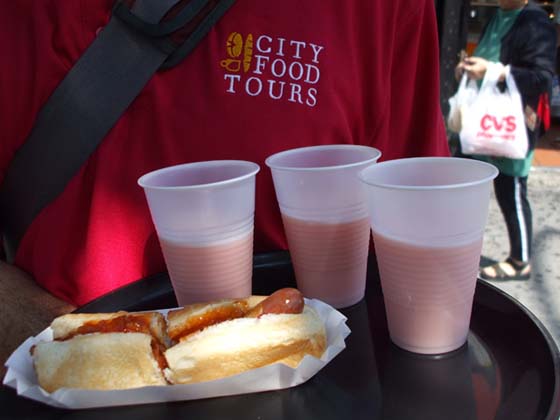 The relish was really good. Kind of a sweet relish with a bite of vinegar. The dog was just so-so. I don't like the casing to have a crunch to it and this one did. I also tasted the papaya drink. It was thick and frothy and very sweet. Not something I'd order again, but it wasn't terrible. I found it interesting why so many hot dog spots are tied into "papaya." Apparently the first business started out as a tropical drink shop and the customers requested hot dogs be added to the menu. It became a big hit so all hot dog shops started using the word papaya.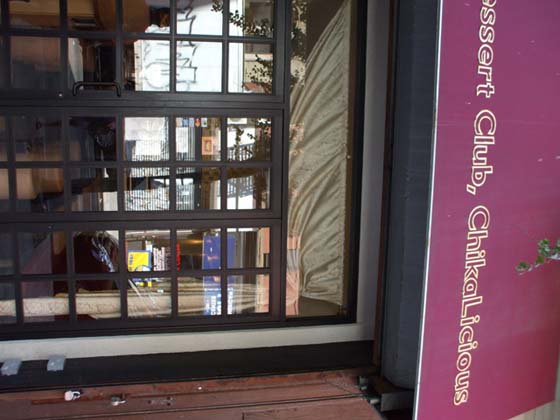 If you can believe it, there's still one more stop to go. I was happy (even in the heat!) that the tour was a walking tour after all this food. You definitely get a lunch out of it after nibbling on all these bites here and there. Last on the tour was a sweet stop called Dessert Club, ChikaLicious at 204 East 10th Street.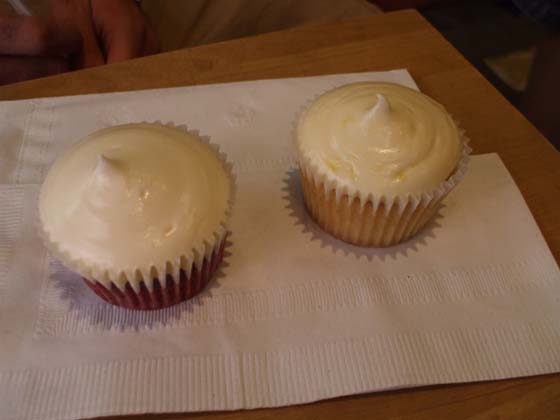 Seated in the tiny boutique, we split two cupcakes. The red velvet is on the left and the lemon on the right. Neither of them blew me away. The cream cheese frosting on the red velvet had too much of an odd twang to it. I took one bite and refused the leftovers. The lemon had a nice refreshing flavor and was the better of the two. I still didn't love it. But I am from Nashville, home of The Cupcake Collection, the standard by which I judge every cupcake!
I had an awesome time on this tour and would recommend it to tourists and locals. I ate a lot of things I've never eaten before and just fell in love with the city all over again. It's a foodie's paradise! Oh, and here's a tip if you want to take the tour. Find City Food Tours on Facebook or Twitter and get all those eats, and walking, and just plain fun at a discount!
Part 2, Throwdown
Part 3, What the Locals Eat
Part 4, Fun Foods
Part 5, Just Desserts