Made my way to Chuy's, located at 3061 Mallory Lane in Franklin, for a girls night out/birthday celebration. I had never been before but heard so much buzz about it. The place is super fun. Crazy decorations everywhere. We sat in a room where the ceiling was full of hubcaps! The whole vibe of the restaurant is fun, fun, fun. I had a tough time deciding what to order because everything on the menu sounded awesome.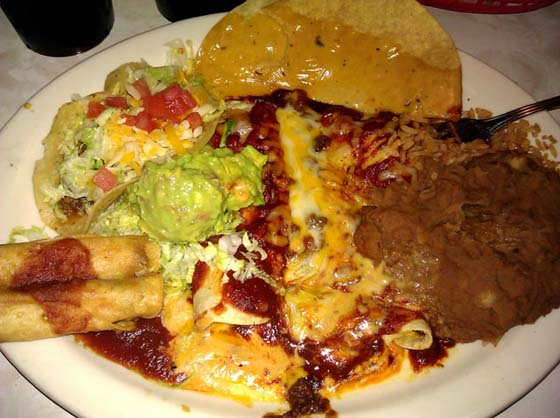 So, how's it taste?
As soon as I sat down, my friends Sherrie and our favorite fellow food blogger Shannon, had the chips and salsa ready and this interesting white sauce. It was their Creamy Jalapeno. Hello! It was incredible with the tortilla chips (which by the way are those super thin kind that are outstanding!). The creamy jalapeno reminds me of ranch with a kick. Our friend Denise joined us and I'm pretty sure between the four of us, we each ate a basket of chips.
For my meal I went with the Comida Deluxe. Apparently my eyes were bigger than my stomach, because this order was enough to feed a small army! It's two cheese Tex-Mex enchiladas, two chicken flautas, a seasoned ground sirloin crispy taco, guacamole, and homemade tostada chips dipped in chile con queso. Whoa! I liked everything on my plate, but the only thing that blew me away was the refried beans. I have no clue how they make them, but they are lip-smacking good! I could eat just a bowl of those for dinner and not complain.
Everything else was tasty, but nothing out of the ordinary from any Mexican/Tex-Mex restaurant. I'd definitely go back for the atmosphere (and that cute waiter) and to try several other things on their menu that are special to Chuy's, like the Chicka-Chicka Boom-Boom Enchiladas or the Baja Fish Tacos. Looking forward to another girls night out and this time we'll spice it up with some margaritas!
Update: 2/15/11 Finally tried the Baja Fish Tacos. One word…disgusting. Steer clear of these. You get one decent sized piece of fish on each taco that is fried with their awful potato chip batter. My fish looked like it had been in the fryer way too long and was completely flavorless and greasy. I had to smother mine in guacamole, sour cream, and salt just to make it edible. Once again though, the beans knocked my socks off and I do love their chips. Chuy's doesn't rate very high on my Mexican/Tex-Mex food scale, but the atmosphere is so fun, it's worth it just to go eat the beans and chips! I'm thinking this place is better suited for a margarita happy hour than lunch/dinner.