When some friends of mine were coming in town, who like to eat as much as I do, I knew I had to take them somewhere awesome. Suzy Wong's House of Yum, located at 1515 Church Street, was the perfect spot. It's playfully decorated in plum tones and has this atmosphere that makes you feel like a celebrity will drop in at any minute. Its size reminds me of Manhattan restaurants. Breeze right in the doorway and you're in a tiny room with tables squeezed in everywhere. A little surprising at first, but once we got our drinks and food, we couldn't have cared less if we were sitting in each other's laps.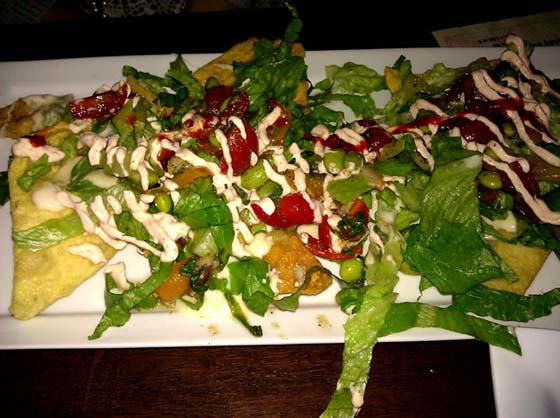 So, how's it taste?
Where to begin? I loved every minute of our dinner. The drinks, the restaurant itself, and holy cow the food. Between the four of us, make that three since one wasn't feeling too well, we pigged out like we had never pigged out before. Yes, that's right, all this food you're about to read about was shared between three people…and we licked our plates clean.
Pictured above is the star of the show, the Asian Wonton Nachos. Fried wontons covered in queso blanco, edamame, cilantro pico, sriracha, and red curry crema. Amber ordered this for her meal but we all dug in and scraped the plate clean as if our lives depended on it. It's fabulous and I never want to eat regular nachos again.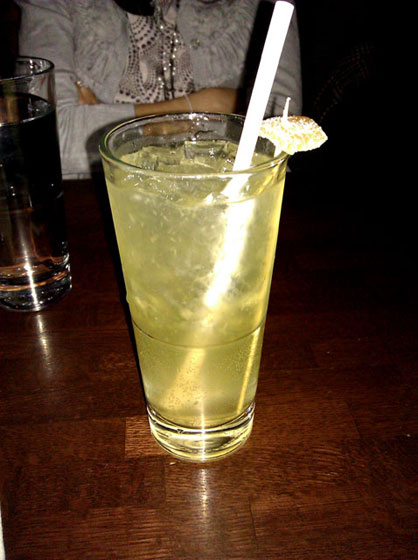 For my tasty beverage, I ordered the Yazi Ginger Orange Soda. It's Yazi vodka, orange, lime,  and soda with a piece of candied ginger, and it's delicious. I could have sipped on this all night long. Very refreshing.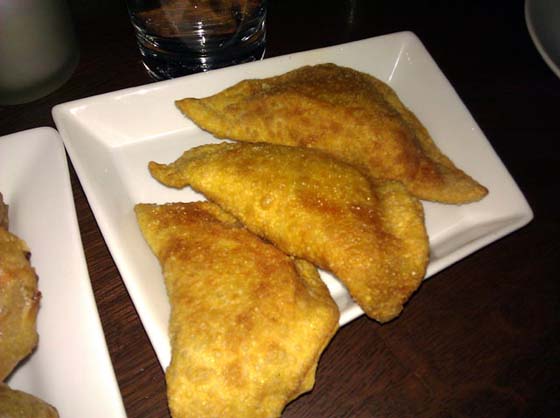 We decided to order some small plates and then two yum bowls to share. I'm really liking the idea of small plates so you get to taste several offerings and not just one big entree. We sampled the Lump Crab Wontons with Bacon. I would never have thought of pairing bacon with crab wontons, but it works beautifully. Not too overpowering so you really taste the crab. Crunchy and delicious.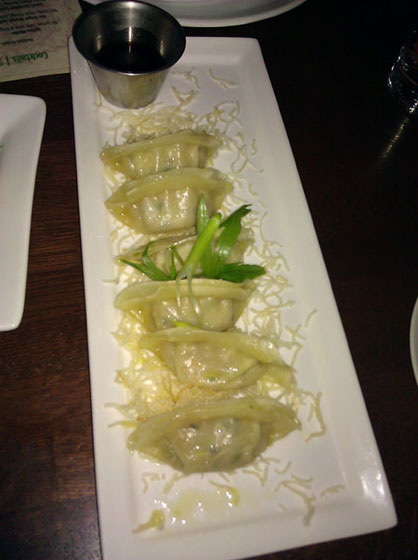 Next were the Vegetable Gyoza Pot Stickers. Perfectly cooked and packed with flavor. The dipping sauce was addictive.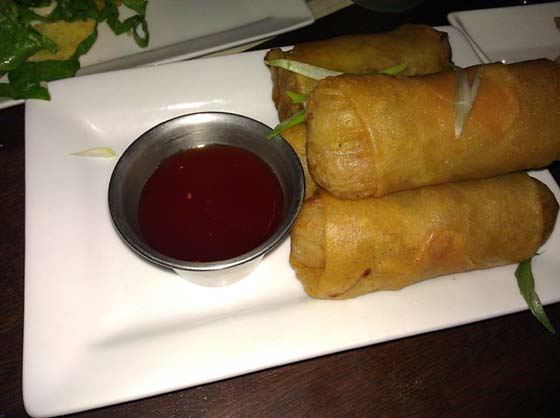 The Vegetable Spring Rolls also made our list. A nice crunchy outside that wasn't too thick and packed with yummy veggies. Another dipping sauce that was addictive and I had no problem licking my fingers in public.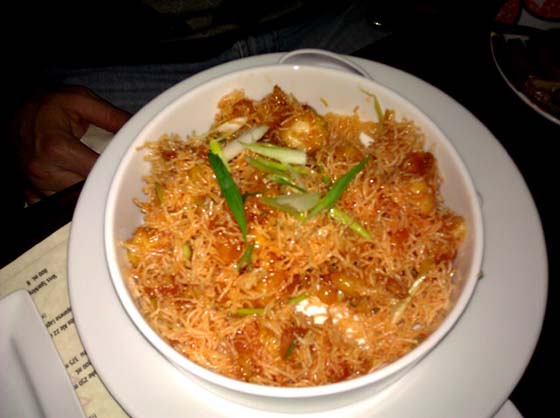 For our Yum Bowls, we tried the Pineapple Red Curry Shrimp (below) and the Sweet & Sour Chicken with Crispy Noodles (above). The sweet and sour chicken was a hit. I loved the little, thin crispy noodles. The chicken was covered in the exact amount of sauce that I like. I don't want it dripping, but I want it to be noticed.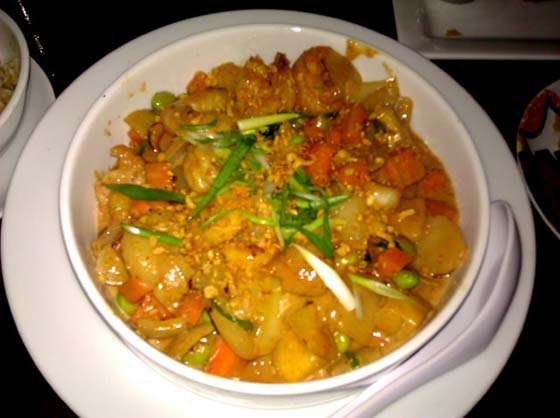 The pineapple red curry shrimp had a really nice Thai flavor. It was a little overkill on the onions though and a little stingy on the shrimp. I liked the texture of this dish a lot. Chunks of pineapple, water chestnuts, carrots, onions. It was really good with a little brown rice mixed in it.
Overall it was a big thumbs up on Suzy Wong's. To say we left stuffed would be the understatement of the year. I can say that this has become my favorite restaurant in Nashville. I had another friend come in town and guess where I took her? You got it!
In addition to the nachos and pot stickers, Carol and I tried the Crunchy Shrimp and Avocado Maki. I regret not snapping a pic, but we were too busy relishing every bite. I'm not a big sushi lover, but I loved this stuff. To end our meal we ordered the Banana Brownie Bread Pudding. The perfect sweet ending to a perfect meal. We both couldn't really taste the banana, but oh that chocolate with the bits of candied ginger. Chocolate and ginger go so well together. It was just enough sweet without putting us over the edge. I swear I don't think Suzy Wong's has anything bad on the menu!