One of the best things about being a food blogger (besides eating of course!) are the recommendations I get of where to eat. I have my own ever-growing list of places to visit around Nashville, but I'm always happy to hear about a spot I don't know about. My friend and I were headed to see a movie (A-Team  – featuring the delicious Bradley Cooper!) and wanted a bite to eat beforehand. I remember a few weeks back, my friend raved about The Local Taco, located at 4501 Murphy Road, and she suggested it for lunch. Am I ever so grateful for this suggestion!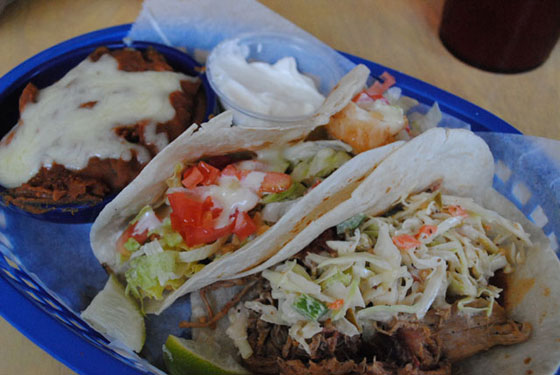 So, how's it taste?
Ah-ma-zing! This was taco paradise. I must say I wasn't too terribly excited at first because I thought "what's so great about a taco place?" I would soon find out! For this girl, it was ordering heaven. Most times I have a huge problem narrowing down my decisions on what to order. At The Local Taco, you can order a variety of tacos, so I wasn't stuck with several of one flavor. I seriously wanted to order one of each. On this visit I settled for two with a side of refried beans. The taco to the far right in the pic is the Local BBQ. 12-hour, pit-cooked pork shoulder with jalapeno cole slaw and chipotle bbq sauce. So stinkin' good and spicy! The jalapeno cole slaw was terrific with the tender pork. Creamy and crunchy, I just loved it. My second taco was the Southern Fried. Buttermilk fried chicken breast strips with honey lime sauce, lettuce, and tomato. Finger lickin' good! The chicken was cooked perfectly and not too greasy. The warm chicken paired with the coolness of the sauce, lettuce, and tomato was awesome.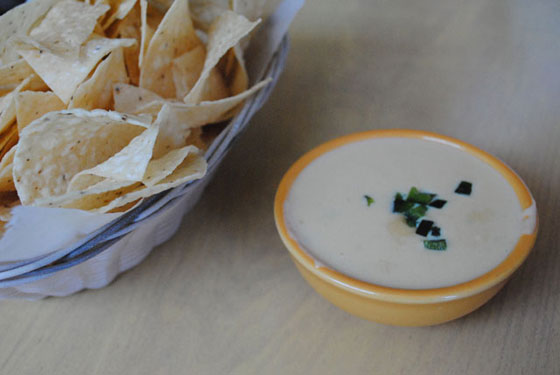 The refried beans were crazy good. I have no idea what makes them so different from any other place, but they had a flavor that just can't be beat. We also ordered the queso, which I liked. It wasn't as spicy as I was expecting, but reminded me of the flavor of Rotel dip. I was completely stuffed after this meal and can't wait to go back and try more tacos. I've got my eye on the fish, buffalo chicken, and Korean bbq!