At the end of September, I vacationed in Chicago and there were a ton of places on my list that we didn't get a chance to visit. I first heard of Salted Caramel on Cooking Channel's Unique Sweets. Their Carousel Cookies were highlighted and I was sold. I'm a big fan of snacking, but I can get into a vicious sweet/savory circle. A few bites of sweet then I need something salty, then I need something sweet again. Yeah, this is why I own a treadmill. I was thrilled to discover you can order their delicious goodies online! I ordered the Carousel Cookies, Pretzel Grahams, and the Salted Bourbon Caramel Marshmallows.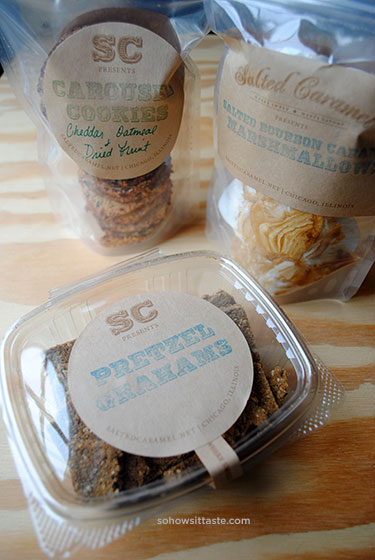 So, how's it taste?
What's intriguing about the Carousel Cookies is they're a sweet cookie with a twist. A cheddar twist. Yep, along with oatmeal and dried fruit, it's got cheddar. Sounds funky, right? It's not. It's absolutely the best thing to happen to snacking. It starts off slightly sweet from the dried fruit (apricots and plums) then the savory/salty cheddar steps in. Then it's sweet again from the sprinkling of turbinado sugar. The texture is soft, but with a bit of a snap. It's not crunchy, but it's not like a soft-baked cookie either. I'm telling you, it's perfection. They're $8.00 for 12 cookies, so it's not a cheap snack, but worth every single penny.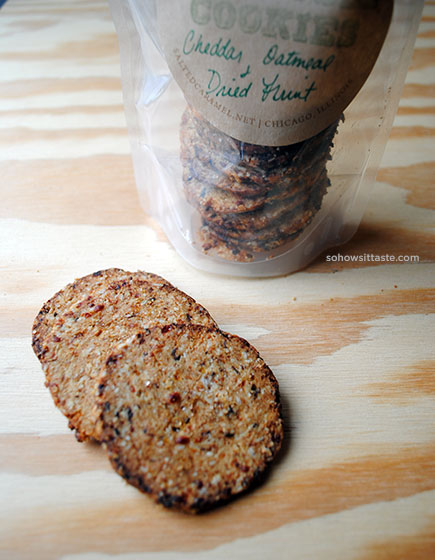 The Pretzel Grahams caught my eye because it's another savory/sweet combo. The first bite is sweet with that familiar graham cracker flavor. Then it hits you with salty pretzel. I wasn't wowed by them at first, but the more I ate, the more I enjoyed them. I do find them too salty to eat straight up though. Even though the pretzel grahams are a little bit sweet, they need more sweet to balance out the salt. I easily solved this problem by topping them with marshmallows! They come packaged as 12 grahams for $7.00 and traveling from Chicago to Nashville, some arrived broken. The texture is very crumbly compared to regular graham crackers.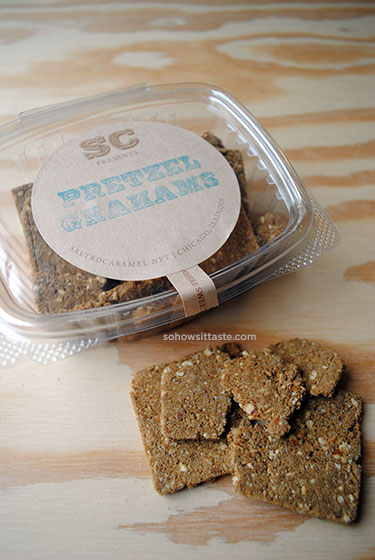 It wasn't a hard choice to add Salted Bourbon Caramel Marshmallows to my order. Hello bourbon…in a marshmallow! They taste ah-may-zing, but I hated the packaging. They're shoved in this plastic sack so they stuck together in one big, sticky mess. The caramel swirl doesn't go all the way through the marshmallow, it's almost like half and half with plain marshmallow on one side, caramel goodness on the other. That made them stick together even more and the caramel side is uber soft. However, I'll overlook the odd texture and packaging because they taste like heaven. I couldn't distinguish the bourbon, but the overall flavor was like salty toffee. They are rich, rich, rich. So guess what? Yep, paired with the overly salty Pretzel Grahams, they made for a great snack eaten together. I could only imagine what the addition of a little dark chocolate would do to make one incredible s'more. You get 10 marshmallows for $7.00. Definitely a splurge!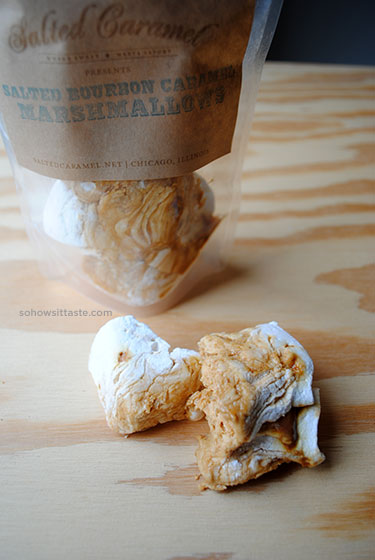 Ordering online from Salted Caramel was really easy and once my order was processed (two days later), I received my goodies in two days. Ordered them on Monday, had them in hand on Friday. Also on my list to try from them is their caramel corn. It comes in Bacon Bourbon, Smoked Pecan Bourbon, and Blue Cheese Bourbon. This is definitely the place to be when you have a snack attack!
Salted Caramel
www.saltedcaramel.net
Disclosure: I ordered the goodies from Salted Caramel myself and was not compensated for this post. I have no affiliation with Salted Caramel. All opinions expressed here are solely my own, as always.