Last weekend was a whirlwind food weekend (and I am not complaining)! Sweet Julie from Table for Two was in town and of course the whole weekend revolved around eating! Saturday night for dinner we went to Mason's Southern Provisions with a small group of fellow food bloggers: Beth from Eat. Drink. Smile., Alexandra from Sweet Betweens, Amy from Fearless Homemaker, and Erin from Erin's Food Files. To say we had a great time would be a huge understatement. The food was fantastic and the conversation even better. I think Julie needs to become a Nashvillian so this group can eat together more often. 😉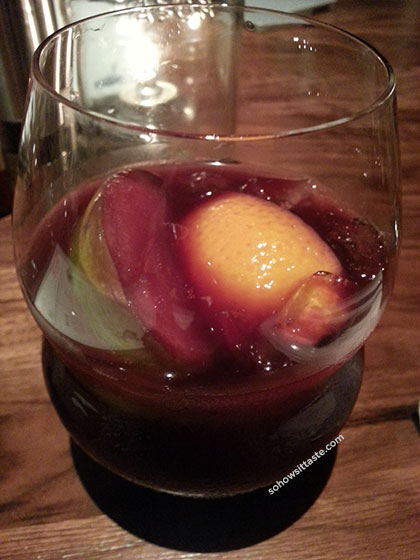 So, how's it taste?
I started off my evening with the French Sangria. Grand Marnier, 14 Hands Merlot, Orange Juice. It was perfection and I loved the glass it came in. It went down dangerously easy! I also enjoyed a mojito for my second cocktail. It was really, really good and also went down a little to easy. Probably the reason why half of my cell phone pics are horribly out of focus…oops!  I noted throughout the evening that Mason's pays attention to the little details. Cute plates, napkins, and glasses. It's those little touches that you appreciate dining out.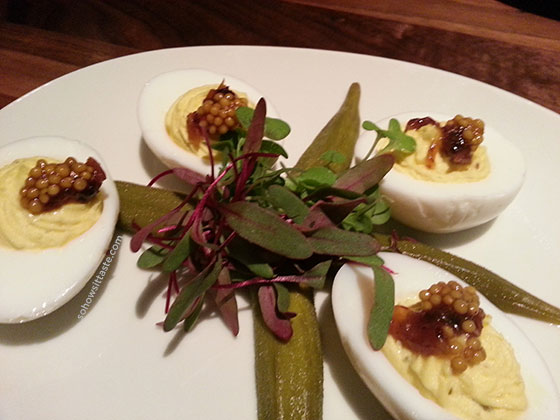 The best thing about dining in a group is that you can order a bunch of food and sample everything. We went app and dessert crazy! My favorite appetizer (and probably my favorite of the entire menu) is the Devil of an Egg. Four deviled eggs topped with bacon jam and mustard seed caviar, served with pickled okra. I could eat my weight in these. They are insanely good!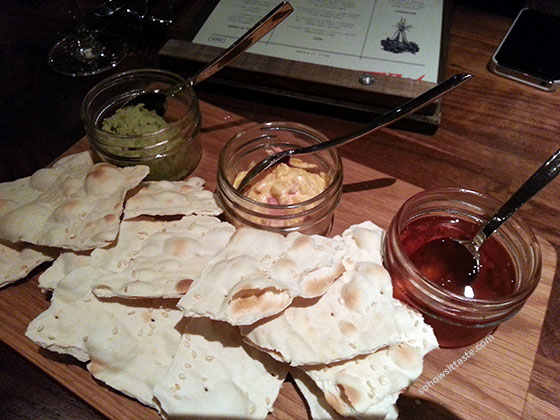 The Jars are filled with pimiento cheese, lima bean hummus, and pepper jelly, served with olive oil crackers. We all loved the pimiento cheese. It wasn't heavy on the mayo, which is a plus. The lima bean hummus was tasty as well. The pepper jelly was a bit runny, but tasted good.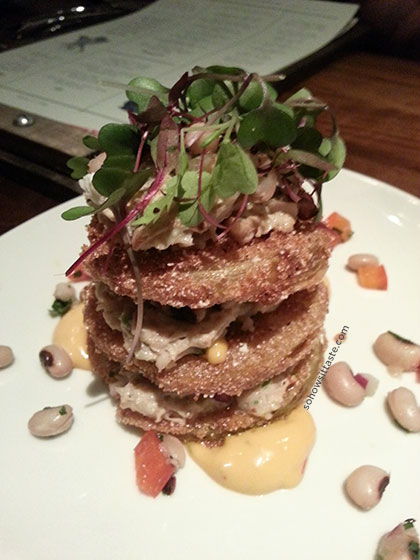 The Fried Green Tomato was delicious. Crab, field peas, feta, and smoked pepper aioli. I didn't read the description so it was a nice surprise to have the crab. Even though it's fried and looks heavy, this dish was light. Full of flavor and varying textures, and a great size to share.
Our last appetizer was the Crab Corn Dogs with Mississippi comeback sauce. I have no idea what comeback sauce is, but it's the perfect condiment with the crab dogs. This is another example of the attention to small detail that I like with the sticks. The corn dogs were delicious, but very rich, so share this one with a friend.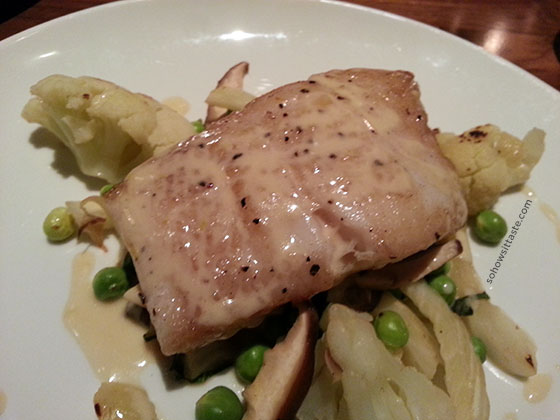 I ordered the Seared Halibut for my entree. It's served over English peas, fennel, cauliflower, shiitake, and features a lemongrass reduction. I can't rave enough about this dish. The fish was cooked perfectly. I don't think I've ever had halibut this good. It was slightly crispy and so tender on the inside. I wanted something light after all those appetizers (and the desserts to come!) and this was perfect.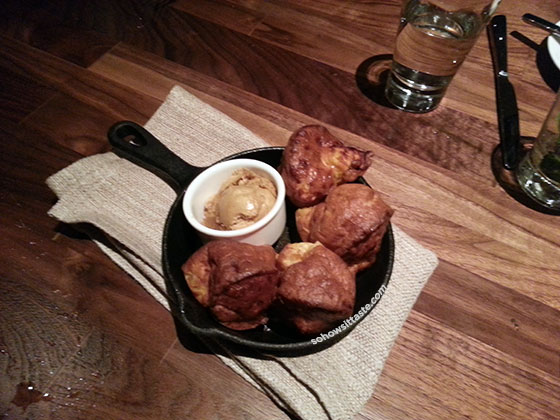 Mason's serves complimentary Jalapeno Popovers in small, cast iron skillets. I didn't really care for these. I couldn't taste the jalapenos and they almost tasted undercooked. The butter was flavored (can't remember with what!), but it tasted like regular butter to me. Loved the presentation, but not so much the taste.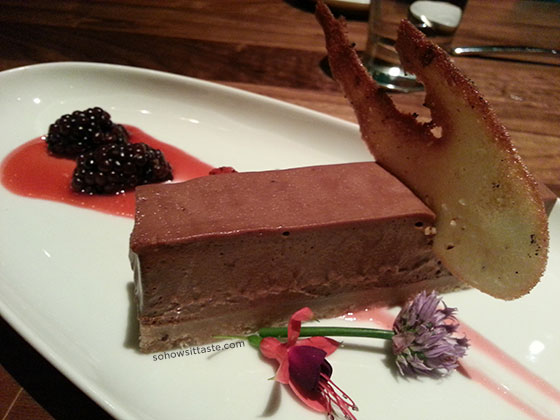 Now to the desserts! We ordered one of each! Now you see why I love these girls so much, ha ha! Above is the Dark Chocolate Cremeux. It's like a mousse with a sort of shortbread crust. I really enjoyed this one being a chocolate lover. The crust was a bit harder than I would have liked, but it's really just the vehicle for all that chocolate to get in my mouth! It looks rich and heavy, but it's not.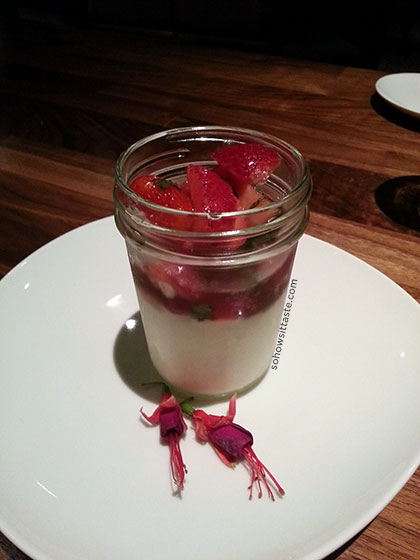 Next up was the Buttermilk Panna Cotta with strawberry-mint relish. It's pretty in the jar, but it melted by the time it got to me to taste. What I did taste was really good, but I have a confession. I think panna cotta is a complete waste of space on any dessert menu. I don't get its appeal and you will never see me ordering it unless it comes with a date with Bradley Cooper. It's cream and gelatin and I just don't get it.
Not pictured is the T.N. Bombe. Picture a Baked Alaska but with peach ice cream, buttermilk cake, and Italian meringue. I read a review of Mason's that raved about this, but I didn't care for it. It really disappeared into the background compared to all the other desserts. It was the only one with most of it left on the plate.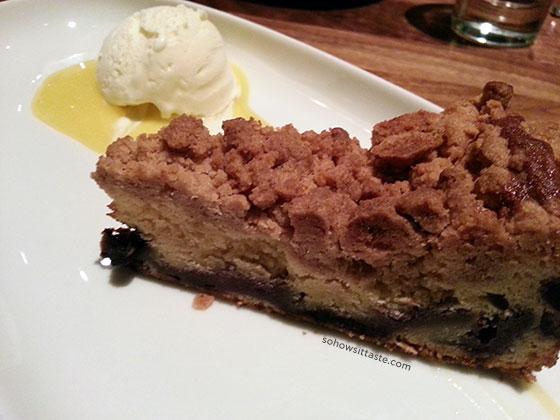 Shockingly, my favorite dessert was the Blueberry Crumb Cake served with cream cheese ice cream. Don't worry, I'm still a chocoholic and the cremeux was a close second. This was just what I was in the mood for, great texture and big blueberry flavor. The cream cheese ice cream went together with it so well and I loved that schmear of lemon curd. I could've licked the plate on this one.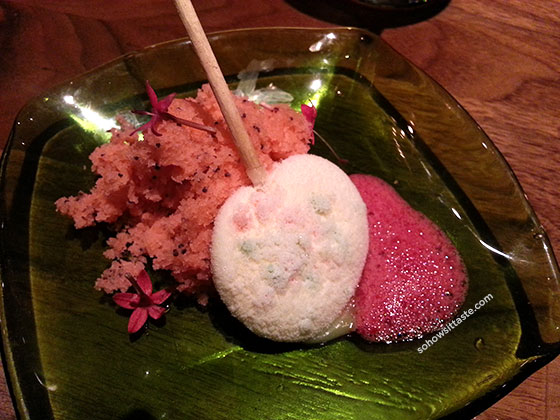 The last piece of awesome from Mason's was a surprise. They let us sample a new dessert called Pop of Summer that they're working on. When this makes its way on the menu, be sure to order it. It's a lemon curd popsicle with berry pop rocks, lemon poppyseed cake (dyed pink to resemble watermelon) and blackberry-rosemary foam. Oh my it was heavenly! I'm a big ol' fan of lemon curd and to have it frozen in pop form was delicious and fun. This would be a great ending to any meal.
Mason's Southern Provisions
2100 West End Avenue (Loew's Hotel)
Nashville, TN 37203
(615) 321-1990
Hours:
Breakfast 6:30 – 11:00 a.m.
Lunch 11 a.m. – 3 p.m.
Dinner 5:00 – 10:00 p.m.
Brunch served on Sundays