I absolutely love working in an area where there are so many good places to walk to lunch. I don't live in a walking neighborhood, so I take advantage at work whenever I can. Lunch has become one of my favorite things at work because we venture out into old spots I haven't been to in a while and my coworkers are up for trying new spots as well. A few weeks ago, we made our way to The Slider House, located at 1907 Division Street in midtown. It's a new place that just opened and I couldn't wait to sink my teeth into tiny burgers. Walking there means I can splurge and get fries, too! Heh heh!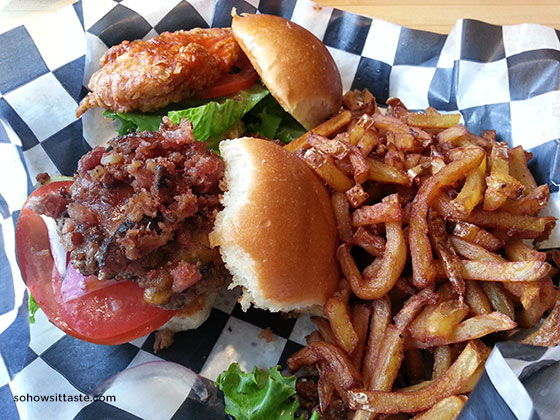 So, how's it taste?
They have a fantastic lunch special Monday through Friday. For $7.99 you can pick any two sliders and a side (what they call side cars). It was hard narrowing down which two I wanted to try first. So many good combinations! I eventually went with the Old Hickory, a beef slider with house made smoked BBQ sauce, cheddar cheese, Benton's bacon, leaf lettuce, roma tomato, and red onion. I also picked the Southern Comfort fried chicken breast slider with Sriracha honey glaze, roma tomato, and leaf lettuce. I really liked both of them a lot and it would be hard to choose which was my favorite between the two. It's hard to beat a good burger with BBQ sauce and bacon, although I will say that Benton's is way too smokey. I'd like this burger even better with a different bacon. I got the hand cut fries and they need a lot of work. Too greasy, too brown, and just not good. They're cut really small, so they were hard to pick up.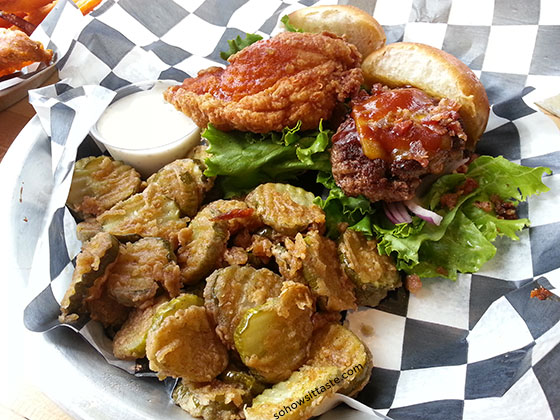 Ryan got the same two sliders as I did, but ordered the fried pickles as his side car. He really enjoyed both sliders as well, but we agreed the fried pickles also need some work. Great flavor, but they were soggy and the breading wouldn't stay on the pickles. I hope they improve their technique because fried pickles are excellent companions to burgers.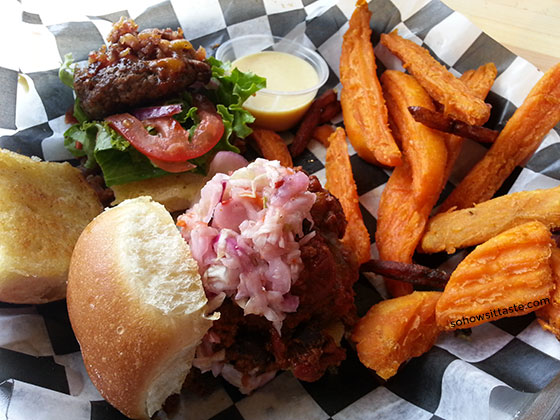 Kim also ordered the Old Hickory, but branched out and tried the Shotgun as well. It's a beef slider with house made chili, pickled slaw, and cheddar cheese. She liked both sliders, but commented that the Shotgun was a bit overwhelmed by the chili. She ordered the sweet potato wedges as her side car. She won in the side category! Those sweet potato wedges were awesome. Probably the best I've had in town. Perfectly crisp on the outside and they come with an awesome honey mustard dipping sauce that I just couldn't get enough of.
Overall we were happy with our lunch despite a few hiccups with the sides. The atmosphere was really fun and the staff were very friendly. They have a great outdoor patio and big garage doors that they leave open when the weather's nice. We definitely plan to have many more lunches at The Slider House.
The Slider House
1907 Division Street
Nashville, TN 37203
Hours: Monday – Sunday 11 a.m. – 3 a.m.