Well, the day has finally arrived. If you've been reading my blog, you'll notice there's not too much that I've eaten and blogged about that I didn't like. A few things here and there that weren't great, but had potential (see Chocolate Cherry Cola Cake) or maybe I didn't like my food, but my fellow diner did (see Traveling Eats: Biltmore Estate & Asheville, NC). Unfortunately for Sparkle Cupcake Company, located at 7009 Lenox Village Drive, I just didn't like the cupcakes. And this is after sampling eight of them.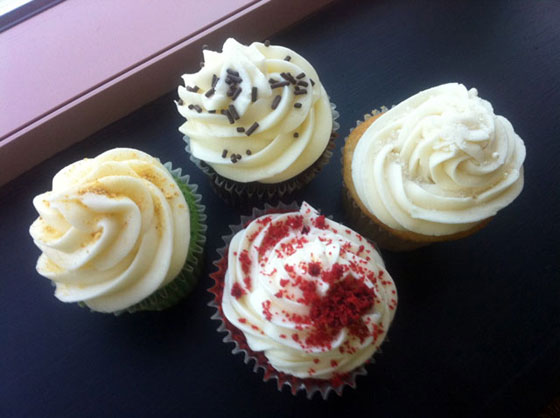 So, how's it taste?
Not good. Not good at all. I was excited about trying out Sparkle, and was thrilled when they advertised $1 cupcake day not too long ago. Arriving a little after they opened at 11 a.m., my fellow foodie (meet Shannon from Bake.Frost.Repeat.!) and I were surprised to find only four cupcake flavors. I still can't wrap my brain around the logic of not having hardly any cupcakes available on your big promotion day. A few were coming out of the oven and we were offered the opportunity to place an order and come back. Really?!
We bought the only four flavors left: (from top, clockwise) Chocolate Cheesecake, Wedding Cake, Red Velvet, and Key Lime. The Key Lime was really dry along with the Chocolate Cheesecake. The Key Lime would have been fairly tasty, despite it's horrid green color, had it been fresh. I didn't care for Chocolate Cheesecake. It had an odd twang taste. The Red Velvet wasn't bad, but it wasn't fresh either, although not as dry as the other two. Wedding Cake actually surprised me. It had a nice almond flavor to it, and wasn't your usually boring white cake, but alas, it also wasn't fresh.
We had another opportunity to sample more cupcakes that afternoon. Our lineup consisted of Lemonade, Lemon Cream, Strawberry Cheesecake, and Sweet Potato. Some of the cupcakes were overcooked and some were undercooked. I will say that the Lemonade had some pretty rockin' icing. Very tart, very lemony, but the cake was described as "dumpy" from one taster. It was so heavy from being overcooked. The Sweet Potato had potential and was probably the best from the eight we sampled.
Sorry, Sparkle, your cupcakes were more than disappointing and you should have been better prepared if you're going to promote $1 cupcakes all day long. I'd like to think the poor-quality cupcakes were due to being overwhelmed with the promotion, but there is nothing that would lure me in for another taste. Eight is definitely enough.