By now you should have figured out that I like sweets and I mean I really, really like them…especially chocolate. I won't turn anything down if it includes chocolate. I may even try chocolate-dipped broccoli! Ok, maybe that's taking it a bit too far, but you get the picture.
On a recent trip to Godiva to see my good friend Denise (yes, that Denise that exclaimed "I love you" to a piece of fudge in from Diana's Sweet Shoppe), I was introduced to the coffee truffles! Specifically Vienna, French Vanilla Creme, and Hazelnut Creme. Oh me oh my!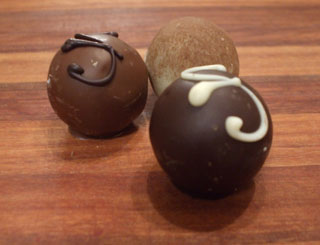 So, how's it taste?
Like sweet perfection hitting my tongue! Godiva really knows how to make some chocolate. Coffee really enhances the chocolate, so these trio of goodies are really outstanding! The Vienna was my absolute favorite. Enrobed in white chocolate with a hint of cinnamon, mmmm. The Hazelnut Creme came in second with its hazelnut coffee flavoring that went very well with the milk chocolate shell. The French Vanilla Creme was good, but too much sweet vanilla for my taste. It's not like I'd throw it out though! It's definitely good to have friends in high places…especially if they work for a chocolate maker! Don't have one of these buddies? Head on down to Godiva anyway. You can join their rewards club and get a free piece of chocolate once a month!