Settle in…this is a long one! Two weekends ago my bestie Shannon from Bake. Frost. Repeat. came to Nashville for the weekend. I love when she comes because we plan her entire stay around what we're going to eat. Being the "It City" and all, there's plenty to choose from and I get to mark some spots off my list. It's a tough job making the restaurant rounds through Nashville. Seriously, it's embarrassing how many places I have yet to visit.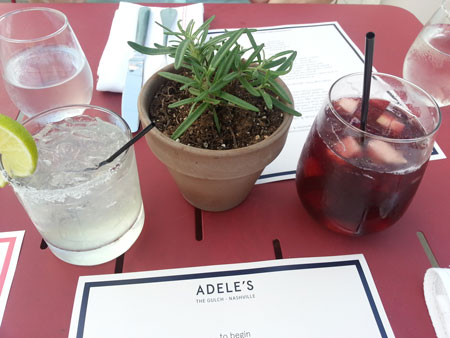 Our first stop was Adele's. We had granny-time reservations because it was either eat early or way late. Turns out eating early has it perks as we sipped on cocktails first and enjoyed sitting outside. The weather was perfect. I had the JW Margarita and Shannon had the Sangria. I enjoyed the margarita, but it was definitely for sipping. It was so potent, I couldn't finish it since I was driving. I mean seriously, one cocktail through dinner. I know I'm a lightweight, but geez. I tasted the sangria and it was really good. I'd order the margarita again, but between the two I liked the sangria better.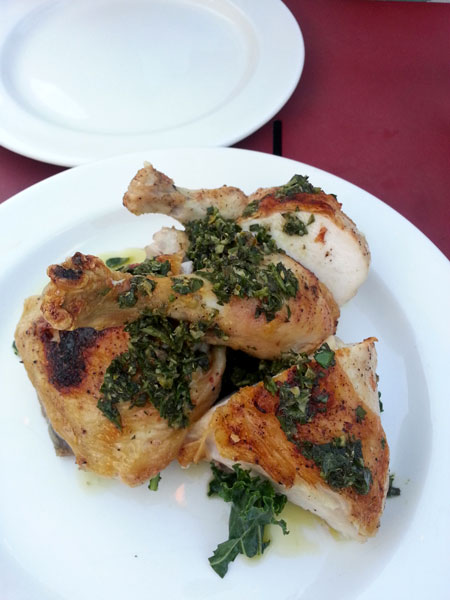 Since we planned on ordering dessert (more on that later), we decided to share the JW Chicken as an entree and order a side. It's half a chicken, so it's plenty for two if you're eating light. I don't normally order chicken out, but everyone has raved about this dish. The chicken is brined and it's well-seasoned and perfectly tender. It comes with kale and a green sauce, but that seemed more like garnish to us. While we both liked the chicken very much, it was still just chicken. I'd order it again though.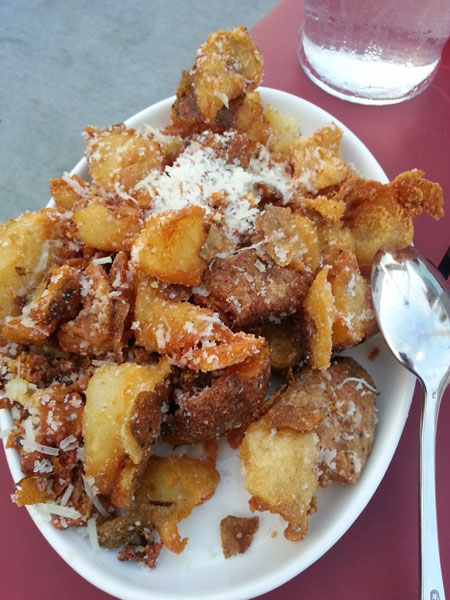 To go with our chicken, we had the JW Potatoes. Apparently we were on a mission to order everything JW – Jonathan Waxman. (Not really, just a coincidence.) The potatoes were crispy, just the way we like them, but way too salty. They're topped with shredded Parmesan which upped the salt factor even more. We scraped off as much salt as we could and powered through them. Crispy potatoes trump salt in our book.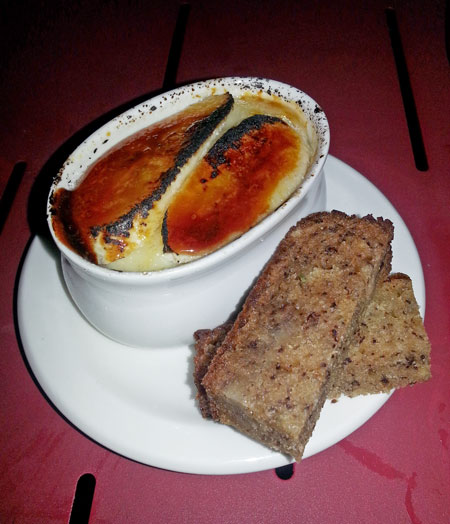 Finally it was time for dessert. I had read this article on the Bites blog (check out their much better pic) and once I saw the Banana Pudding & Toasted Banana Bread picture, I was sold. But somehow I got in my head that this dessert was huge. A big serving of pudding and two huge slices of banana bread. Yeah, no. It's itty bitty, and those "slices" are more like sticks. And they're not toasted, at least ours wasn't. The dessert was still a big hit with us, although I wish the pudding was a tad bit warmer. The top is warm and the bottom is from-the-fridge cold. It's like a custard with caramel and banana slices on the bottom, then more banana slices on top with a bruléed crust. Creme brulée is one of my favorite desserts and this was very similar. I would definitely order this again…but I wouldn't share. 😉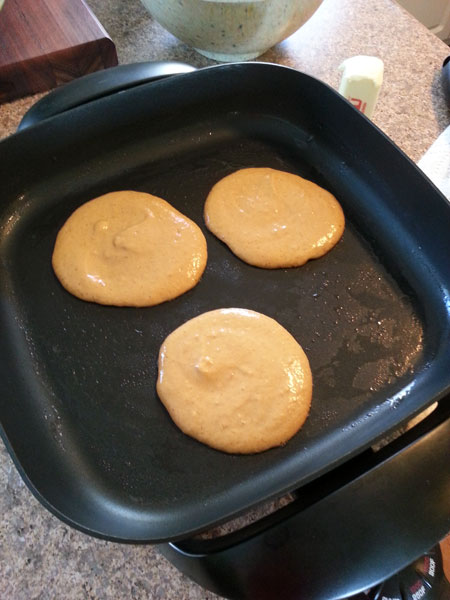 The next morning Shannon and I had planned on making pumpkin pancakes and bacon. After combing through Pinterest, we finally settled on a recipe…that bombed. I fully admit I subbed almond milk for regular milk, but I'm not convinced that was the problem. The pancakes were flat and greasy and would not cook in the middle. Although the batter smelled amazing, the pancakes were flavorless. We dumped them in the trash and thank goodness I had these Skillet Buttermilk Biscuits in the freezer. Shannon whipped up some scrambled eggs and brunch was saved!
My question is, do you go back and tell the blogger? It's kind of a catch-22. As a blogger myself, I feel like I would like to know when a recipe doesn't work. However, it's hard when you're not in the kitchen with the person making it to see what went wrong, so it can get frustrating when a recipe works well for you, but not for a reader. This happened to me recently when I tried to make a dessert and it was downright revolting. Reading through the comments on the blog, some folks loved it and some folks had the same complaints as me. I'm always torn when that happens and I end up not commenting.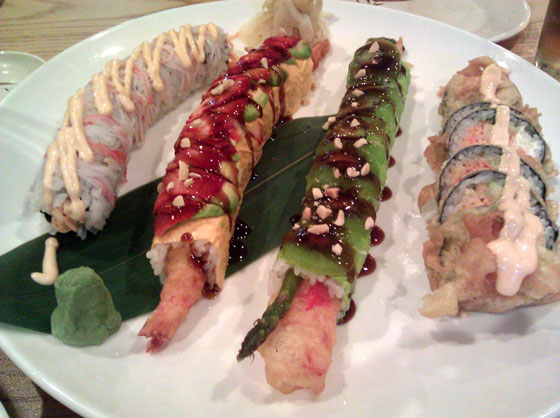 Later that day we headed to our absolute favorite sushi spot in Nashville, Samurai Sushi! They have sushi rolls that use soy paper and are topped with fruit and they are my jam! It's pretty much the only sushi place I'll go to because I'm obsessed with soy paper. (image from a previous post)
We tried to eat light because later that night we'd planned on having Sugar at Sinema. Sinema is a new, two-level restaurant in Nashville and when I say it's gorgeous on the inside, that doesn't do it justice. It's in an old movie theater and when you enter, it's like going back to old Hollywood. There's a grand staircase to the right that goes to the second floor and I like to kind of prance up it like I'm movie star royalty. The second floor menu is different from the first floor. The second floor is their lounge area with a bar and they serve "concessions." We ordered cocktails, which was hard to narrow down since all of them sound so good.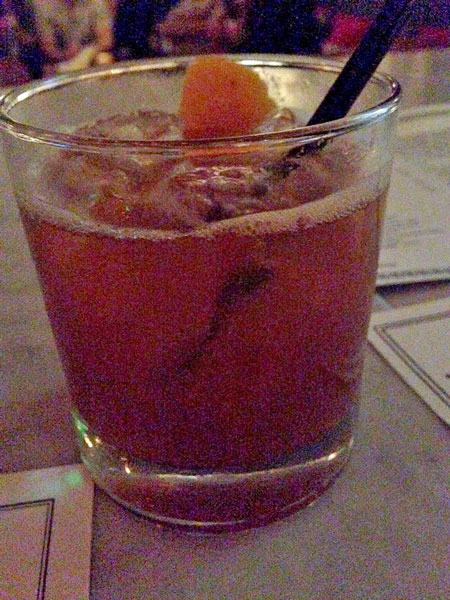 Shannon ordered Whiskey Business (Dickel 12 whiskey, nardini amaro, lemon, simple syrup, ginger shrub). This was her drink and she didn't stray. It was pretty darn tasty and a good whiskey drink.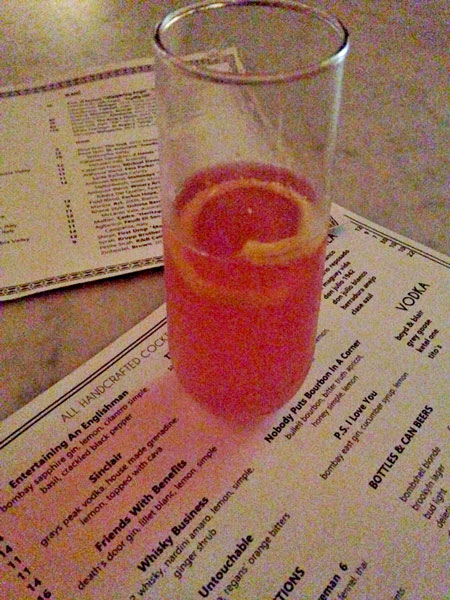 My first drink was the Sinclair (Grays peak vodka, house made grenadine, lemon juice, cava). I still talk about it. I hope to recreate it on the blog soon. It was my favorite! Not too sweet, not too tart, just perfect.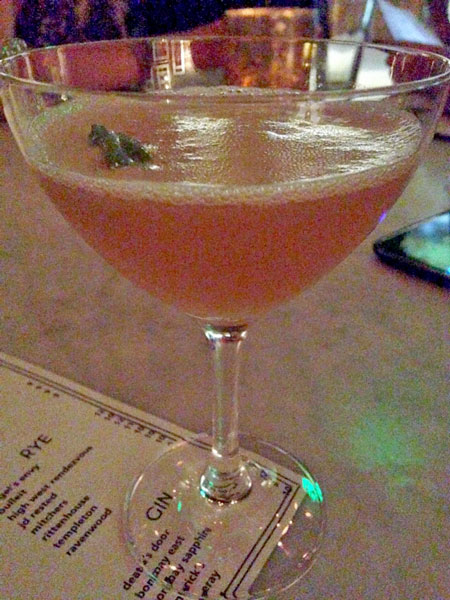 My second drink was Nobody Puts Bourbon in a Corner (Bulleit bourbon, bitter truth apricot, honey simple, lemon juice). I liked this drink a lot, too, but I don't think anything can beat the Sinclair in my book.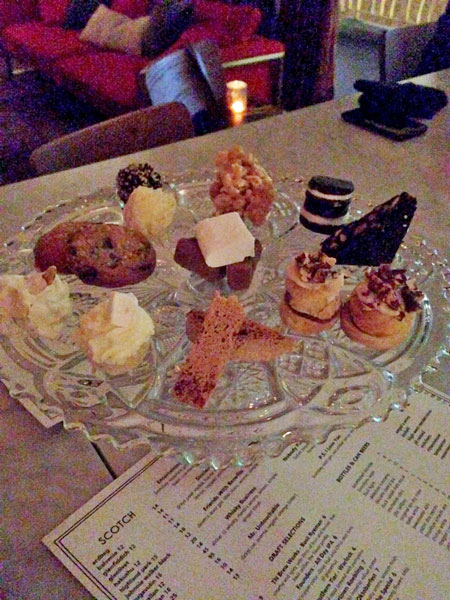 Now finally to Sugar! This is a dessert lover's dream. It's a variety of tiny bites of desserts served on a cake platter. Bring your stretchy pants because you're going to need them. It's worth noting that our waitress (who was awesome) got half of the desserts wrong when telling us what they were. In her defense, I'm sure they change, and it's a lot of desserts. Plus it's super dark in there. Here's what was on our plate and what we thought about them.
Biscotti – meh, it's biscotti. I need coffee to dunk this in so I don't break a tooth. Biscotti isn't going to stand out on a plate of desserts. Left it on the plate.
Pecan Praline Profiteroles – we think the two may have been different but aren't sure. I thought I tasted chocolate in my filling, but Shannon didn't. My filling was gritty, like it had pecans in it. I liked it, but it wasn't my favorite.
Brownie – the brownie was one of the last things we tried because we were told it was another biscotti. Nope! It was a really dark chocolate brownie with milk and white chips. I'm a fan of dark chocolate so I liked it, however it was a little hard for a brownie. I'm guessing because it wasn't super fresh.
Homemade Oreos – loved them. Dove into these first and they were delish!
Marshmallows – the vanilla mint wasn't great. Nice texture, but the mint reminded me of the mint in pepto, so no thanks. Left it on the plate. The chocolate was quite the opposite. Insanely chocolately for a marshmallow. I was all over this one.
Caramel corn – also had peanuts. It was good, but hard to eat so I only had one bite. Shannon liked it. It did have a nice homemade caramel flavor.
White Chocolate Truffle – neither of us are big fans of white chocolate. This was too sweet for us and the consistency was a bit too soft for a truffle. Left it on the plate.
Chocolate Truffle – too weird for my taste. I think it had cardamom in it and it was coated in white and black sesame seeds. Just not my thing. Left it on the plate.
Peanut Butter Cookie – awesome! Perfectly chewy and peanut buttery.
Salted Chocolate Chip Cookie – also perfectly chewy but a bit too much salt. Didn't stop us from eating it though.
Almond Meringue – surprisingly this was one of our favorite bites on the plate. It's meringue with slivered almonds through it. It was crunchy and had so much flavor. I need to duplicate this at home!
Lemon Rosemary Cupcake – didn't care for this one. The rosemary was overwhelming in the tiny cupcake, but the buttercream on top was good and a nice consistency. It was topped with a small vanilla mint marshmallow and that was too many contradicting flavors in one bite.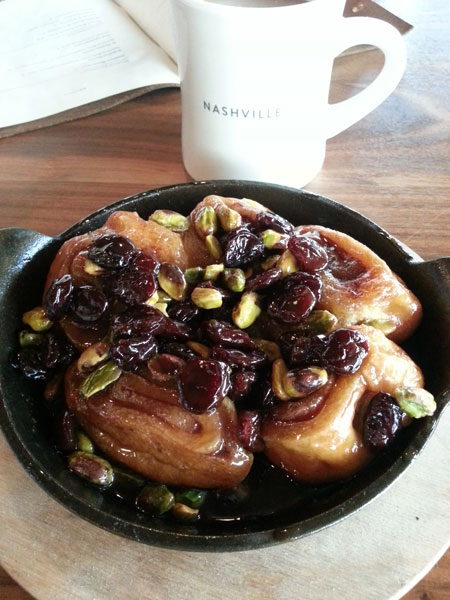 For brunch on Sunday we headed to Josephine. I was the most excited about this meal (well, after Sugar of course). It was really hard to narrow down what to get here. To start, we ordered the Pistachio and Dried Cherry Sticky Buns for the table. I will always order this when I go to brunch! They were phenomenal! Perfect fluffy texture, heavenly sticky sweet sauce, and I loved the pistachio/cherry combination.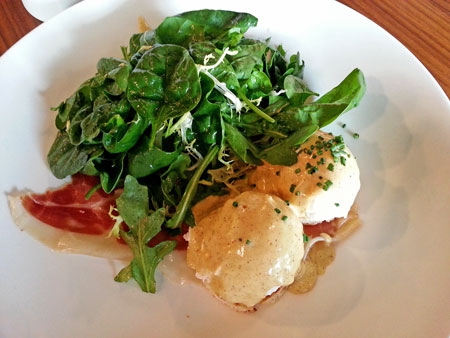 I ordered the Eggs Benedict for my entree. The menu had country ham listed, but I'm pretty sure what I got was prosciutto. Or perhaps it was super thinly sliced country ham? I was disappointed with this dish, not because of the flavor, but because of its size. My friends ordered the BLT and the J Breakfast and both had huge servings. I also spied their french toast on a nearby table…ginormous serving! Mine was itty bitty. I actually laughed when the waitress set my plate down. A huge helping of salad greens with what tasted like only olive oil for dressing, so it wasn't really edible to me. One thin slice of prosciutto underneath the eggs benedict, of which I'm not a fan because it was gummy and stringy. Instead of English muffins, they used grilled bread, which would be fine if it wasn't a tiny circle of toast. Give me the whole slice! Then the tiny eggs on top of the tiny bread. I think they cut off most of the egg white because they seemed to be regular eggs. Ridiculous what food may have been wasted to make these eggs benedict so little, and such a shame because the taste was fantastic. The brown butter hollandaise was incredible. I really wish it had been a normal size! I'll forgive them and look forward to another visit, but I won't be ordering the miniature food.
After my weekend of food heaven, I attended a food blogger dinner thanks to the lovely folks at the Asheville CVB. I have no problem eating dinner in great company while chatting about Asheville. I am so pumped to plan a trip soon after hearing about all the cool spots (and eats!) in Asheville. We had dinner at Capitol Grille, which is located in The Hermitage Hotel. I had only been here once before for breakfast. I'm just going to highlight two of my favorite things from dinner.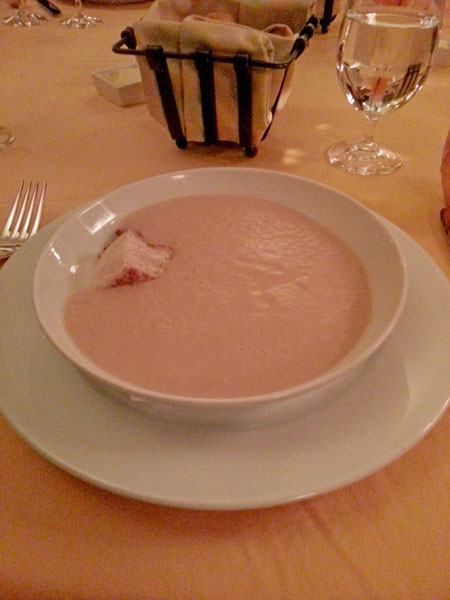 I had to get the Sweet Onion Bisque. It lived up to expectation. Velvety smooth and full of flavor. Served with bacon bits, chives, and a bit of grilled brie cheese. I will eat this again for sure!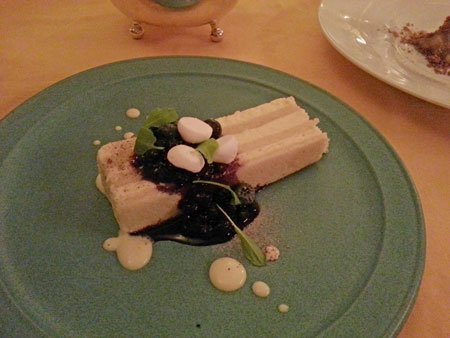 The Coconut Cake. I thought I had heard that they were known for this cake (as well as the soup!) and turns out they are. I know why! It's not your typical southern coconut cake. It's a creamier consistency and served with this amazing blueberry sauce. I would have never thought to pair blueberry sauce with coconut cake, but it works marvelously! Soup and cake will be on my agenda again soon!
Whew! Have I been eating well lately or what? I'm starting to regret getting rid of my treadmill. Yeah, no I'm not. 😉