Why it took me so long to visit Samurai Sushi, located at 2209 Elliston Place, is beyond me. I've heard so much about it and all I could think about is having a yummy sushi roll topped with delicious fruit. So when my friend Sumita suggested we meet up for dinner one night, I jumped at the chance to try it out.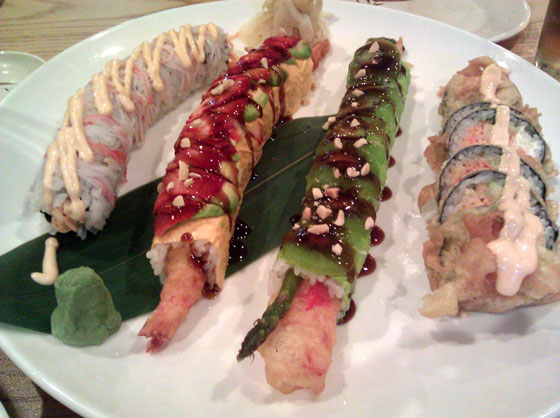 So, how's it taste?
From left to right: Yum Yum roll, Happy roll, Aloha roll, and Mr. Kaiser roll. They were all very good, but I liked the two with the fruit on top the best. The Yum Yum roll had spicy crab and cucumber inside with more crab and fish roe on top. The spicy crab wasn't spicy at all, so don't be scared to order it if you don't like heat. The Happy roll had fried shrimp and cream cheese wrapped inside soy paper with avocado, strawberry, and nuts on the top. This was my favorite. I've never had soy paper before. It doesn't really have much of a taste, but I liked the texture. It's smooth and doesn't get gummy. The strawberries on top were so ripe they added such a nice, refreshing flavor to counter the fried shrimp. Any roll with avocado and cream cheese will always get my vote. Which is why I also loved the Aloha roll. Fried crab, cream cheese, and asparagus wrapped inside soy paper with kiwi and nuts on top. Again the combo of fruit and fried goodness was delicious. It made both rolls seem not so heavy. The dark sauce on the top was sweet and you know how much I love sweet/savory dishes. The last roll, Mr. Kaiser, had spicy crab, cream cheese, and avocado inside, the whole thing fried and topped with a mild spicy sauce. The spicy wasn't very spicy in this roll either, and I'm not usually a fan of entirely fried sushi rolls, but this one was good and very rich. I'm not sure I'd order it again though.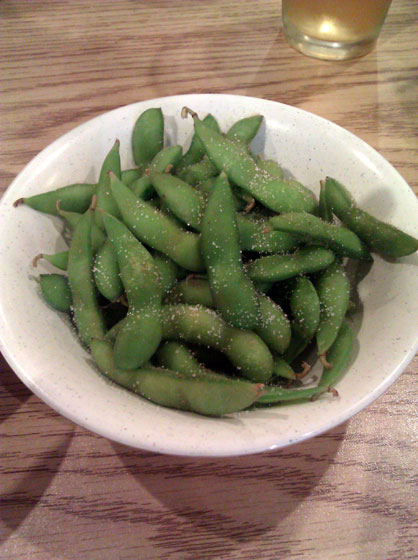 We also had a bowl of Edamame. Salty, yummy bites that we definitely didn't need because the two of us could not finish the plate of sushi! I was in a serious food coma, but somehow kept popping these salty gems in my mouth. I just hate to see good food go to waste. I also enjoyed a nice glass of Canyon Road Pinot Grigio. Paired very well with the sushi.
While the inside of Samurai Sushi is somewhat of a dive and leaves much to be desired in the looks department, this place has quickly moved to the top of my list of favorite sushi spots in Nashville.