I fully expected my visit to Martin's Bar-B-Que Joint to be like every other barbecue place I've been to, meaning not that special. It seems like everyone I knew was talking about or blogging about Martin's that I just had to go. So one night when my mom was in town, I jumped at the chance to drag her along on a new eating spot. And boy did I drag her. Martin's is located at 7238 Nolensville Road (just outside of Nashville in Nolensville). A bit of drive, but we would soon find out it was well worth it.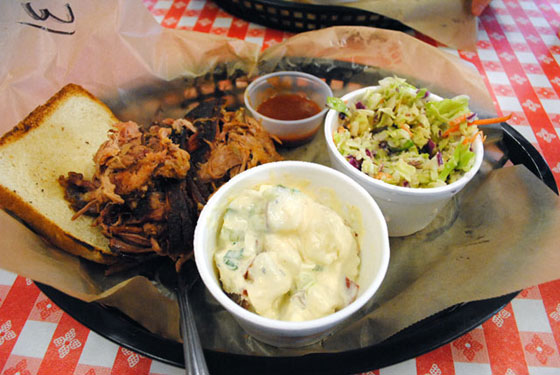 So, how's it taste?
Pretty darn tasty. I ordered the pulled pork plate with coleslaw and potato salad. I really liked the pork. It was very tender and matched perfectly with their vinegar-based sauce. My mom thought it could have had a touch more smoke flavor, but I prefer mine without that taste, so I was in hog heaven. I also ordered a side of their white sauce, and it was my favorite of the two. I swear it had cinnamon in it, which sounds weird, but I couldn't get enough of it.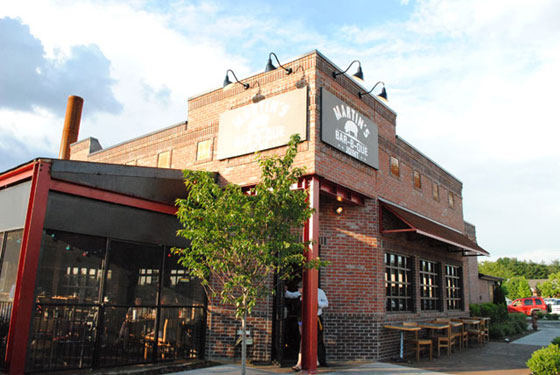 The coleslaw was just the right amount of mayo and had a nice crunch to it, but I didn't care for the potato salad. It was way too runny with mayo and had a different flavor than I'm used to. The chunks of celery were too big for my liking as well. Fortunately my mom is a sharing kind of gal and let me have a bite of her baked beans. They were out-of-this-world good. Seriously, do not pass up adding them to your order. Hands down the best baked beans. Also on their menu is a redneck taco that I'm itching to try. I believe Guy Fieri sampled that on Diners, Drive-ins and Dives. My only complaint is they don't have dessert on the menu. Where's the chocolate pie? Where's the coconut pie? I gotta have pie after barbecue, it's just how it is. Regardless, I'll be making my way out to Nolensville again soon as there's a redneck taco with my name on it.