So many good things to say about Tavern, located in midtown at 1904 Broadway. I'm having quite the love affair with this restaurant. One look at the menu and instantly I knew I'd be back several times to slowly work my way through it. The inside has a cool, fun atmosphere with its long bar and rows of high tables and booths. There are a lot of TVs as well for sports fans. There's not a bad seat in the house and they have two outdoor seating areas. It's jam-packed on the weekends, but still a great spot to see and be seen. Now on to the food!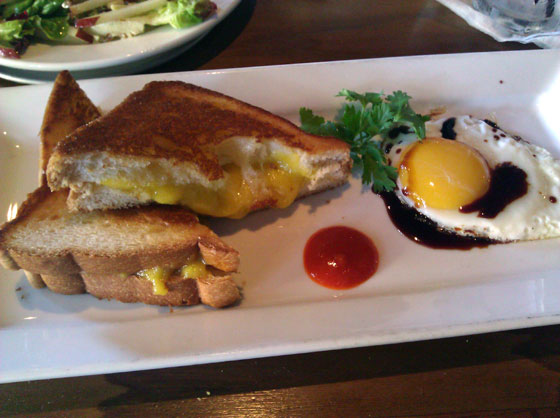 My favorite dish so far is the Kaya Toast. Warm coconut jam sandwiched between two slices of Texas toast with a fried egg, dark soy sauce, and Sriracha. It sounds a little strange, but completely satisfies those sweet and savory cravings. It doesn't look like a lot of food, but it's very rich and filling. The coconut is sweet and I like the contrast of the smooth jam on the crunchy toast. Eat this meal with a knife and fork so you can cut a bite of the toast and swirl it in your runny egg, soy, and Sriracha. It's heaven and I crave this on a weekly basis. If you're an adventurous eater, make sure you order this.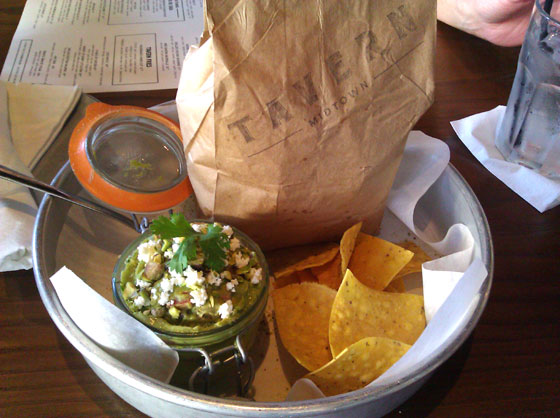 The Bazooka Guacamole is also a must-order. After hearing so many good things about it, we had to order it. Chunky guacamole with goat cheese and pistachios. I would have never thought to combine goat cheese and pistachios with guacamole, but it works! So well that I think I'll make my guacamole this way at home. The tangy goat cheese with creamy avocados and nutty pistachios is an unbelievable combination.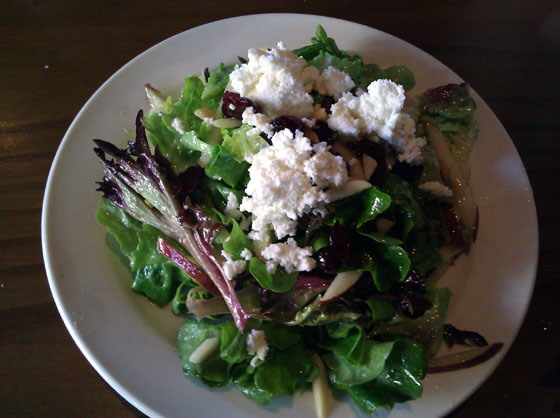 Next is the Salad of Little Gems. Red pears, cranberries, ricotta cheese with toasted almond vinaigrette. It's available in half or full sizes. Pictured above is the half, which is perfect if you want a little something extra with your entree. The vinaigrette was amazing. Very light but full of flavor and paired perfectly with the tart cranberries and sweet pears. The ricotta cheese was ok, but didn't bring much to the salad for me. I might ask to substitute goat cheese when I order this salad again.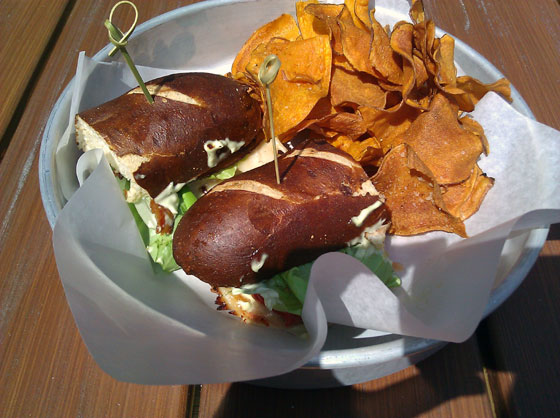 The Turkey BLT is perfect for lunch. Smoked turkey, Benton's bacon, roasted tomato, avocado aioli, and gruyere served on pretzel bread. It's mouth-watering good. And yes, those are sweet potato chips! I'll definitely order this again.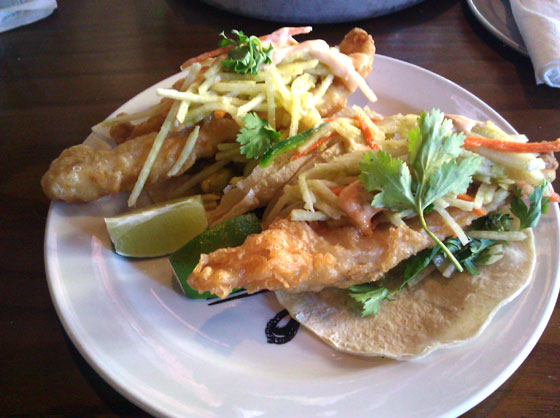 Tavern offers four kinds of tacos: fish, chicken, pork, and Korean bbq. On this visit, we tried the fish tacos. I'm not a huge fan of fried fish tacos, as I prefer grilled, but these were pretty tasty. It's topped with jicama slaw which is a crisp, refreshing bite in contrast to the fried fish. Even though it's only two tacos, you can see the serving is pretty generous.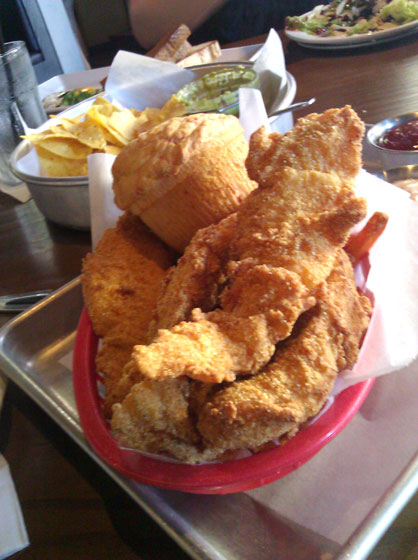 If you've got a bigger appetite, try the Basket of Crispy Little Fish…although there's nothing little about it. Cornmeal-fried organic catfish, whole-citrus tartar sauce, jalapeno cornbread, and sweet potato fries. It's enough for two people to share or for one person if you're starving. The catfish is some of the best I've ever had. Even though it's fried, the cornmeal coating makes it super crunchy and not one bit greasy. My friend and I didn't care too much for the tartar sauce. We couldn't taste any citrus so it came off as nothing more than mayo to us. I'd like to see a chunkier tartar sauce with a real punch of citrus flavor. The fries were awesome. I have a soft spot for sweet potato fries and these don't disappoint. The huge jalapeno cornbread muffin was amazing. Perfect fluffy texture, almost light, and a major heat factor from the jalapenos. It was almost like dessert.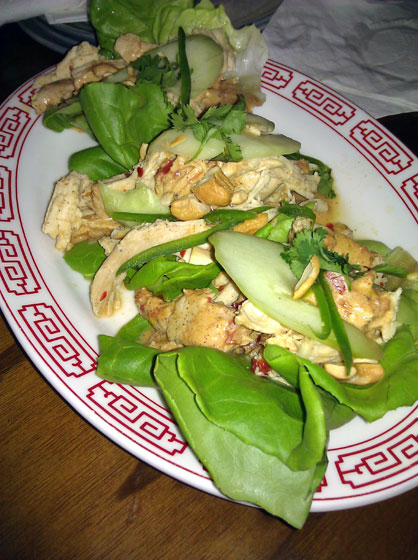 The Lettuce Wraps also pack some heat. Chicken, butter lettuce, cashews, cucumber, cilantro and jalapeno. My friends both ordered this as their late-night entree and enjoyed them. I had a little taste of the chicken and it was very flavorful and spicy! If you need your sinuses cleared, this is the dish for you. As you can see above, it's a nice serving size, too.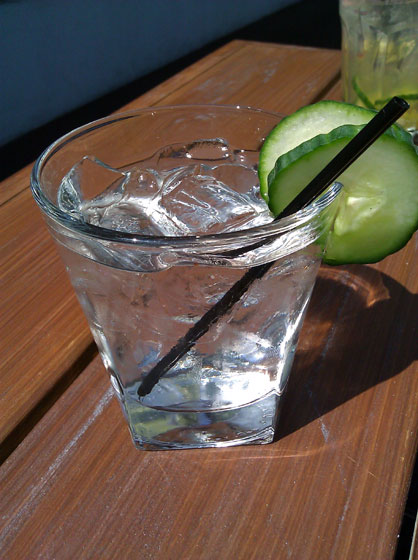 Tavern also offers a hefty drink menu. Along with beers, wines, and liquors there's a ist of what I call "fun" cocktails. The Existentialist is Corsair gin, St. Germain, muddled cucumber, and soda. I didn't like it but I'm not a fan of gin. However, for gin-lovers this drink has recieved rave reviews so don't count it out if you like gin.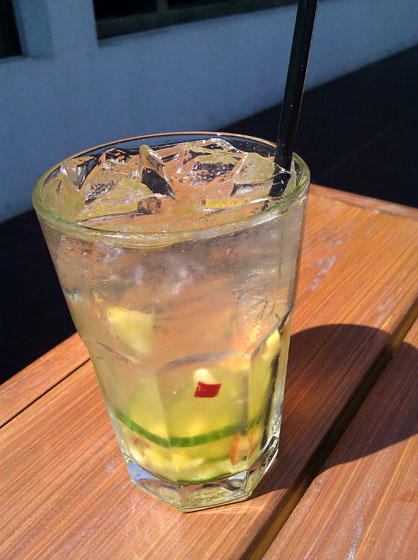 The Cucumber, Apple, Elderflower is very good, but strong. It's Stoli, St. Germain, muddled cucumbers, and apples. Once the ice melted a bit, it was more to my level. I'd order this again.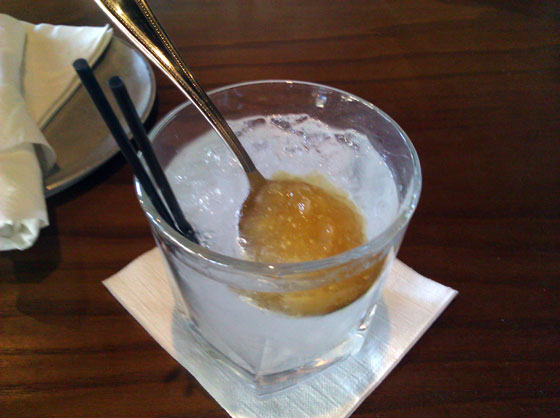 Next up is a Pineapple Vanilla Bean preserve served over vodka. You could also choose gin and they have a Fig & Honey Jam or Summer Berries and Yuzu. This drink is naturally very strong, but found that an added shot of pineapple juice did the trick. The preserves don't mix very well, but it was still a tasty drink.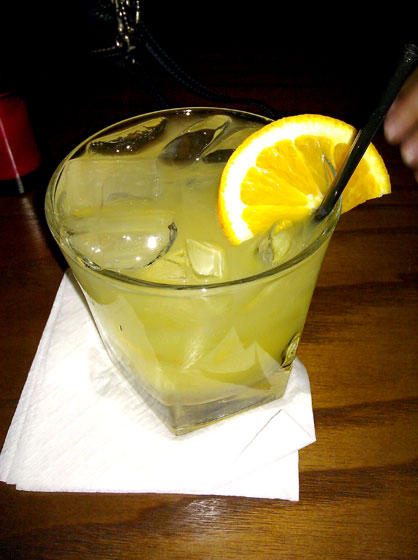 The last drink I've tried is the Bellini Sparkle. I happen to love bellinis and this one made me happy. Cava, peach nectar, and orange juice. Just the right amount of sweet without being sickeningly sweet. Also on my list to enjoy again.
Several thumbs up to Tavern! I like the atmosphere, the servers are fantastic, and the food is outstanding. It's a spot I look forward to visiting again and again. As a matter of fact, I've already got plans to return again soon and try The Tavern Burger. I hear it's been tagged as one of the best burgers in Nashville. Stay tuned as I'll report back what I think, but I somehow doubt it won't live up to its hype. You can follow Tavern on Twitter or find them on Facebook to keep up with specials and events.
Update: Tavern now serves brunch on Saturdays and Sundays. The menu is just as tantalizing as their regular menu…and you can get the burger any time. Read what I thought about the Tavern Burger and brunch.