I don't know why it's taken me so long to visit Porta Via, located at 21 White Bridge Road. It's been there for years and I've heard so many good things about it. They are the only restaurant in Nashville serving VPN-certified pizzas and they have a pretty extensive list of gelato. Their menu also has a handful of pasta entrees, soups, and sandwiches.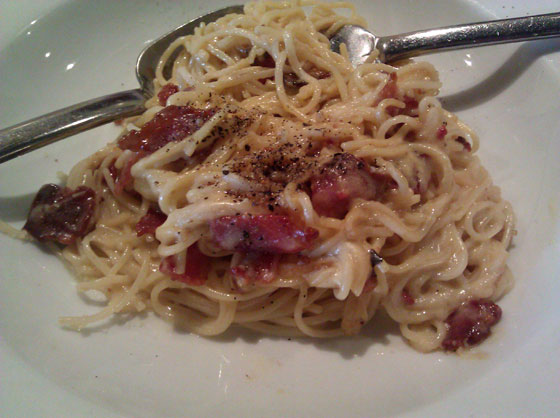 Several months ago, I took my friend Meghan there for her birthday. It was a tough decision to decide what to order from the menu. We both decided on the Spaghetti Carbonara. So glad we picked this one! We both enjoyed it so much that we couldn't stop talking about it through the entire meal. It's a bit on the greasy side, but the taste is heavenly. It's creamy and full of bacon. It looks like a small portion, but it was a lot on my plate and very filling. I'd definitely order this again.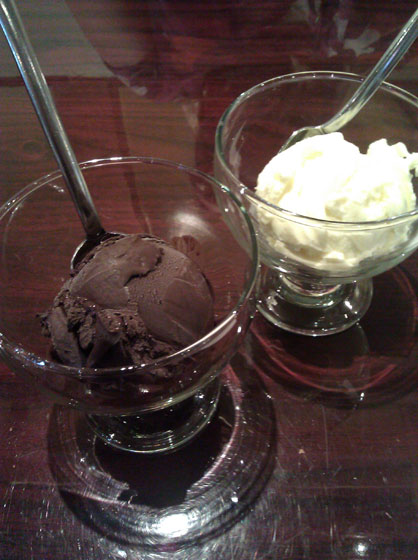 We managed to save room for some gelato, of course! We chose the double chocolate and the pineapple. I loved both. The double chocolate is insanely chocolatey. Rich, thick, and delicious. If you aren't a chocoholic like me, you may be overwhelmed by the chocolate. The pineapple was really light and refreshing. A great contrast to the chocolate. Meghan and I left very happy after that meal!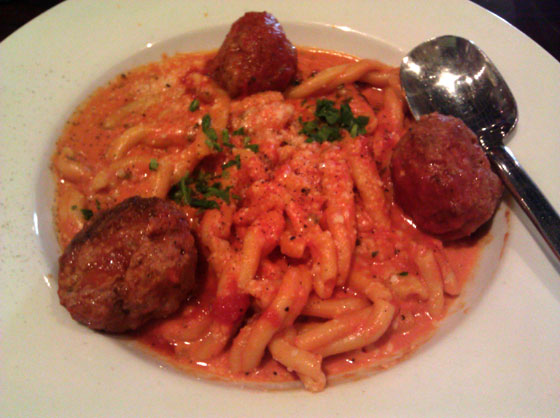 On another, more recent visit, I ordered the Casarecci Porta Via. It's pasta in a creamy tomato sauce and I added meatballs. I enjoy any kind of sauce if cream is involved and I'd heard a lot about their meatballs, so I was excited to dig in. I wasn't too impressed with this dish. It left me wishing I had ordered the carbonara. The sauce was tasty, but lacked some pizzazz. Maybe I should've added a tad bit of salt or black pepper, or even red pepper flakes might have perked it up. The meatballs were not good at all. I was super disappointed in them. The texture wasn't pleasing, as they were kind of soggy and the flavor was bland. I hate to say it, but they reminded me of canned meatballs. However, one of my fellow diners loved them, and another thought they weren't that great. I'll never order them again.
We also tried more of their gelato. We got the double chocolate again and the mango. The double chocolate was as delicious as the first one I had, but the mango was gross. The flavor was really strange and it had a sandpaper texture. I'm not sure if it was bits or mango but it was very unpleasant.
I have mixed feelings on Porta Via. One taste of that carbonara and I couldn't wait to go back, but my second visit was underwhelming. I won't cross them off my list, but I'm not sure I'll ever stray from the carbonara.
Update 12/2013 – A few coworkers and I ventured to Porta Via for lunch recently and I ordered the carbonara. I had been talking this dish up the entire drive there. Big disappointment this time. It was still incredibly greasy, but lost its flavor. The sauce was extremely yellow and the entire dish tasted like eggs. I'm assuming they put too much in the sauce. It was bland and just gross. Top that off with pulling out a small wire from my mouth from a bite and I was done. I'm completely done with Porta Via. No way is this place authentic Italian food. I'd steer clear of it.
Have you been to Porta Via? Tell me what you ordered and what you thought.
Porta Via Italian Kitchen
21 White Bridge Road
Nashville, TN 37205
(615) 356-0001
Hours:
Monday-Saturday 11am-10pm