Neener, neener, neener! My neighborhood has Blue Velvet Cupcakes! I'm so excited to tell you about Blue Velvet Cupcakes. I know Nashville has a lot of great places to buy cupcakes, and one in particular is a favorite of mine, but they aren't exactly close. You can imagine my glee when Blue Velvet Cupcakes came to my side of town. Yep, that's right. Antioch has an awesome cupcake place! When I saw the sign, I had to do a double-take. Antioch doesn't get a lot of love in Nashville because it may not seem as cool as other areas, but I dig it. And I dig it even more now that I can satisfy my sweet tooth with a short drive from my home.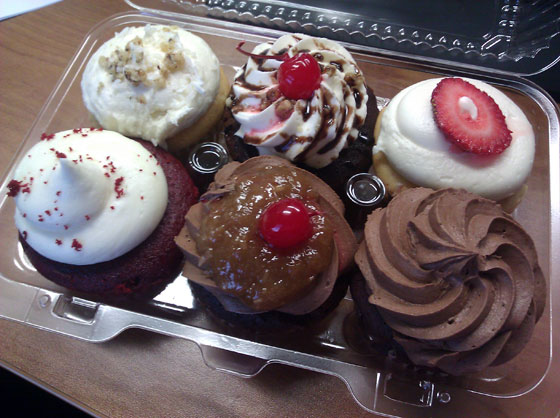 So, how's it taste?
Every time I try a new cupcake place, I immediately compare it to my favorite. Most do not stack up and I end up disappointed. Not Blue Velvet Cupcakes. Their cupcakes are pretty amazing. I bought a sampler of six and took them to work for a "sampling party." We tried the (clockwise from top left) Italian Stallion, Chocolate Sundae, Strawberry Deluxe, Double Chocolate, German Chocolate, and Red Velvet. The Italian Stallion was my instant favorite. It's like Italian cream cake and it's fabulous. All the cupcakes were super moist and decadent. The German Chocolate was another standout in this group. It's gooey and complete heaven.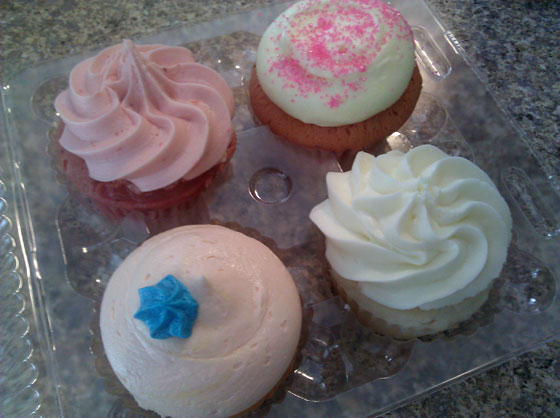 On another visit, we tried (clockwise from top left) Strawberry, Strawberry Lemonade, Royal Wedding, and Orange Dream. The Orange Dream was my favorite of the four. It's super citrusy, but won't give you a pucker. It's like a creamsicle in cupcake form almost.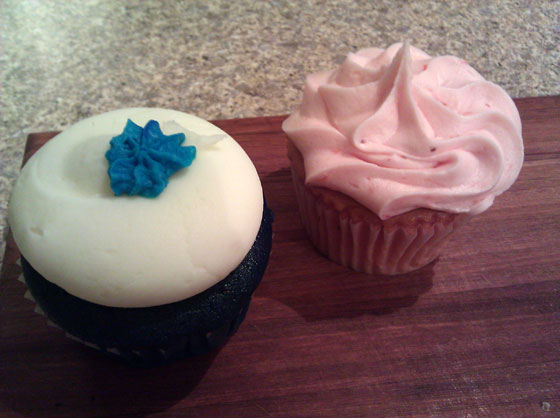 My neighbor surprised me with more cupcakes and I got to try the namesake Blue Velvet and the Strawberry Milkshake. Once again, they did not disappoint. I liked them both, but I will say beware of the Blue Velvet. There's A LOT of blue food coloring in it and I'll spare you from further details.
Blue Velvet Cupcakes has tons of other flavors that I can't wait to try. Tiramisu, S'mores, MAPLE BACON, and Pineapple Express are just a few. They also have cobblers, cookies, and donuts. Some times they take their buttercream and smear it between two cookies THEN dip it in chocolate! This place is a wonderful addition to Antioch and for those of you not in the neighborhood, well worth a visit. Their hours are very convenient, too. Your sweet tooth will thank you!
Blue Velvet Cupcakes
795 Bell Road
Antioch, TN 37013
(615) 942-8516
Hours:
Monday-Saturday 11am-8pm
Sunday Noon-6pm