The food bloggers in Nashville have become quite a community. This past Saturday, we took our first field trip to Austin, Kentucky, to visit Kenny's Farmhouse Cheese. I couldn't stop talking about how excited I was for days leading up to the trip and it was really hard to get to sleep the night before, even though we were meeting bright and early at 7:30 a.m. Yes, I'm a dork, especially when it comes to food. There's not much else I get up early for, well, maybe chocolate.
We packed into a van and headed North. The drive was gorgeous once we got out of Nashville and further into Kentucky. The hour and a half drive was worth it with a van full of foodies. I was in conversation heaven as I don't think we strayed from the topic of food the entire time.
We arrived to find Kenny already into the process of making White Cheddar. See this vat? This is it. I can't believe all of his delicious varieties come from this one vat.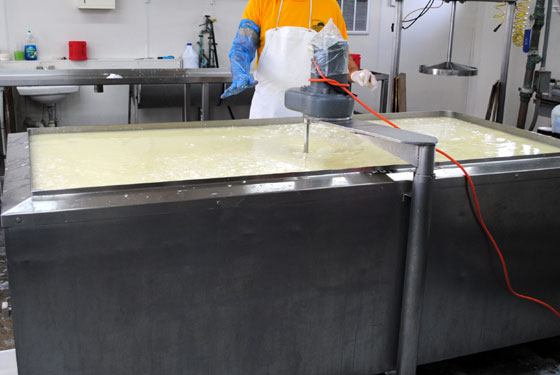 All of the cheese is made by hand. Kenny tells us you can "feel" when it's ready. Too much automation would cause the volume to decrease.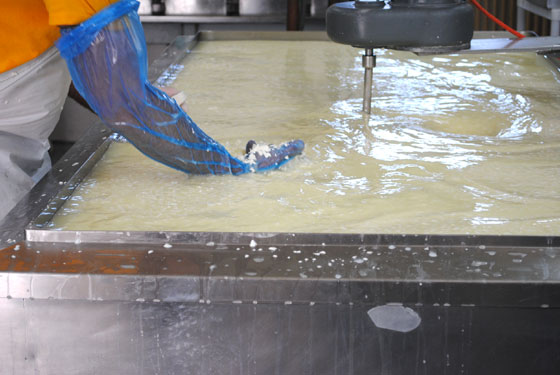 We look pretty good in hair nets don't you think?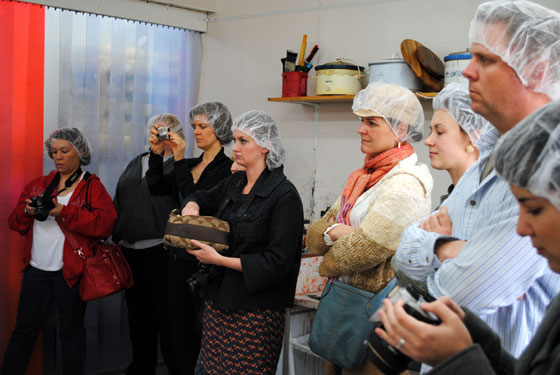 As Kenny stirs the curds and whey he's telling some great cheese-making stories. The guy has some major personality and he loves what he does. I could tell this wasn't going to be your run-of-the-mill, bore-me-to-death field trips of my younger years. And when you love cheese-making as much as Kenny does, it shows in your product.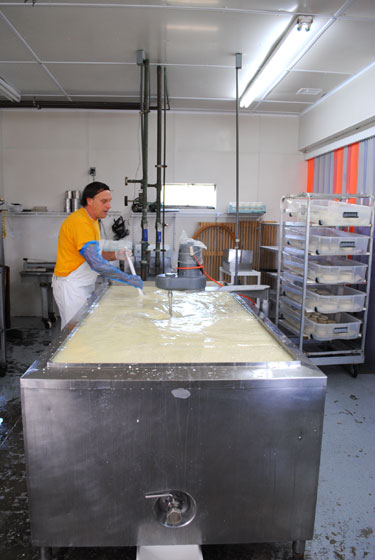 Here are a few molds for the cheese. Think of all the delicious cheese that has passed through these.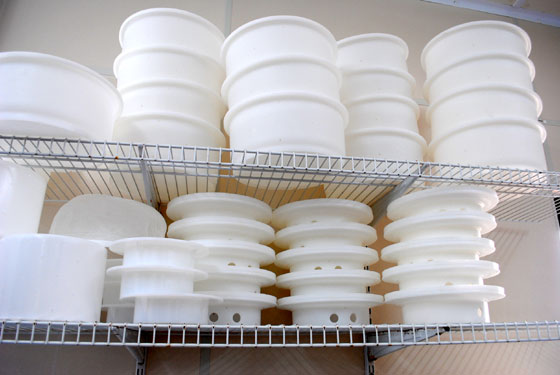 Next we were lead into a tiny room where they age the cheese. I'm pretty sure I let out out a small squeal. First we passed where the cheese is in a brine.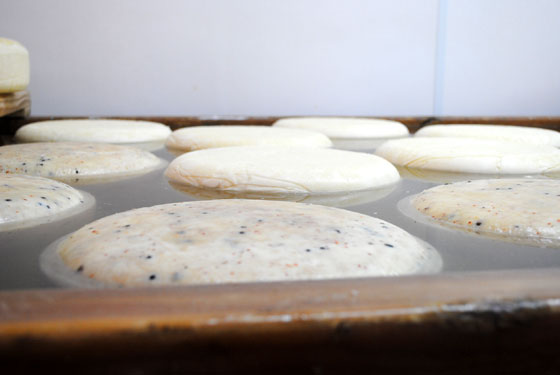 It was cheese for days.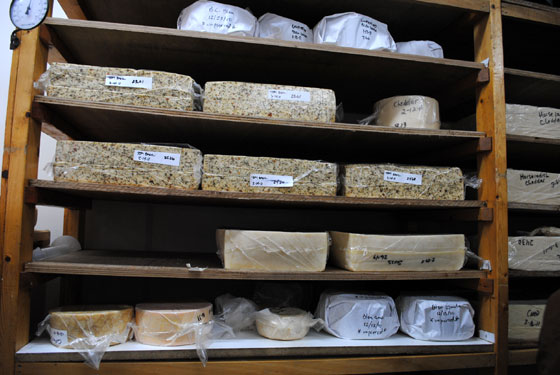 I wanted to pull up a chair, get a knife, and chow down!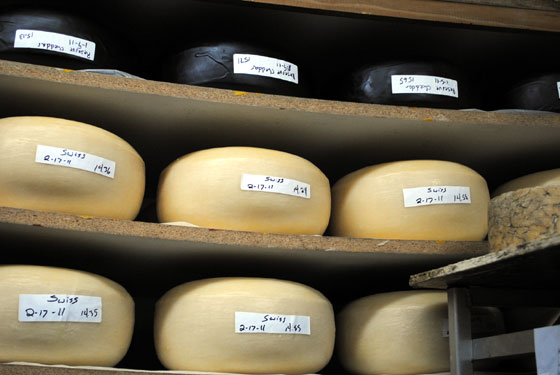 Kenny, how did you know Gouda is one of my favorites?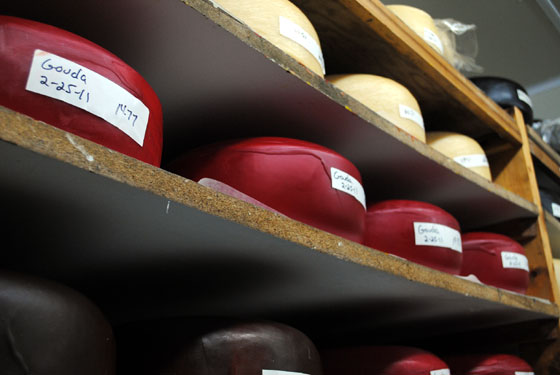 And I'll add Kenny's Norwood to that favorites list. I secretly hoped I'd get locked into the aging room. I wouldn't starve!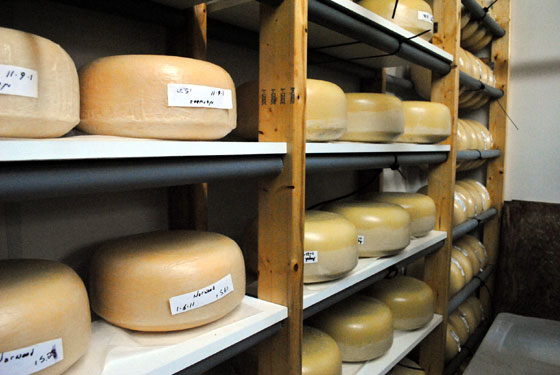 Meet the cows! They are literally next door to the cheese-making room. The milk is piped into the vat right out of the cow. It doesn't get much fresher than that!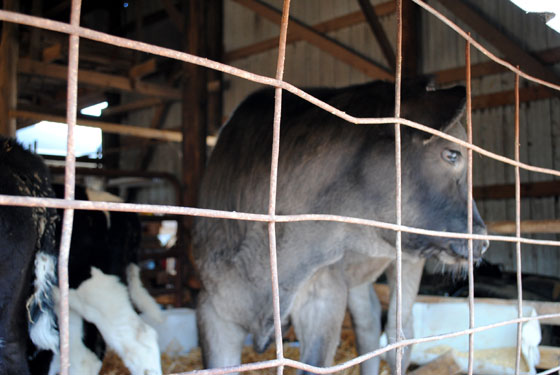 And they are happy cows. Happy cows make excellent cheese.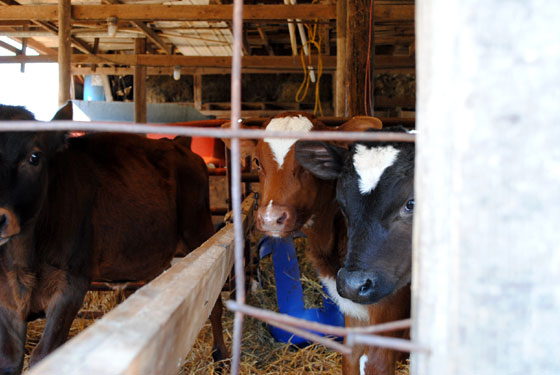 This little one is two days old.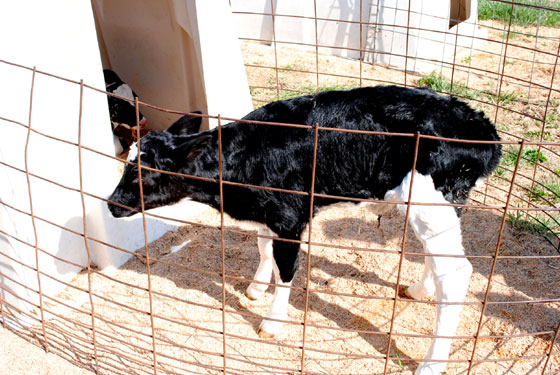 And they've got their own housing. Ah, life on the farm.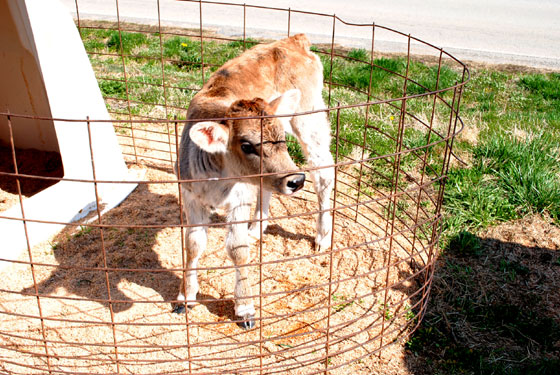 After a visit with the cows, it was back to the cheese. After the whey is drained off, blocks of curd remain.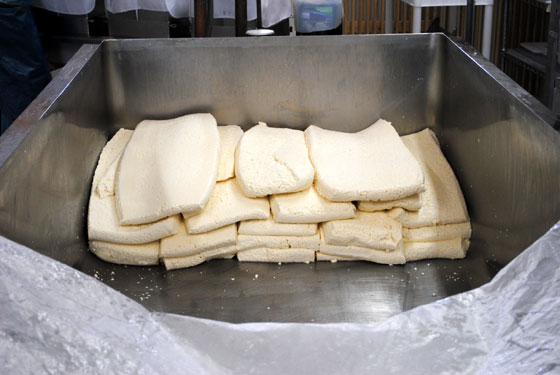 Now it's time for a process called "cheddaring."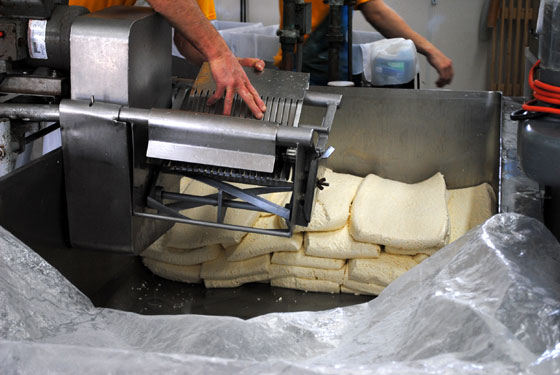 The blocks of curd are cut into smaller pieces. Next comes the salting process. It gets slowly salted in three stages. I tasted it after the first salting. Not bad, but not quite cheddar just yet.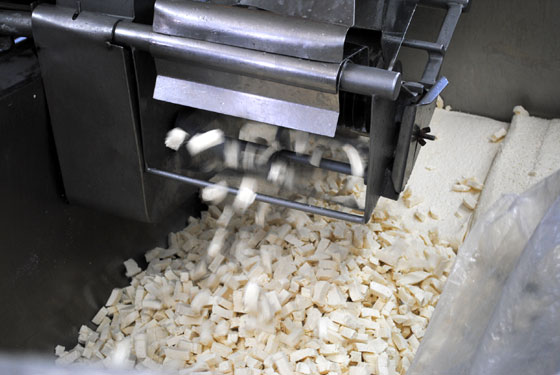 The result is pieces that are then molded into what will become delicious White Cheddar. It's hard to believe that vat of curds and whey turns into decadent cheese.
We sampled so many cheeses that afternoon. My instant favorite was Norwood. It's a Gruyere-based cheese with lovely crystals and a pleasant bite. This is my wedge I brought home from the farm, and I'm doing some serious damage. Thank goodness you can buy Kenny's cheese in Nashville.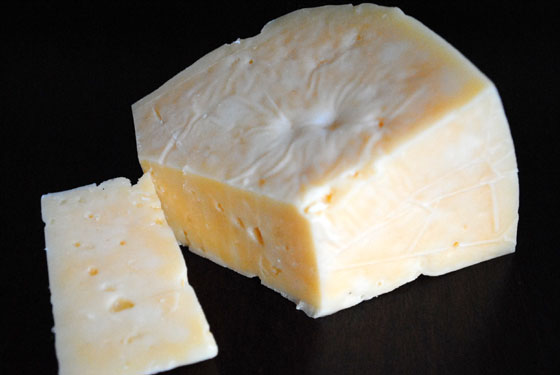 As if Kenny's Farmhouse Cheese tour wasn't enough, thanks to Jennifer (Kenny's cousin and cheese rep), we met the guys behind Riffs. They gave us a sneak peek of their new food truck coming to Nashville soon. Boy is Nashville in for a treat!
Our first course was a Panzanella Salad with cornbread croutons, bacon vinaigrette, and featured Kenny's Blue Gouda. I devoured this. I loved the cornbread croutons. The vinaigrette in combination with the veggies and croutons gave a hint of sweet and that paired incredibly with the blue cheese. You'd think this dish would be on the heavy side, but it was refreshingly light.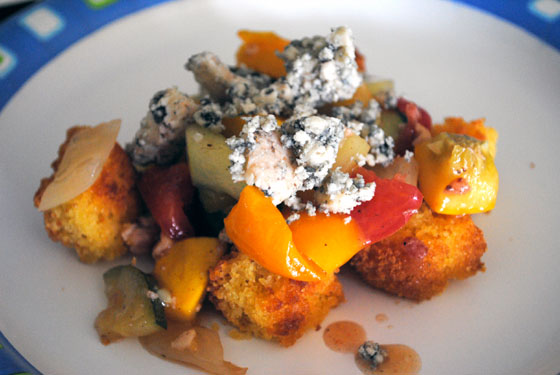 B.J. and Carlos prepping for our second course.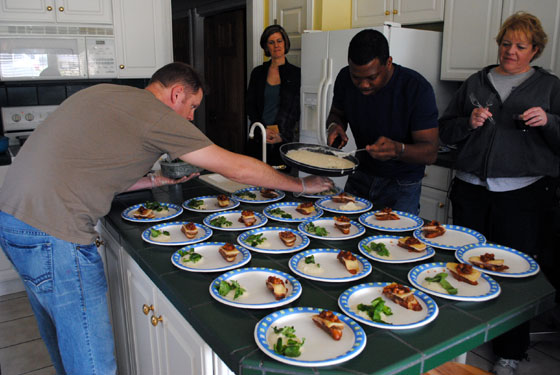 Our second course was a Pork Croustade with Pear Chutney and featured Kenny's Awe Brie. I couldn't stop saying "this is soooo good" with every bite. The pork had a bit of a spicy kick from the rub. Combine that with sweet pear chutney and creamy brie, it was insanely good.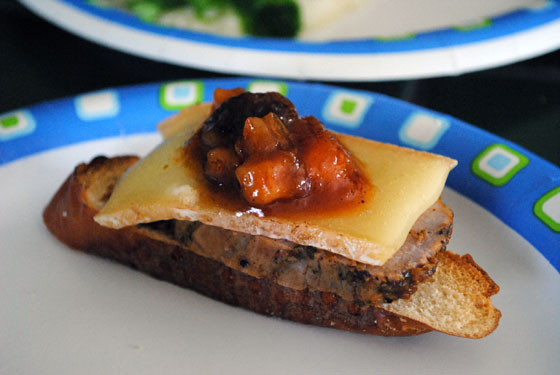 Along with the pork, we tried a Salted Cod Cake over Cheddar Grits with Habanero Aioli. The grits featured Kenny's White Cheddar. I'll be honest, I've never heard of salted cod and wasn't exactly jumping up and down to have it on my plate for lunch. I was surprised it looked like a hushpuppie as I was expecting something like a crab cake. After tasting Riff's first two amazing dishes, I dove right in unafraid. It was yummy! Perfectly fried so it wasn't too greasy and had great flavor. Nothing fishy like I imagined. The grits were cooked beautifully and paired nicely with the cod cake. I loved the aioli with it as well. A nice touch with a subtle kick of that habanero heat.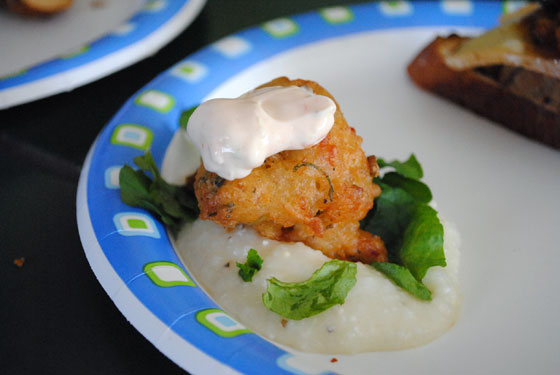 For our last course, we enjoyed a Savory Bread Pudding with Tomato Jam and it featured Kenny's Havarti with Cranberry. I'm not used to my desserts being savory, but this hit the spot. The texture was the same as a sweet bread pudding. I could taste the tart from the cranberries in the Havarti and it was a nice contrast to the tomato jam. An unexpected, but tasty twist on classic bread pudding.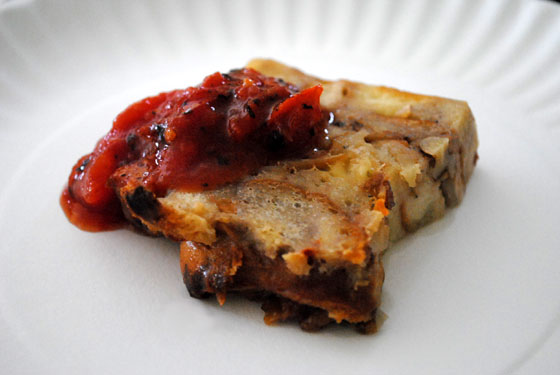 Here's the whole gang! I must say that was one of the best Saturdays. I'm now hooked on Kenny's cheese and very impatiently waiting for the grand opening of Riffs Food Truck. A huge thanks to Kenny's and Riffs for an unforgettable day!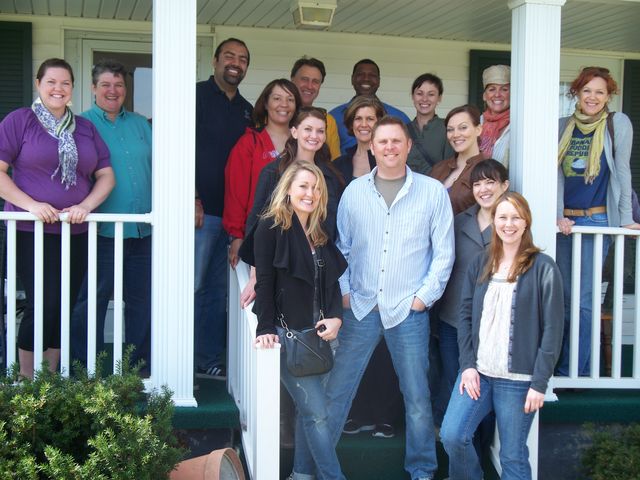 For Nashvillians, find Kenny's Farmhouse Cheese at The Turnip Truck, The Produce Place, and Whole Foods to name a few. You can also order online straight from Kenny.
Riffs Food Truck should be hitting the streets of Nashville this May. Follow them on Facebook and Twitter to stay up-to-date on their whereabouts.