Of course I did my research months before traveling to New York and had a small list of places I wanted to eat, but I also like to try out spots based on where my friends eat. If they like it, then I'm up for trying it. Lucky for me my friend Carol has a wide variety of foods she likes to taste and it's because of her I've branched out and tried new flavors. Now that Carol's been a New Yorker for quite some time, she's pretty good at recommending spots she knows has good food.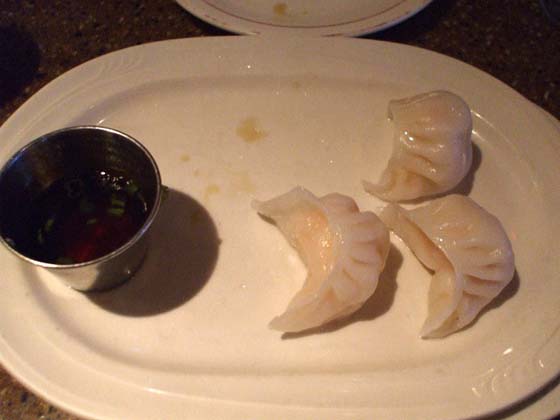 One of the first places she took me was the Saigon Grill, located at 620 Amsterdam Avenue. It's Vietnamese food, but their menu seems to have other influences as well. For our appetizer, we ordered the steamed dumplings. The dumplings were very tender and I loved the dipping sauce. I'm not sure what the sauce was, but I could have turned up the cup and drank it!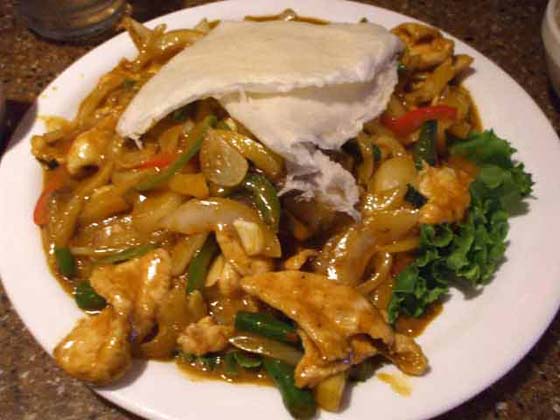 For my entree I ordered the Curry Ga. Anything with curry floats my boat these days, so that was an easy choice. Sauteed slices of chicken with eggplant, onion, string beans, and bell peppers with a curry and coconut milk sauce. Yes! It was delicious. I started to take home leftovers, but it was so good that I couldn't quit eating it!
One restaurant that Carol talked about from day one was Pio Pio, located at 702 Amsterdam Avenue. I was a little hesitant because I'd never had Peruvian food, but she's never let me down with restaurant choices so we went for it. So glad I did! This place was so fantastic, we ate there twice during my visit. If I'm on vacation, I'm not one to eat at the same spot, so you know it had to be good for me to go again.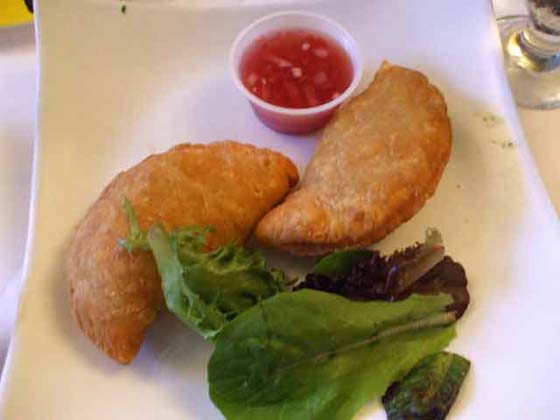 On the first visit I ordered two appetizers as my meal. The Empanadas de Pollo pictured above are Peruvian style patties stuffed with chicken pio and served with salsa criolla. They were what I expected in an empanada, but packed so much flavor. I really enjoyed the salsa criolla. It was tangy with a hint of sweet. Sinful with the empanadas.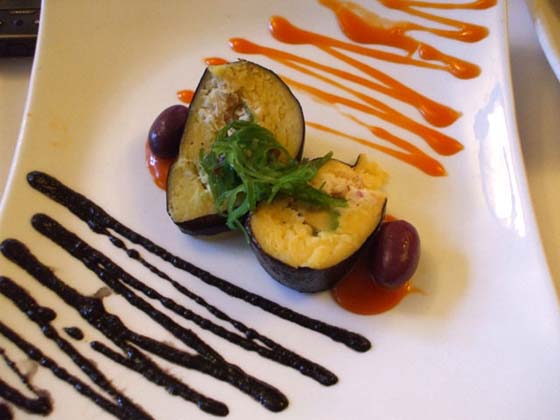 My second appetizer was the Causa de Cangrejo. It's a cold mashed yellow potato cake filled with avocado and jumbo lump crabmeat. It looked so pretty on the plate and was equally tasty. The cold mashed potatoes may throw you off but this dish was quite tasty. I'm not sure what the two sauces were on the plate, but I swirled each bite into it and liked it. I'm also not sure what the black wrapping was around the potatoes. It had an odd textures so I removed it and didn't taste it. I'm not too adventurous!
Another dish I have to mention was something Carol ordered on our first visit. The Camarones Cuzco has shrimp sauteed in garlic, shallots, cilantro, white wine, and Aji Amarillo sauce. It's served over yellow rice and topped with salsa criolla. We both fell in love with this dish! I so regretted not ordering it myself, but did on the second visit. I was so excited about eating it that I forgot to snap a picture and dove right in! The sauce was light but had almost a buttery flavor to it. It went so well with shrimp. My visit to Pio Pio has made me obsessed with Peruvian food. If anyone knows of a restaurant near Nashville that serves it, please let me know!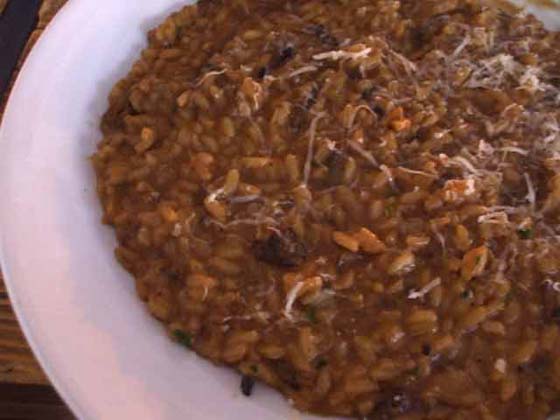 Another dinner stop for us was the Gallo Nero Wine Bar & Grill, located at 402 West 44th Street. We were on our way to see Rock of Ages (it was awesome!) and stopped in the cutest restaurant. The entire wall facing the street was open and it was such a gorgeous night. It's very quaint on the inside. Very rustic and had a nice touch of candles lit all around it. We both couldn't resist ordering the Risotto with Porcini Mushrooms and Truffle Olive Oil. I'm a sucker for a good risotto and this one didn't disappoint. It was deliciously creamy as a risotto should be and I loved the combination of mushrooms and truffle olive oil. The perfect kick off to our Broadway show evening!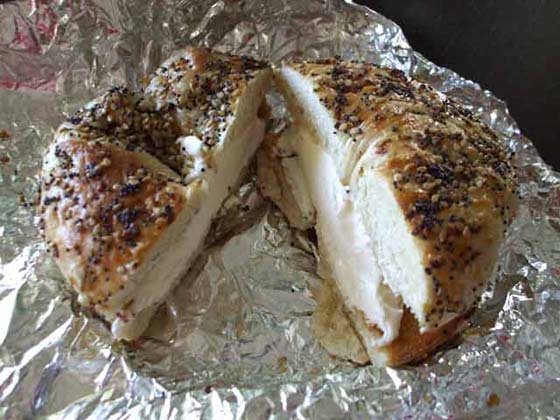 Now you can't come to New York and not have an H&H Bagel. They are the cream of the crop! There's a deli right across the street from Carol's apartment that serves them and they are out of this world good. I take my everything bagel toasted and schmeared with cream cheese. It's the best breakfast with a cup of coffee. I mean just look at it. All that cream cheese and toasted goodness. There's just something about those H&H bagels that makes them taste so much better than any other.
I'm missing New York already!
Part 1, Flavors of NYC Food Tour
Part 2, Throwdown
Part 4, Fun Foods
Part 5, Just Desserts