At the end of this past January, I had the privilege of attending Food Blog South in Birmingham, Alabama, for Goo Goo Cluster. It was really cool being the Goo Goo girl for one day! Handing out chocolate made me pretty popular and I had a ton of fun meeting new friends and introducing folks to the southern candy confection. Of course, the highlight of the trip was the food. Before heading home, a few of us stopped at Another Broken Egg Cafe for brunch. One look at the menu and I knew I was going to have trouble narrowing down my decision. This place is a breakfast hot spot, but also serves burgers, salads, and sandwiches.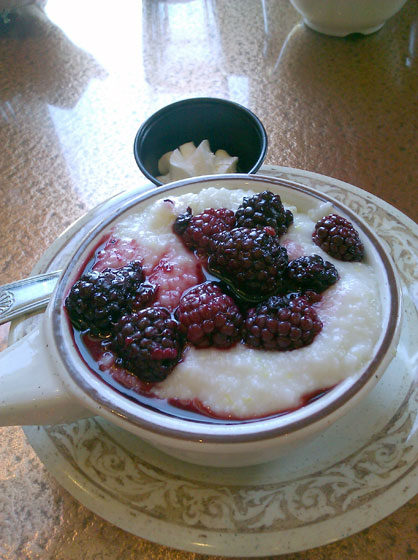 So, how's it taste?
That beauty above is Blackberry Grits. It's the perfect size for sharing, so the whole table dug in. I'm very anti-sweet grits. I like to refer to folks that put sugar on their grits as Yankees. Grits were meant to be savory, eaten with butter, salt and pepper, and maybe a little cheese. But never sweet…until I tasted blackberry grits. They were incredible! Creamy grits, not too terribly sweet, but just enough. Bursts of fresh blackberry and on the side was a sweet butter. Even though this fed five people, I would've had no problem downing the entire bowl myself.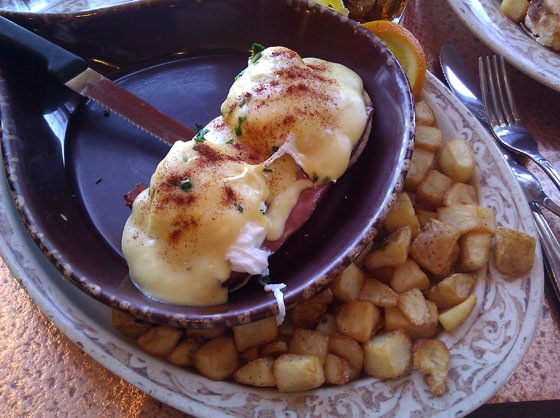 After a torturing process of deciding what to eat, I picked Eggs Benedict. I love, love, love eggs benedict as hollandaise sauce is a favorite of mine, and you all know how I feel about runny eggs. These were served with their country potatoes. I was instantly happy with my choice. The eggs benedict were perfect and I loved the country potatoes. My only complaint is the ridiculously big serving plate. It hogged up the table and the skillet on top of the plate was unnecessary.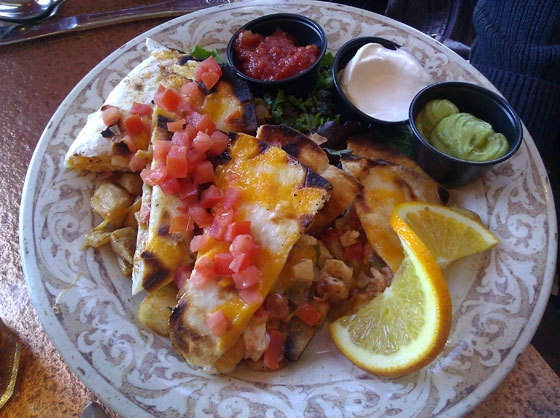 Lucky for me, two of my friends are Birmingham locals (they recommended this place) and they love food as much as I do (and don't mind sharing!). My friend Kevin ordered the Plantation Quesadilla. It's a flour tortilla filled with chicken, green chiles, onions, tomatoes, and melted cheese. It's also served with the country potatoes plus sour cream, guacamole, and salsa. If you're looking for something savory for brunch, this is the dish to choose. The chicken was tender and seasoned just right. I'm a condiment junkie so I love all the options it comes with, plus you get those lip-smacking good potatoes. You won't need to eat the rest of the day after this meal!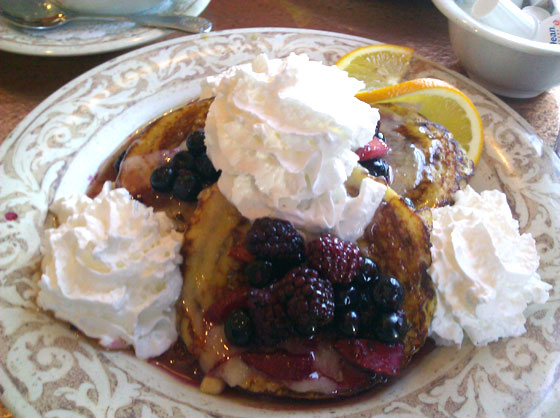 Last was the Cinnamon Roll French Toast that my friend Amber ordered. I was so, so glad she did! It's a merging of two breakfast obsessions. Slices of cinnamon rolls, grilled in French toast batter, smothered with cream cheese icing, banana's foster sauce, mixed warm berries, and whipped cream. I've died and gone to sugar heaven! If you've got a killer sweet tooth, you've got to try it. It's almost too much for one person to conquer, so I was more than happy to help Amber out with a few bites. 😉
The original Broken Egg is in Mandeville, Louisiana and they've got several locations in Alabama, Mississippi, Florida, Georgia, California, and Texas. A recent glance at their online map and I see Tennessee is in blue for "sold." Please, please, please let Another Broken Egg come to Nashville!