Earlier this month, my mom and I spent three days in San Antonio, Texas. San Antonio has been on my list to visit for a while and ended up being the perfect destination for a December vacation. We had airplane fare that was about to expire, so we thought – where can we go in December where it's warm and we don't have to worry about getting snowed in? TEXAS!


San Antonio goes all out for Christmas and we felt like we had the place to ourselves. Early December must be a great time to take a vacation if you want to avoid the touristy crowds, and the weather was perfect. San Antonio has gorgeous Christmas lights everywhere, especially on the Riverwalk. I jokingly asked my mom to take my picture in front of every Christmas tree we came across – 22 pictures later I'm still laughing over this!
Day 1
Our plane landed around lunch time and we made our way to the Embassy Suites by Hilton San Antonio Riverwalk Downtown. We picked a hotel right on the River Walk and we could not have been more thrilled with Embassy Suites. I wish I had taken pictures of our suite. It was so fancy and roomy! Great location where we could walk to everything, and it included free breakfast and happy hour!
Lunch was at La Panadería just a few blocks from our hotel. (Christmas Tree #1)  We both ordered the La Clásica Torta on croissants. The wait was about 20 minutes for them to make our sandwiches, but well worth it! Ham, swiss cheese, cilantro mayo, chipotle mustard, pickled jalapeños, and tomatoes. It came with a side salad which was weird and oily, but no matter because the tortas are plenty for a meal and so delicious!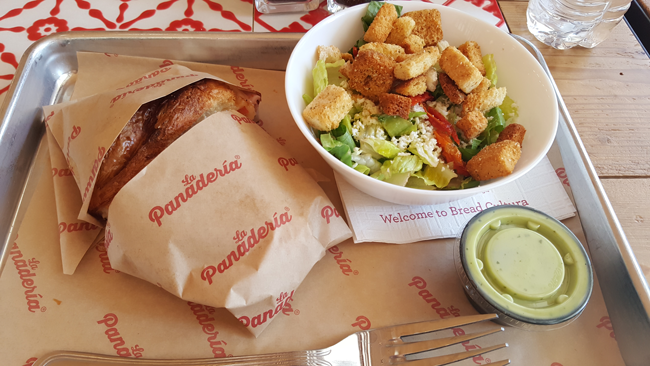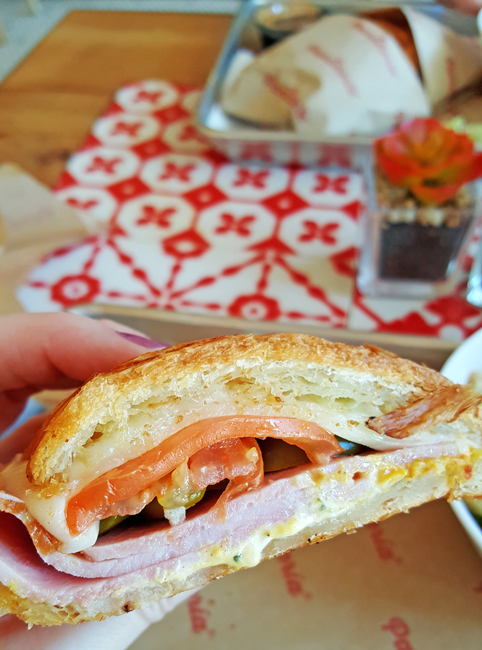 Next we got unlimited ride tickes (a whopping $2.75 each) for the local VIA bus. San Antonio's VIA bus system has a special VIVA Missions route that will take you on four of their five missions. We took the rest of the afternoon to tour Mission Concepción, Mission San José, and Mission San Juan Capistrano. The best part…all are free! (We saved the Alamo for the next day and skipped Mission Espada.) Super easy to take their bus since it's an app you download on your phone and show the bus driver whenever you want to ride.
After the missions tour, we walked around Alamo Plaza (Christmas Tree #2) and checked out their visitors center (Christmas Tree #3). We headed back to our hotel to rest a bit and enjoy their free happy hour! We had cocktails and nachos and ended up calling this dinner.
Later that night we took a walking Sisters Grimm Ghost Tour (Christmas Tree #4 – that's me being snarky in the pic at the people who cut me in line). We wanted to do the bus tour, but they don't run that one in December due to the crowds. This tour was awesome! It was cool learning about ghosts and haunts of San Antonio. The ghost tour starts right outside the Shops at Rivercenter Mall (Christmas Tree #5). One of the stops on the ghost tour was San Fernando Cathedral (more on this later and Christmas Tree #6).
Day 2
We found Christmas Tree #7 at Houston Street Court on our way to more sightseeing.
We purchased a combo ticket with City Sightseeing San Antonio. We love doing double decker bus hop on hop off tours. It's a great way to get around a city and see the sights without having to rent a car. Plus we always ride it around the full ride at the end and it's nice to just sit back, relax, and enjoy the tour. Our ticket included two days of the double decker bus, plus the Riverwalk boat cruise, and the Tower of the Americas. A great deal, especially if you purchase tickets online.
The Alamo is the first stop on the double decker bus tour and I highly recommend purchasing the audio guide. The Alamo is a lot smaller than I expected, but there are tons to learn there. The tour is free and we got a nice discount on the audio tour since my mom is a retired nurse – woot! Christmas Tree #8 is in the Alamo gift shop.
We grabbed the bus and made our next stop the Guenther House and Restaurant (Christmas Tree #9, #10, & #11). The wait was about an hour so I highly recommend making reservations. It's a cute old house that you can tour and during Christmas they have this massive gingerbread house that is insanely impressive. There's also the San Antonio River Mill store where they sell Pioneer Mill brand mixes…I scored some pumpkin spice pancake mix!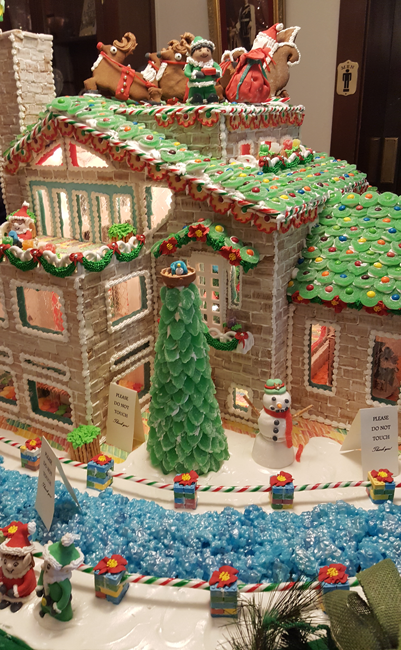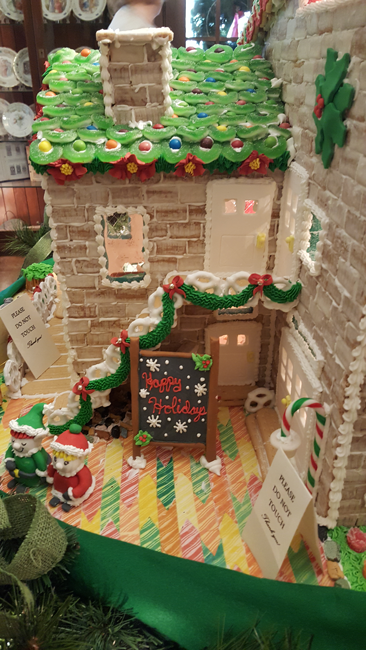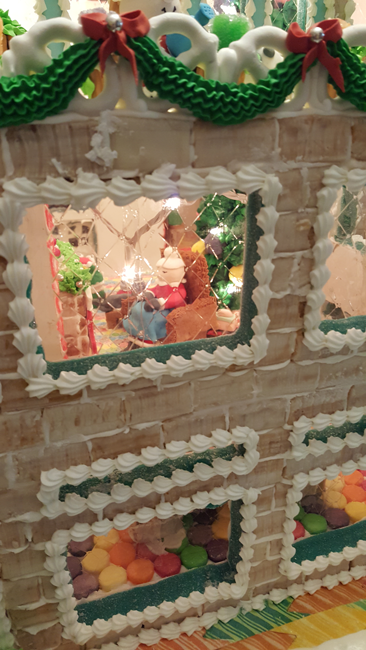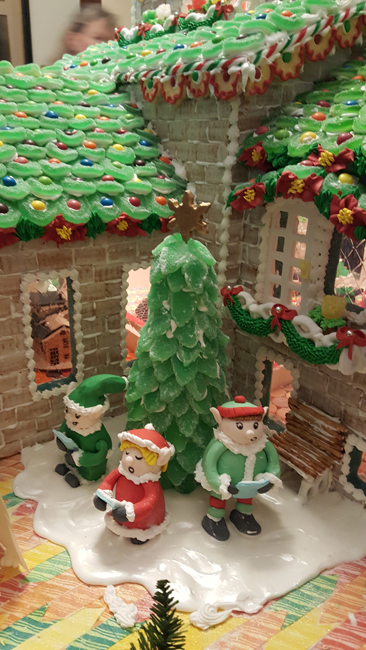 We had lunch at their restaurant and it was my least favorite meal. I love chicken salad sandwiches, but this one wasn't good. Huge chunks of chicken, globs of mayo, huge pieces of celery (barf!)…I didn't like it. I was wishing I had ordered the quiche and spied a slice of it at the next table. It looked way better than my chicken salad. Thank goodness the biscuits and rolls were spectacular!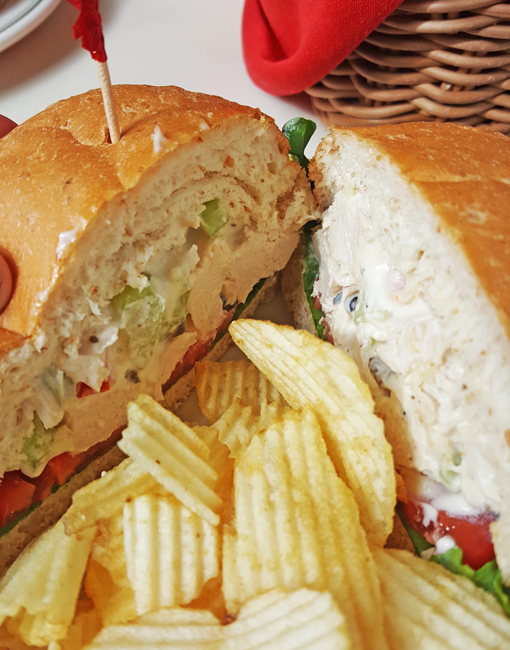 Our next stop was the San Antonio Museum of Art (Christmas Tree #12). This place was huge! Psst…it's also free every Sunday from 10 a.m. to noon. Gorgeous art, ceramics, and historical pieces on multiple floors. You can spend hours here!
We headed back to The Menger Hotel after seeing it from the outside on our ghost tour. Christmas Tree #13 is in their lobby and isn't it breathtaking?! Christmas Tree #14 is in Travis Park and it's the official San Antonio city tree. Christmas Tree #15 is in the lobby of the Embassy Suites where we stayed. So pretty and festive for the holidays!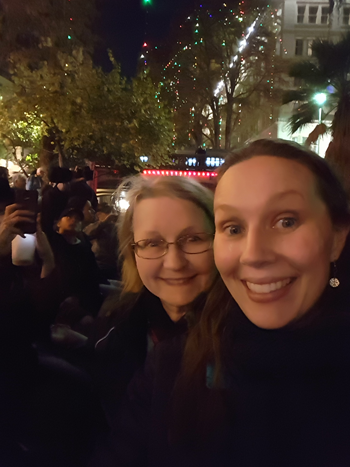 Later that night we took the San Antonio Riverwalk Boat Cruise (part of the combo bus ticket). It was my favorite part of the trip. We had the funniest tour guide and got to sit right up front. It's hard to beat riding in a boat while looking at Christmas lights. The best part was we happened on a Christmas concert with a church band performing Feliz Navidad. It. Was. Awesome. (Pro tip: get on the cruise at the hotel entrance, not the mall entrance. Saves about two hours waiting in line!)
After the cruise we walked the Riverwalk and winged it for dinner. We ended up at Casa Rio. I had the chicken flautas and they were pretty good. Just your basic Mexican restaurant, but it has really decent prices compared to the other tourist traps on the Riverwalk.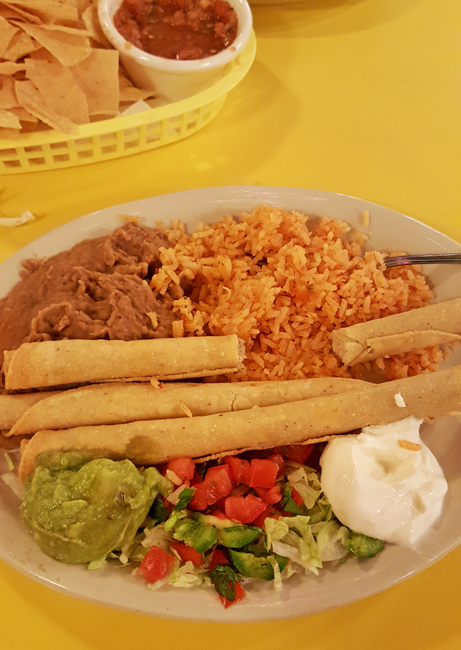 Later that night was also another favorite part of this trip. We made our way back to San Fernando Cathedral. At night they show The Saga, which is an art projection on the cathedral set to music…and it's completely free! It is amazing. We stopped here briefly the night before on the ghost tour and I spied people with churros. I was so looking forward to eating a churro while watching the show, but the food truck wasn't there. Thankfully they pulled up after the show (they do three showings and we were at the first) and I had the best warm churro ever from the Mi Taquito food truck. What I wouldn't give for one right now!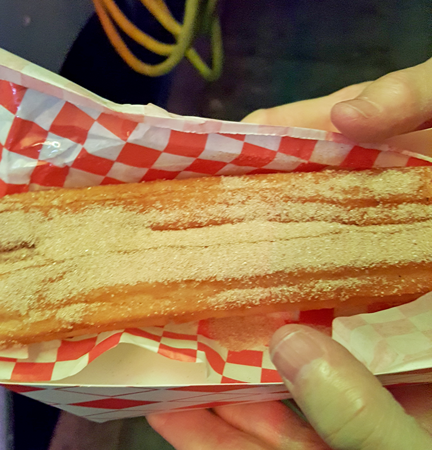 Day 3
We took the double decker bus again and went right back to the San Fernando Cathedral. We'd heard how beautiful it was on the inside and wanted to see it. It lived up to expectations and more. Our next stop was the Historic Market Square (Christmas Tree #17, #18, & #19). This is a huge area full of all kinds of shops.
Next we went to Rosario's (Christmas Tree #20) for lunch on the recommendation of one of our double decker bus tour guides. It was my favorite! Mom had the Puffy Taco Plate that I'd heard about (good, but nothing special) and I had the Enchiladas Verdes de Pollo y Elote. I could have licked my plate! We both ordered Palomas and they were as good as the ones I make. Two thumbs up!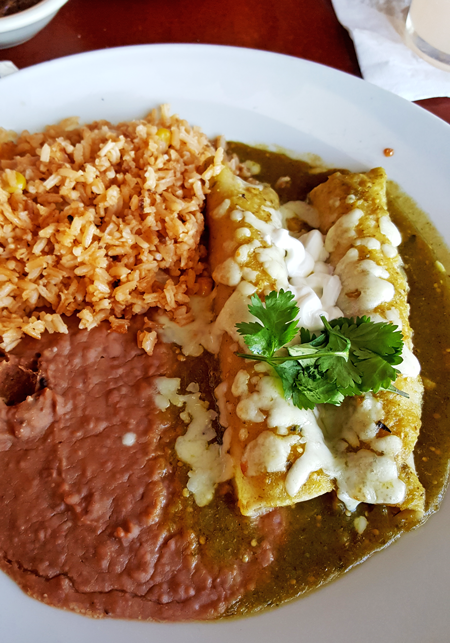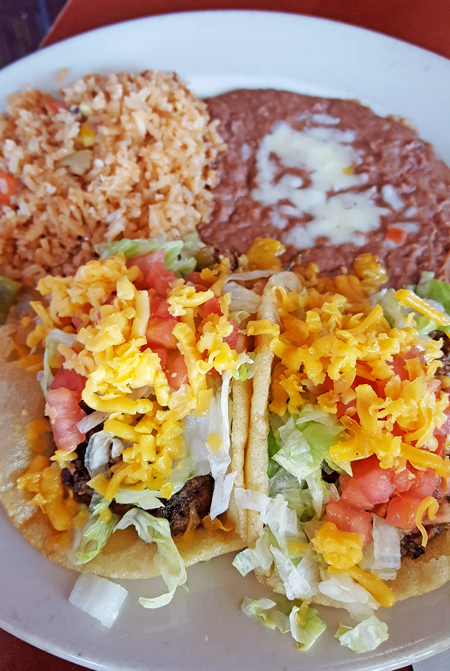 After lunch we headed to the Pearl Brewery (Christmas Tree #16). This is a new space full of cute shops, restaurants, and residences. We shopped and stopped in at Bakery Lorraine. HOLY DESSERT GOODNESS. I had the Eggnog Pot de Creme and mom ordered the Opera Cake. I will dream about these desserts for the rest of my life.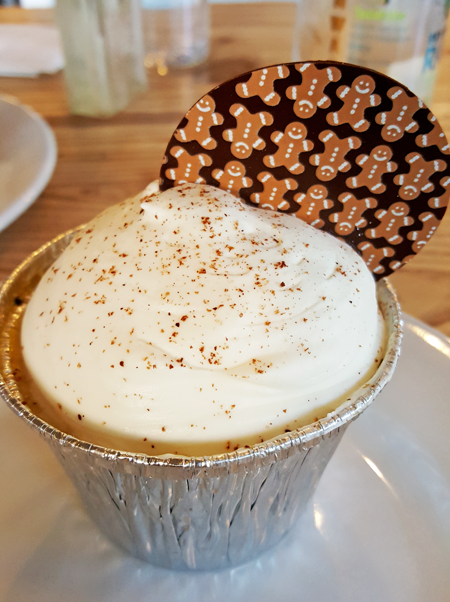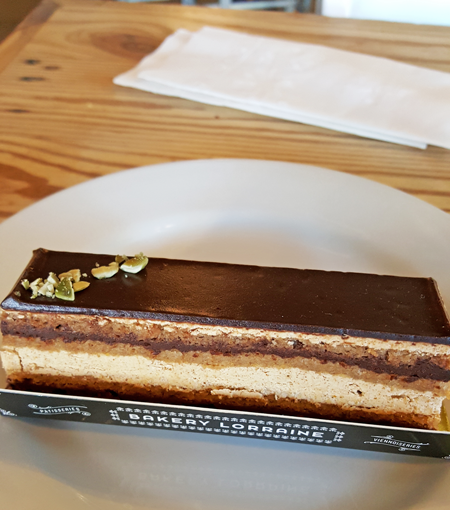 Later in the evening we made our way to the Tower of the Americas (Christmas Tree #21 & #22). We wanted to get there at dusk to watch the sunset and see the city at day and night. It was so windy up there, but this place was really cool. We also had the place to ourselves, which was really nice compared to this sort of thing in Chicago or New York.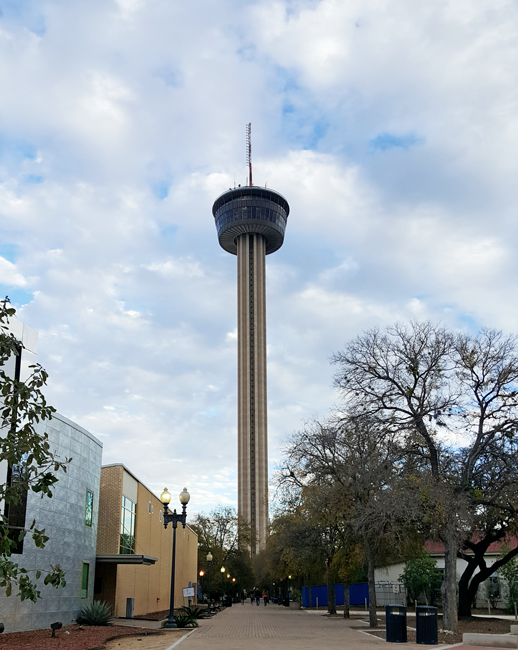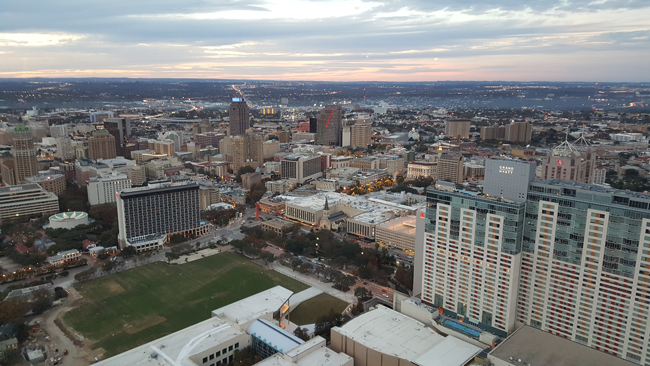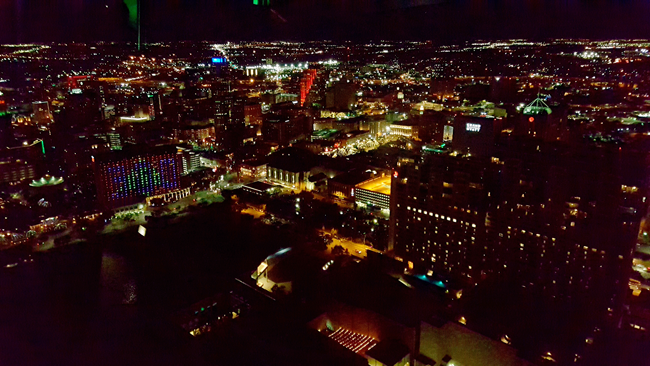 There's a restaurant and bar on the floors just below the observation deck, so we stopped in and enjoyed a glass of wine during their happy hour. Very cool view!
We headed back to the Historic Market Square for dinner at the Mi Tierra Café y Panadería. This place was so fun on the inside and has a huge bakery. For dinner I ordered the Enchiladas de Pollo en Mole. I was excited for this dish, but it was a bit too spicy and sweet for me. We were so stuffed, but we couldn't leave without ordering something to go from their bakery. Mom had never tried Tres Leches Cake, so we ordered that. It was super disappointing. Runny and not much flavor. I'll have to treat her to another one to make up for it!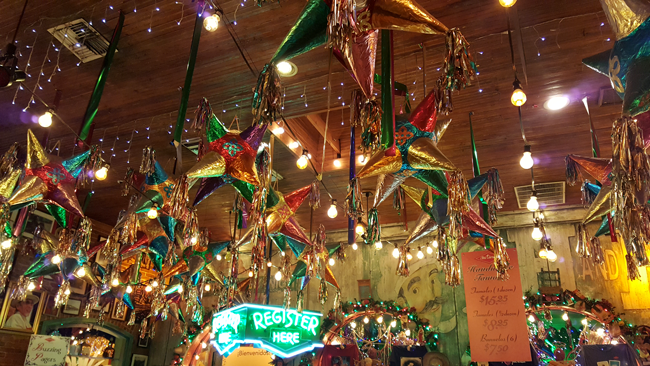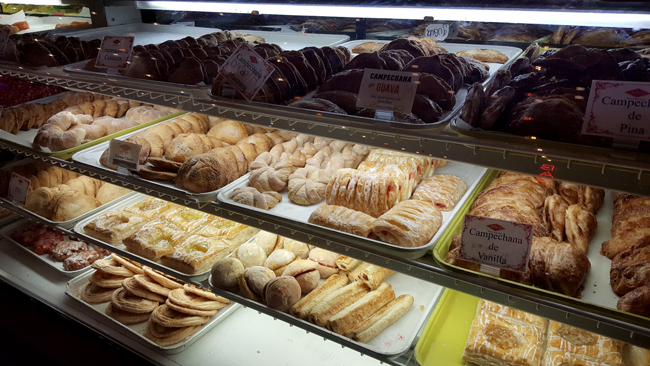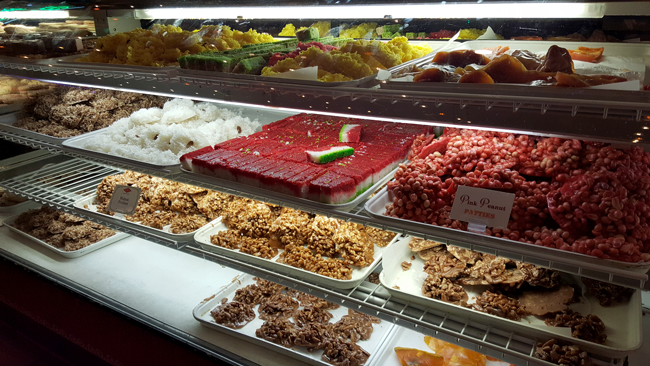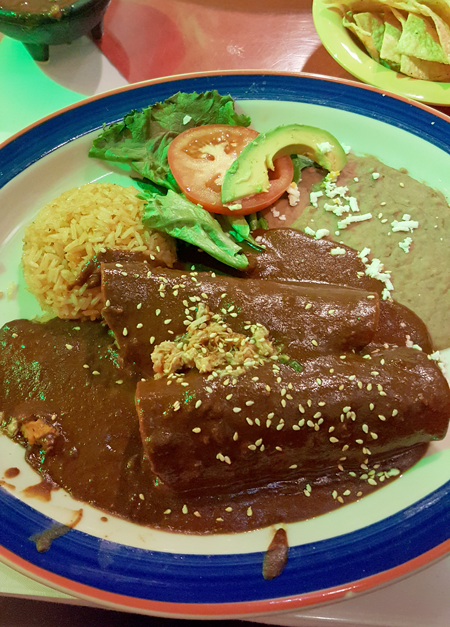 We headed back to Nashville early the next morning, but I'd say we had a packed, wonderful three days in San Antonio! December is the perfect time to visit and put you in the holiday spirit!
Christmas Tree at Travis Park
Christmas Tree at Guenther House Gift Shop
Christmas Tree at Sisters Grimm Ghost Tour
Christmas Tree at Rosario's
Christmas Tree at Pearl Brewery
Christmas Tree at Tower of the Americas
Christmas Tree at San Fernando Cathedral
Christmas Tree at San Antonio Museum of Art
Christmas Tree at Alamo Gift Shop
Christmas Tree in La Panadería
Christmas Tree at Guenther House
Christmas Tree in Shops at Rivercenter
Christmas Tree at Historic Market Square
Christmas Tree at Guenther House
Christmas Tree at Houston Street Court
Christmas Tree at Tower of the Americas
Christmas Tree in San Antonio Visitors Center
Christmas Tree at Historic Market Square
Christmas Tree at The Menger Hotel
Christmas Tree at Embassy Suites Riverwalk
Christmas Tree at Historic Market Square
Christmas Tree in Alamo Plaza