I kept reading such a buzz about the new place Burger Up (located at 2901 12th Ave South) through Twitter and my favorite bloggers that I was dying to try it out for myself. I was thrilled when they were added as a participant for Eat Out for Nashville and gathered up some coworkers for a burger lunch. We each purposely ordered a different burger and side so we could sample more of the menu. To say we were impressed would be a huge understatement. I mean they have a "bun master" that bakes their incredible hamburger buns every morning.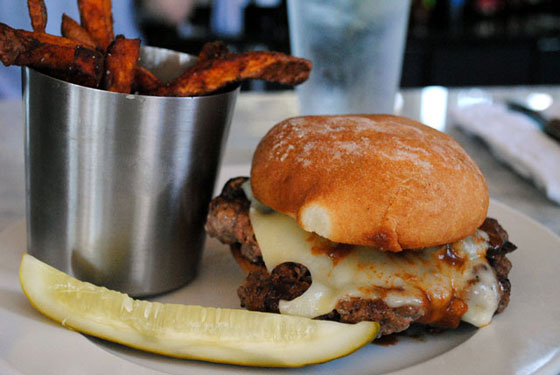 So, how's it taste?
Incredibly, incredibly delicious! I'm already planning my next visit. I had the mushroom swiss burger with sweet potato fries pictured above. Absolutely burger heaven. Everything was so fresh, with such great flavor. The bun reminds me of potato bread with just a touch of sweetness that goes perfectly with the rest of the burger. My burger had a balsamic bbq sauce that was out of this world. I asked for extra to dip my fries in! The fries were reallly good and came with a Jack Daniels maple ketcup, but one taste of the balsamic bbq sauce and I was hooked!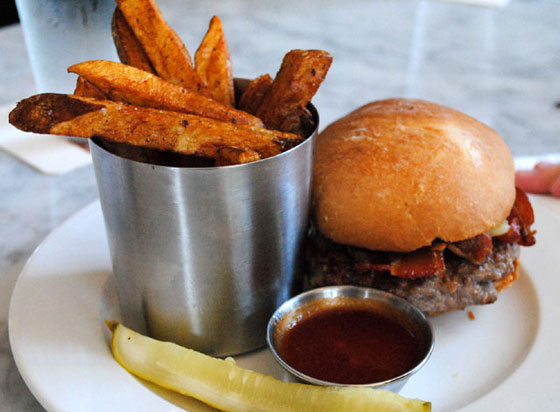 Next up was the Woodstock Burger, a classic burger with Benton bacon, white cheddar, and Jack Daniels maple ketchup with the truffle fries. I didn't take a bite of the woodstock, but from the empty plate when we left, I gather it was really good. I did manage to snag a few of the truffle fries and they were also lip-smackin' good. I'll have a hard time picking between those and the sweet potato next time.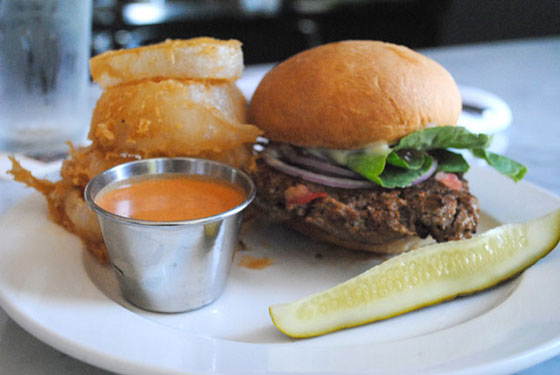 Our third burger ordered was the classic, with a tower of onion rings and honey dijon aioli. My friend had a hard time finishing this one (apparently she's not a "eat until you explode" kinda girl like I am). They are very generous with the burgers and that's always a plus in my book. It compelled me to yell at her a "Burger Up!" I'm wondering if the folks behind the scenes are Purdue fans ("Boiler Up!"). So you've been warned. This burger spot should be on your must-visit list, but come with an appetite and be ready to Burger Up!