A few months back, my friend and I were looking for a new place to grab dinner and didn't mind splurging a bit when it came to calories. I'd heard a few people talk about Uncle Bud's Catfish Shack, so I threw it out there as an option. I hadn't had really yummy fried catfish in a while. Located in Nolensville, at 7215 Nolensville Road, we were in for a small drive, but neither of us minded as the company is partly what makes dinner out so fun.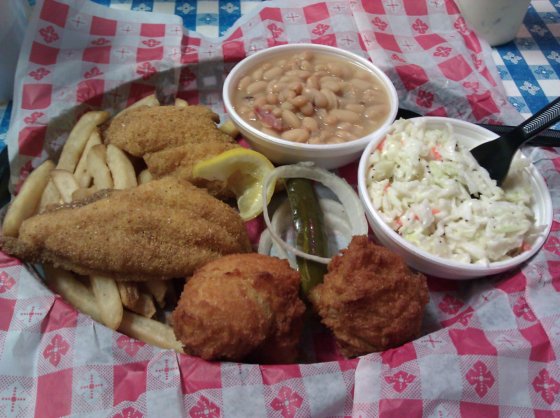 So, how's it taste?
We both ordered the 2 Catfish Fillet dinner. There aren't too many non-fried items on the menu, but they do have salads if you insist on making the effort to stay somewhat healthy. I had a hard time not adding fried shrimp to my dinner or opting for the cajun chicken tenders. Everything sounded so good and so bad for you! With the dinners you get a side of white beans, coleslaw, french fries, pickles and onions, and hushpuppies. It's pretty much a heart attack on a plate, especially if you're like me and can't control the amount of tartar sauce you use. I just love the stuff with fried catfish!
We quickly realized we could have split a dinner. The portions are more than generous. The catfish was perfectly fried and not overly greasy. The white beans could've used a bit more spunk. They weren't bland, but weren't wowing me. I liked the coleslaw. Not too much mayonnaise and had good flavor. The fries were ok. They kind of got steamed a bit sitting under the catfish. The hushpuppies were tasty, but super greasy. Neither of us finished our plates there was so much food. We enjoyed the food and the country atmosphere, but both agreed this was a spot we'd visit only sparingly due to its grease factor. It's definitely a spot for splurging, and you'll absolutely get your calories worth!