It's been way too long since my last Stitch Fix report! I got this sixth fix back in August last year. What's Stitch Fix? Read my first post to find out more. I also got a snazzy remote for my camera so I can take pictures of me in the clothes! Sounds exciting, but clearly I am better at taking pictures of food than of myself. Another downside is that I'm too embarrassed with how a shirt and a skirt looked to even show them. Womp womp. I may just stick to snapping pics of the fixes on hangers. 🙂 Here's what I received in this fix.
Papermoon Wynn Polka Dot Print Front Pocket Blouse $48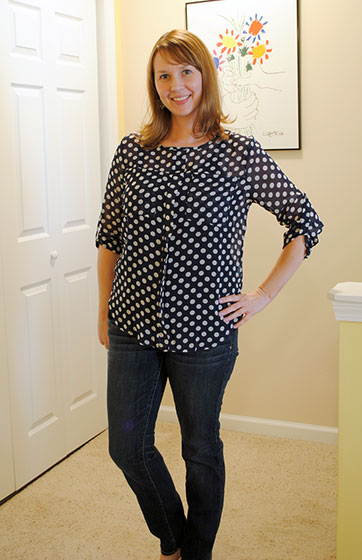 Love this blouse so much! Kept this one. I wear it all the time. It's navy, but I wear a black tank top underneath since it's so sheer. It's extremely comfortable and I love how you can dress it up or down. I wear it with dark jeans and black flats a lot.
Kut from the Kloth Isabel Sheer Beaded Detail Blouse $68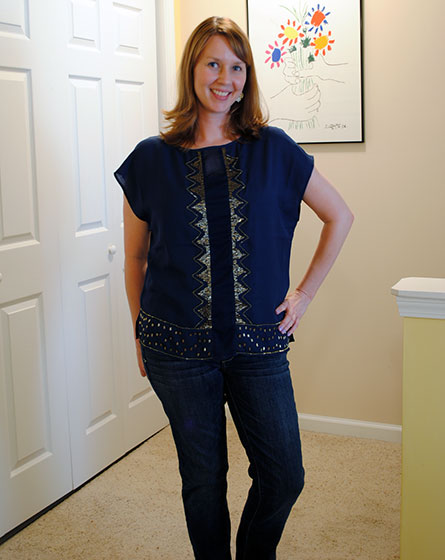 I was really torn with this one. Looking at the pictures I still think it's absolutely gorgeous. I love the sparkle. It's a bit big though, so I decided to send it back since it didn't give me much shape. The center strip is sheer, so I was a little self-conscious about that, too.
Lilla P Gavin V-Neck Ruched Waist Top $50
This is the shirt I'm too embarrassed to show. It's about a million sizes too small, so it was really hard to even put on and looked terrible. It's a floral print with an odd shade of red and a pale beige color. It's gathered on one side and showed every roll and flaw. I laughed hysterically and sent it back!
Renee C Robinson Maxi Skirt $48
This is another picture I won't be sharing. Skirts are odd on my body in general and I rarely wear them. This skirt was super comfortable and a pretty dark navy, but just didn't look right. I sent it back.
41Hawthorn Amani Cowl Neck Sleeveless Blouse $48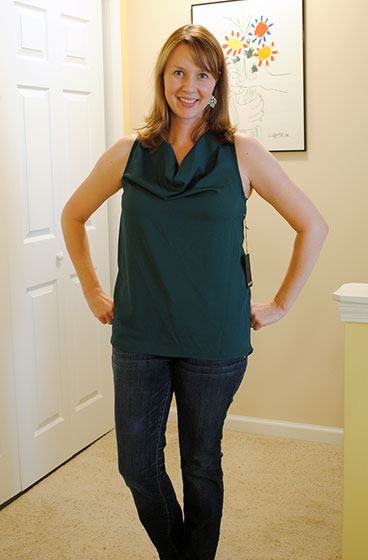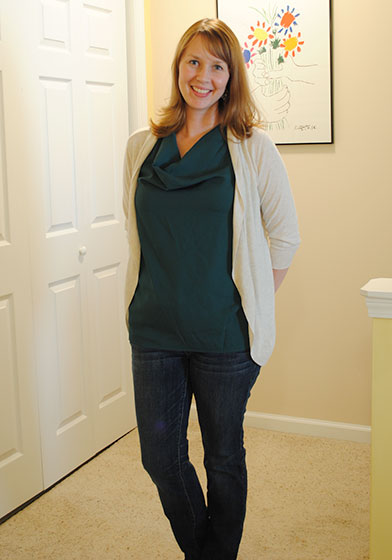 This blouse is a dark green and has a cute little apple charm to weigh down the cowl so it stays in place. I was up in the air on this one until I paired it with a cardigan. I'm a cardigan junkie and wear them pretty much all the time. I really liked this top paired with the cardigan. It's a bit on the long side and the material in front is nicer than the material in the back. In hindsight, I wish I had returned it. I don't wear it very much because the cowl is awkward and bulky. In a future fix, they will send a similar top that I wish I could have traded this one for!
I kept two of the five from this fix. I'm still loving the polka dot shirt, but not so much the green cowl blouse. What do you think about this latest fix? Stay tuned for Fix #7! If you want to see my previous fixes, check out my Stitch Fix Reviews category.
Disclaimer: I am not affiliated with Stitch Fix nor was I compensated for this post. All opinions are solely my own, as always. The links in this post include a referral code where I will receive a discount should you sign up for the Stitch Fix service.