Still going strong with Stitch Fix! I'm really enjoying the service and a nice side effect is that it's help me shop better when I'm actually out shopping for clothes. What's Stitch Fix? Read my first post to find out more. I got my fifth fix back in July, but what's great about posting these way after the fact, is that I can report if I'm actually wearing the clothes I keep. Here's what I received in my fix.
Lilla P Aurelia Knit Skirt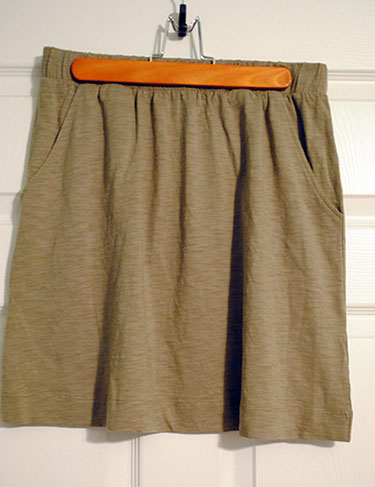 I really wanted to keep this skirt because it was incredibly comfortable and had pockets. It was soft and felt like buttah. I have no idea what I'd wear it with though. I think only a white top would look good with the odd shade of green and I'm very picky about skirts. Generally I avoid them because I'm apple-shaped and they tend to look horrible on me. I sent this one back because I knew I'd never wear it.
Sweet Rain Isaac Floral Print Short-Sleeve Blouse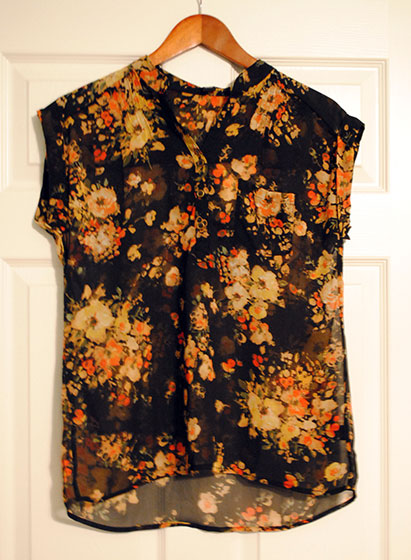 The floral pattern may strike some as kind of grandma, but I loved it! It's very sheer so I wear a thin, black tank underneath. I have worn this top a billion times. I pair it with jeans, boots, and a cardigan now that it's cooler, but it also looks great with khakis and a denim jacket. Kept it!
Collective Concepts Esten Button-Up Sleeveless Blouse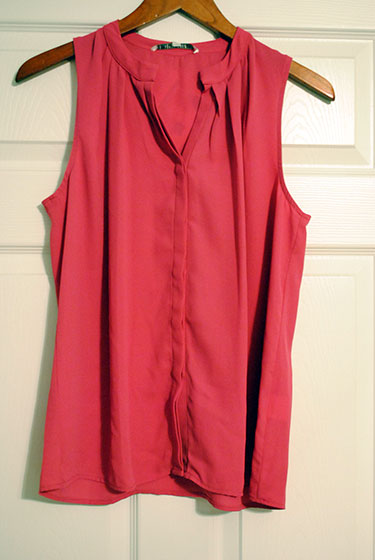 Love the color of this top and I really wanted to keep it but it was too similar to another top I have. It was also a bit on the long side. I sent this one back.
Olive & Oak Kiara Front Pocket Cap Sleeve Top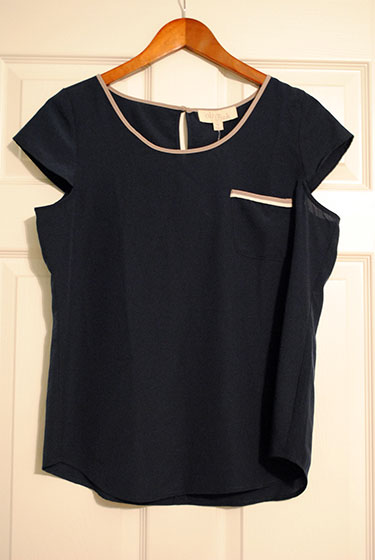 The picture doesn't really do this top any justice. It looks kind of plain and boring, but I like it! It's a dark navy and the strip of grey is a silvery, almost shiny, color. The pocket is just too cute. This top is flowy but not baggy. I wear this one with jeans and a silvery, shiny cardigan. Kept it!
Tea N Rose Rosalie Mixed Material Printed Tank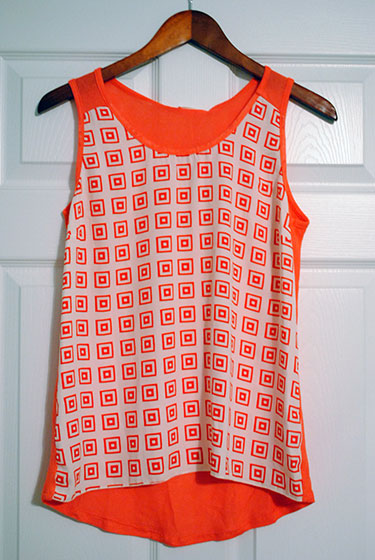 I almost kept this one because I loved the bright color and the fun, geometric pattern. The dual material is what ruined it for me though. The front was  a light, silky material and the white background made it see-through. The squares in the pattern are more of a dark red than the bright orange like the back. The back material was more cottony and heavy, so it hung low. You can see in the picture how the back material is just too heavy to match the front. I sent this one back.
I kept two of the five items in this fix, but I liked all of the items. I still have Catherine as my stylist and she's getting better and better at getting "me." I'm trying to be a little pickier with my selections since I'm not wearing some of the items in my past fixes. I like a lot of the clothes, but I have to ask myself if I'm really going to wear them. For example, I loved these jeans from Fix #2, but I have never worn them. Not once. Mostly because I needed to lose a few pounds to be comfortable in public with them…and that hasn't happened yet! I've also only worn this top from Fix #1 once. I still like the top, but it's silk and wrinkles very easily. Plus I'm scared I'll ruin my nice silk shirt. It's a catch-22!
What do you think about this latest fix? Stay tuned for Fix #6! If you want to see my previous fixes, check out my Stitch Fix Reviews category.
Disclaimer: I am not affiliated with Stitch Fix nor was I compensated for this post. All opinions are solely my own, as always. The links in this post include a referral code where I will receive a discount should you sign up for the Stitch Fix service.