This is my third fix from Stitch Fix that I received back in May. What's Stitch Fix? Read my first post to find out more. So far I've kept three pieces total from my first two fixes. I'm still loving the thrill of getting a box of clothes each month, so I couldn't wait to see what I'd find in this one.
Fun2Fun Jaelyn Chevron Stripe Hi-Lo Blouse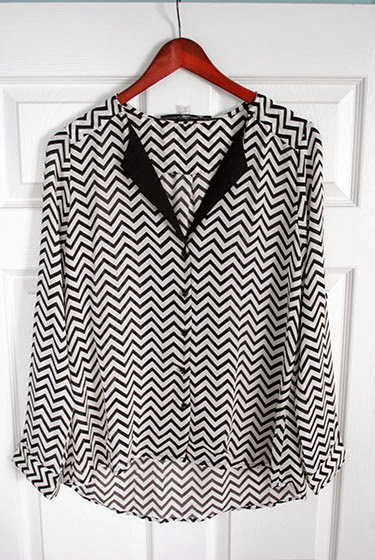 This fix didn't start off so well with this blouse. It's not pretty on the hanger and looked a million times worse on. It's longer in the back (which I'm noticing Stitch Fix send a lot of items like that) and it's huge for a size medium. I sent this one back.
Alythea Goya Knit Collarless Blazer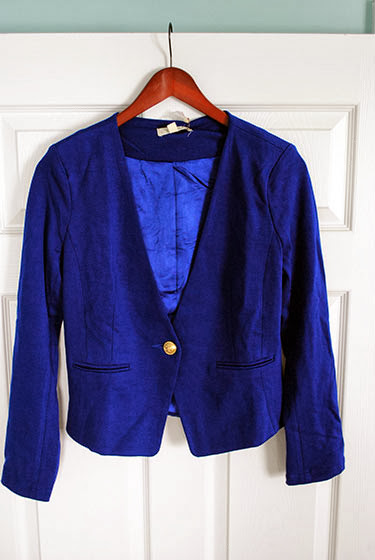 Awful. Hated it from the moment I pulled it out of the box. It looks like it came from the 80's or a grandmother's closet. A collarless blazer? It also has small shoulder pads. Definitely sent this one back.
41Hawthorn Isadora Cowl Sleeveless Jersey Top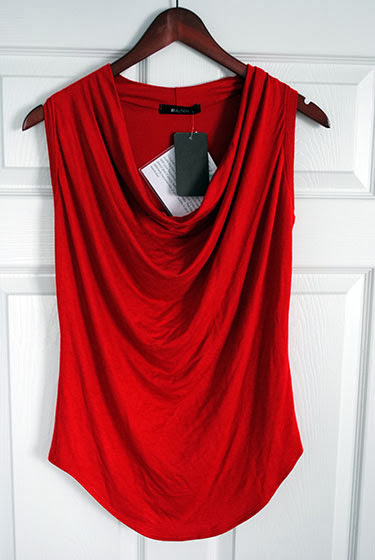 Gorgeous color, but the material was too clingy. I liked the cowl neckline, but the bottom of the shirt is odd how it dips into a big flap in the front and back. I almost bought this one out of desperation to not lose my styling fee, but decided I wouldn't be comfortable wearing it and didn't want to spend more money on something I didn't love.
THML Kahlo Racer Back Striped Maxi Dress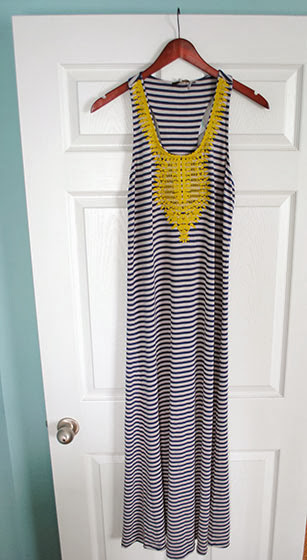 I thought this was a shirt when I pulled it out and was excited because the yellow detail over the stripe was so pretty. Unfortunately, it's a maxi dress and those never look good on me since I'm apple-shaped. It highlighted every curve I want to hide, plus the stripe pattern made me look bigger. I didn't care for the racer back either. The material was really comfortable though.
Sweet Pea Mercel Printed Sheer Neck-Tie Top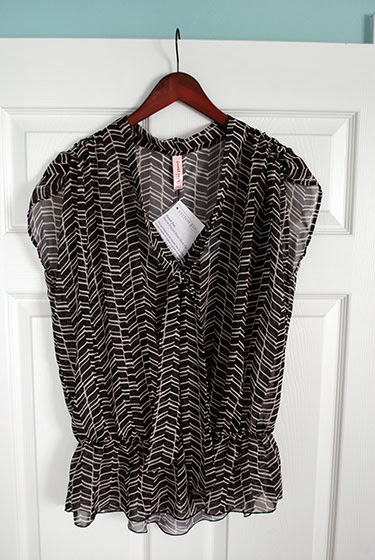 This had potential, but looked terrible on. The gathered waist was awkward and the cut was very billowy on the top, which made me look huge. Very unflattering.
Well, it was bound to happen. This box was a complete bomb. I was really disappointed because I had updated my style profile to exclude whites and stripes and this box still had them. I lost my $20 styling fee, which really bothered me, but it was better than keeping something I really didn't like for the sake of picking something. I'm pressing on though! Stay tuned for Fix #4! If you want to see my previous fixes, check out my Stitch Fix Reviews category.
Disclaimer: I am not affiliated with Stitch Fix nor was I compensated for this post. All opinions are solely my own, as always. The links in this post include a referral code where I will receive a discount should you sign up for the Stitch Fix service.