Sorry for the not-so-great pictures, but you know when I'm at my mom's and we're enjoying tasty beverages, the last thing I'm thinking about is grabbing my nice camera and tediously setting the stage for a decent picture. I'm all about the drink! I was a little wary of this one not being so great though. A Skinny Pina Colada? Um, ok.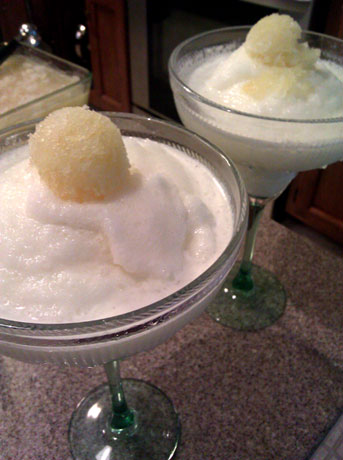 So, how's it taste?
I know real pina coladas are made with heavy coconut cream and that doesn't bother me, but the thought of half-and-half in a pina colada seemed kinda gross. I couldn't make it register that it would be good in an alcoholic drink. Ice, coconut rum, pineapple juice, and half-and-half. That's it. How was this going to taste good? The first couple of sips, I didn't like it. Way too thin and plain compared to the original. But then it grew on me. It's actually pretty good if you want a pina colada but not all the calories that come with it. You can adjust the recipe to your liking, too. Want more tang? Add more pinapple juice. Want it creamier? Add more half-and-half. I found I liked it with more pineapple. We froze the pineapple juice in a dish and scraped it like a granita. Then added a scoop of it to the top of our drinks.
Even though it won't compare to an original, this drink is a great alternative if you want something more figure-friendly.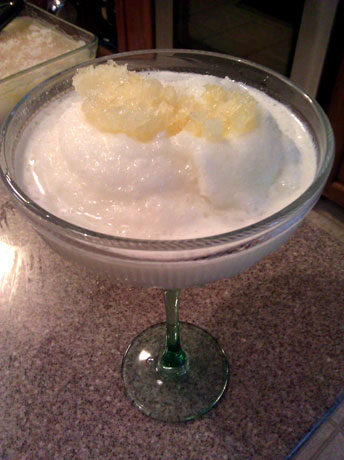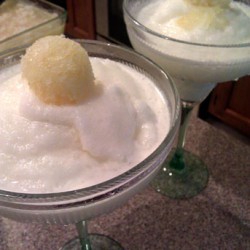 Skinny Pina Colada
Ingredients:
1 cup ice cubes
2 oz. (4 tbsp.) coconut rum
2 oz. (4 tbsp.) pineapple juice
1 oz. (2 tbsp.) fat-free half-and-half
Directions:
1. Place ice in blender. Pour remaining ingredients over ice. Cover; blend until smooth.
2. Pour into glass; serve immediately.