Welcome to my latest addiction. I am obsessed with Iced Coffee. I've tried for years to brew coffee and turn it into an icy delicious concoction, but failed every time. What makes it more pitiful is I've worked at 3 coffee shops in my lifetime, but I could never duplicate it at home. Probably because I don't have a ginormous espresso machine and honestly, I don't really care for espresso, but prefer coffee. I searched the interwebs and landed on a popular blog, made her recipe, and gagged. Way too strong and bitter. Fortunately for me, I have no problem griping on Twitter, and that led to Erin from One Particular Kitchen coming to my rescue!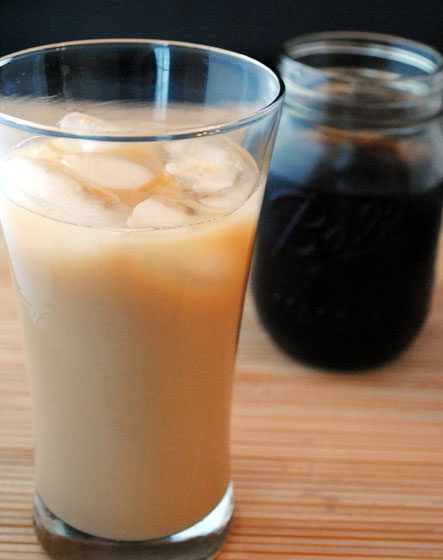 So, how's it taste?
I'm. In. Heaven. I'm not sure I'll ever go back to hot coffee, even in the winter. Who knew you could cold brew coffee? Kind of makes sense though. Why heat it up just to ice it down? Erin's ratio of coffee grounds to cold water is perfect. She also taught me to fill up my glass halfway with the concentrate. It's too strong and bitter if you use more. It's so good, I dare say it's better than the uber-expensive version at a coffee shop. What I like best is you can experiment with different coffees. I've made this concentrate using a chocolate truffle flavored coffee and it turned out really well. It added a hint of chocolate to my drink without adding any calories. You could really jazz it up with flavored syrups, too. I use Splenda for my sweetener so I don't have trouble with it dissolving. You may want to use a simple syrup to sweeten your drink as regular sugar won't dissolve easily. Guess who's got a recipe for that? Erin does! You can also blend this drink if you like a thicker consistency. I'm so hardcore about my iced coffee that I'm now making extra concentrate to freeze as ice cubes so my drink never gets watered down. I wasn't kidding when I said welcome to my latest addiction!
How do you like your coffee?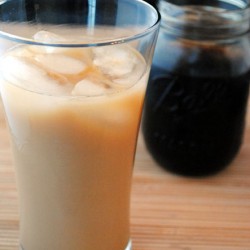 Iced Coffee
Ingredients:
Coffee Concentrate
2/3 cup coarsely ground coffee
1 quart cold water
Iced Coffee
coffee concentrate
milk
ice
sugar, optional
Directions:
1. Place ground coffee in a 1-quart container. Add water.
2. Let sit for 8-12 hours, depending on how strong you like your coffee concentrate.
3. Place a coffee filter in a mesh strainer and set over another 1-quart container. Pour ground coffee/water mixture through the filter. It will take a bit to completely filter through. Refrigerate concentrate.
5. To make iced coffee, fill your glass with desired amount of ice. Fill the glass halfway with the concentrate. Fill the rest of the glass with milk. Add sugar, if desired.