Whew! My lips pucker just thinking back to this one. Recently at my mom's for her birthday celebration, we were watching the Food Network and Barefoot Contessa was on. Ina Garten is one of my favorites. The woman can cook! But I'm not so convinced on her tasty beverage-making skills.
This episode included the Pomegranate Cosmopolitan and it sounded really, really good. Vodka, liqueur, and fruit juice sounded right up our alley. Off to the grocery store we go to get the fruit juice to enjoy a different drink from our usual Jack and Coke.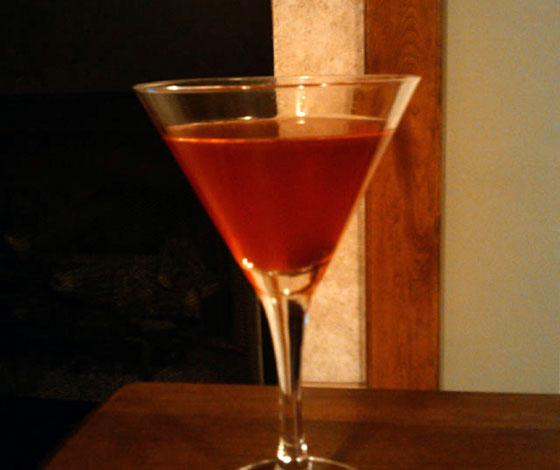 So, how's it taste?
Um, yeah. Ina apparently likes her drinks strong, and I mean STRONG! All we could taste was the alcohol. I halved the recipe since it was just the two of us (full recipe serves 6, so we were in for 1 1/2 drinks each). Way too much alcohol. It came out to about 4 oz. of alcohol each, which is almost double what a normal drink has. Now I like a kickin' beverage, but I'm not looking to burn my tongue off. We ended up "doctoring" the drinks with more juice. I liked it a bit better with more cranberry and mom thinks the problem was too much lime juice. I ended up not even finishing my glass. I'll take good ol' Jack over this fancy cosmo business any day!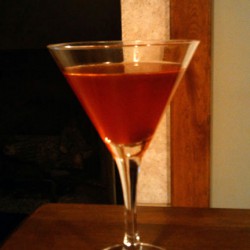 Pomegranate Cosmopolitan
Ingredients:
2 cups good vodka (recommended: Grey Goose or Finlandia)
1 cup orange liqueur (recommended: Cointreau)
1 cup cranberry juice cocktail, (recommended: Ocean Spray)
1/2 cup bottled pomegranate juice (recommended: Pom Wonderful)
1/2 cup freshly squeezed lime juice (4 limes)
Thinly sliced limes, for garnish
Directions:
1. Combine the vodka, orange liqueur, cranberry juice, pomegranate juice, and lime juice in a large pitcher. Fill a cocktail shaker half full with ice, pour the cocktail mixture in, and shake for a full 30 seconds. Pour into martini glasses, garnish with a slice of lime, and serve immediately.