Another July 4th has come and gone, but I couldn't wait to share this drink with you. Along with grilling and a yummy dessert (like this year's ice cream sandwiches), I always plan a boozey beverage to sip while watching the fireworks. I've served bellinis, white sangria, even a strawberry sangria, but I wanted something different this year. I came across Firecracker Punch and knew I had a winner. The name alone was perfect for the holiday, but I was intrigued because of a special ingredient.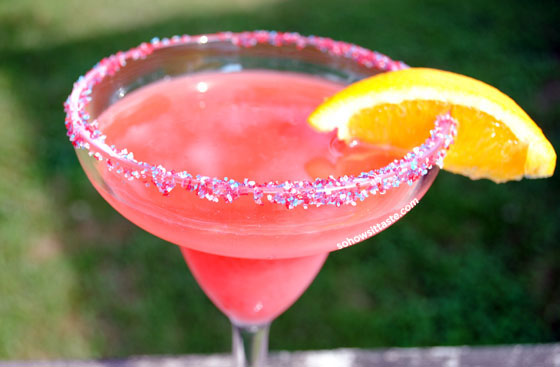 So, how's it taste?
Loved it! I was really crossing my fingers that it would turn out. It's not out of the ordinary for me to plan a meal without having made any of the dishes before, but I was nervous about this one because the special ingredient is Red Hots! Yep, cinnamon candy. Sounds kind of odd mixed with fruit juice, but it worked! The cinnamon is a nice subtle aftertaste, and the rest is a delicious fruity cocktail. The ginger ale adds a bit of fizz and cuts down on sweetness of the fruit juice. I misread the original recipe and added an extra cup of water, but if you want to be more adventurous, use 4 cups of water total and it should turn up the cinnamon. The color is a bright, electric pink and I jazzed it up for the 4th by dipping the rims of the glasses in red, white, and blue sugar. It's equally as tasty without the vodka. You can either add the vodka all at once to your pitcher, or add a shot of vodka to each glass if you're serving non-drinkers, too.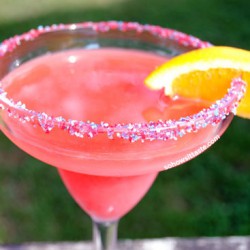 Firecracker Punch
Ingredients:
2/3 cup red cinnamon candies (Red Hots)
5 cups water
6 oz. frozen lemonade concentrate, thawed
6 oz. orange juice concentrate, thawed
1/2 cup pineapple juice
1 liter ginger ale
1 1/2 cups vodka for 1 oz. in each or 2 1/4 cups for 1 1/2 oz. in each
12 orange slices, optional
Directions:
1. In 1-quart saucepan, cook cinnamon candies with 1 cup of the water over medium-high heat, stirring frequently, until candies are melted; remove from heat. You may get a clump stuck to your spoon that won't seem to melt. It's ok to remove the clump with a paper towel and throw it away. Let the mixture cool completely, about 30 minutes.
2. In a large punch bowl or pitcher, stir candy mixture, remaining 4 cups of water, the lemonade and orange juice concentrates, and the pineapple juice; mix well. Add the vodka, or you may choose to add the vodka to the drink individually if some prefer non-alcoholic. Refrigerate until ready to serve.
3. Just before serving, gently stir in the ginger ale. Garnish with orange slices.