This Berry Vodka Lemonade is a great drink for the summer. It's bursting with fruit flavors and as refreshing as classic lemonade. This drink can be made year round thanks to its frozen components. What I like best about this drink is the ice cubes. They're frozen strawberries in syrup and as they melt, they won't dilute your drink and it becomes sweeter and sweeter.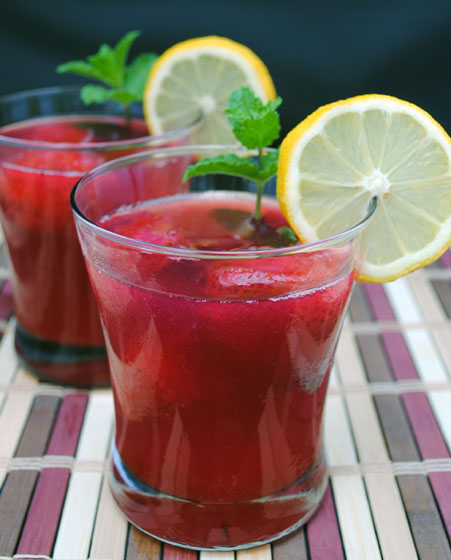 So, how's it taste?
It's tart, it's sweet, it's light, it's fizzy. It's a drink perfectly suited for summer. Garnished with a sprig of mint and a lemon wedge, it's impressive but made without a lot of fuss. I love how the "ice cubes" melt and make it sweeter and add a fun touch with strawberry slices floating in the drink. Although it's made for summer, this drink can be made anytime using frozen pink lemonade and frozen cranberry juice. It really is a cinch to put together and tastes just as delicious without the vodka for a non-alcoholic version. I think flavored vodkas or rum would be tasty variations. The lemon-lime soda gives the fizz that I like and helps to cut down on the tart from the lemonade and cranberry juice. This drink will be on my list to make every year I want to enjoy a beverage on the patio.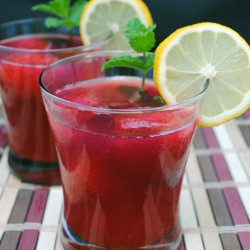 Berry Vodka Lemonade
Ingredients:
1 small tub frozen strawberries in syrup, thawed
1 can (12 oz.) frozen pink lemonade, thawed
1 can (12 oz.) frozen cranberry juice, thawed
6 cups water
1 1/2 cups vodka
2 cans (12 oz. each) lemon-lime soda
lemon slices, optional for garnish
mint, optional for garnish
Directions:
1. Spoon strawberries into an ice cube tray and freeze until firm.
2. In a 3-quart pitcher, mix pink lemonade, cranberry juice, water, and vodka. Refrigerate until ready to serve.
3. Just before serving, add the lemon-lime soda to the mixture. Serve over the strawberry cubes; garnish with lemon slices and mint.