If you follow me on social media, you're familiar with my bookcase of cookbooks. It's out of control. I'm hoping to make at least once recipe from each cookbook so it will help me find which ones I actually like and which ones need a trip to Goodwill. First up is this Starburst Smoothie. Why don't I make more smoothies?! They're like dessert, but full of good for you fruity goodness!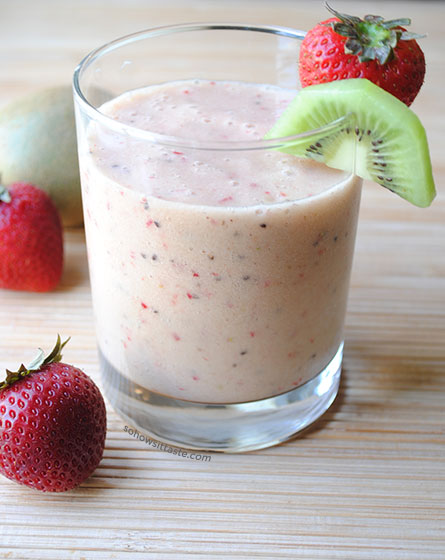 So, how's it taste?
It's fantastic! I have yet to meet a smoothie I didn't like. I'm a firm believer that most smoothies are fabulous with a banana base. It just makes them a bit sweeter and creamier. This one starts with two frozen bananas, add apple juice, fresh strawberries, and fresh kiwis. I love it's pale pink/peach color with flecks of red from the strawberries and flecks of black from the kiwi seeds. The seeds give it a fun crunch, too. This was so refreshing and I rarely buy kiwis, so it was great to get to use a new ingredient. This is from the book Smoothies: 50 Recipes for High-Energy Refreshment
and I've only made one other smoothie in it so far. I really have no excuse for not using this cookbook more, especially during the heat of summer.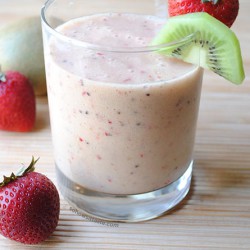 Starburst Smoothie
Ingredients:
3/4 cup apple juice
1 cup diced fresh kiwi (about 3 kiwi)
1 cup hulled and quartered fresh strawberries
2 bananas, frozen* and sliced
*Note: Freeze bananas by peeling them and placing in a freezer bag in the freezer until frozen through.
Directions:
1. Place all the ingredients in a blender or food processor. Blend until smooth. Serve immediately.
per serving: 195 calories, 1.2g fat, 48.3g carbs, 6.9g fiber, 2.2g protein
Source: Smoothies: 50 Recipes for High-Energy Refreshment