Whoa, it's been way too long since I've had a good boozey drink on here. I've cooked with it in brownies and caramels, but not since the Yellow Hammer way back in January have I brought you another tasty beverage. I'm here on this Friday, the 13th to remedy that right now. Meet the Blue Hawaiian. My beverage of choice for this 4th of July that wasn't. Huh? Well, every year my mom, my cousin, and I get together for the fourth. Only this year, my mom had to work and there was a grilling and fireworks ban, so we partied the weekend before. No way were we going to forgo all of our food and tasty beverages, so we celebrated our country's birth on June 30th sans any bottle rockets. But we had booze, so happy birthday America!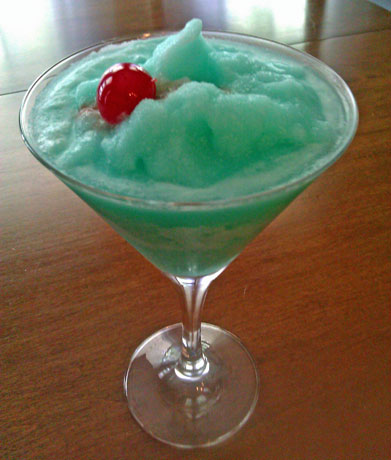 So, how's it taste?
Sorry for the not so awesome picture. This was from my phone so I could make my friends on Twitter and Facebook jealous. I guess I drank too much because I forgot to take a real picture. Oops! I'm almost positive that I want to make this drink every 4th of July or heck, every weekend. It's so fun with it's blue color and little cherry innocently sitting atop. If you like pina coladas…wait, isn't that a song? You're welcome for the ear worm. But seriously, if the combination of pineapple and coconut float your boat, then you will love the Blue Hawaiian. Even though it contains cream of coconut (don't confuse that with coconut milk), it's still a light and refreshing drink. Not syrupy and heavy at all. Look for Coco Lopez in the cocktail mixer section of your grocery store. It's got two liquors in the recipe, but doesn't taste very alcoholic. Watch out though, the alcohol will sneak up on you! I made a test batch for my mom and me and after two, we both took a lengthy afternoon nap, lol!
Curacao also comes in clear, if you're a fuddy duddy and don't do blue drinks. I thought the blue with a touch of red was perfect for the 4th. You could rim the glass with coconut for the white if you wanted to get really festive. I had to use a lot more ice cubes than the original recipe has listed. I want to say it was almost triple the amount, but I lost count. I'd suggest following the recipe and then adding about six or so cubes at a time until you reach that frozen, slushy consistency.
Hmm, writing this post is making me want one. Perhaps I should make one and take a nicer picture of it. See, it's for the blog. It's for work, right?! Cheers!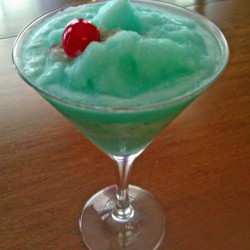 Blue Hawaiian
Ingredients:
1 cup pineapple juice
1/2 cup (4 oz.) light rum
1/2 cup (4 oz.) blue curacao
1/2 cup (4 oz.) cream of coconut (not coconut milk)
10 to 12 ice cubes (I ended up using a lot more to get the frozen consistency)
Fresh or maraschino cherries with or without stems for garnish, if desired
Directions:
1. Chill martini glasses in freezer several hours before serving. (This step wasn't necessary for me.)
2. Place all ingredients except cherries in blender. Cover and blend on high speed about 45 seconds or until smooth. (I used a lot more ice cubes than what the recipe calls for to get that thick, frozen consistency. Add them about 6 or so at a time until you reach your desired consistency.)
3. Pour mixture into glasses. Garnish with cherry.