Not too long ago I was contacted by Cascal to try their unique, natural sodas. I was instantly curious when I found out they contain no sugar other than those from fruit juice, they're caffeine and gluten free, and each serving is only 60 to 80 calories. Cascal comes in five flavors: Crisp White, Ripe Rouge, Fresh Tropical, Bright Citrus, and Berry Cassis. Not your usual cola, grape, or orange varieties! The samples I received had Fermented Soda printed on the cans, but online they have changed to Natural Soft Drink. I was skeptical of how they'd taste, especially the "fermented soda" part. Fermented doesn't exactly scream delicious. Luckily, delicious is exactly how they taste!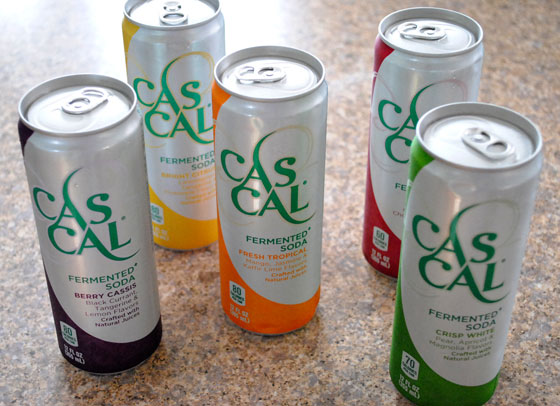 So, how's it taste?
Each flavor has a suggested food pairing that I thought was pretty cool. I had every intention of following the suggestions, but I ended up enjoying most of these as a stand-alone soft drink treat. Here's what I thought of each flavor.
Crisp White – notes of pear, apricot, and magnolia. Pairs well with Brie, strawberry ice cream, and salads.
This was the first Cascal I tried. I had it with my Brie-stuffed chicken dinner one night. It smells like apple and a hint of beer, which comes from the fermentation. It was much lighter than I expected. I see the word "soda" and I think it's going to be syrupy, but this drink is very crisp. It was almost like drinking wine. I immediately searched where I could buy this locally (Whole Foods).
Ripe Rouge – notes of cherry, rose, and chocolate. Pairs well with Asiago, grilled beef, and chocolate cake.
It smells and tastes like mixed berries. It's heavier on the raspberry and has a cherry candy flavor as well. This one was also light and crisp. I sampled this one with a piece (okay pieces!) of chocolate. It's amazing with chocolate. It really brought out more of the berry flavor. There's a slight perfumy and floral note that I noticed the more I drank. It's still a really good flavor, but I'm not a fan of the floral notes. I think it was just telling me I needed to eat more chocolate!
Fresh Tropical – notes of mango, jasmine, and kaffir lime. Pairs well with BBQ, mango salsa & tortilla chips, and pad thai.
It smells like mango. It's the sweetest one of the five flavors and has the least fermented flavor. This one was more like a carbonated juice as it wasn't as crisp as the others. I really enjoyed this one and wish I had tried it with BBQ or pad thai. I can see how well they'd go together. I enjoyed this one, but I missed the fermented flavor like the others have.
Bright Citrus – notes of lemongrass, tangerine, and pineapple. Pairs well with guacamole, chicken sandwiches, and teriyaki chicken.
This one smells like a light beer and citrus. It's very crisp and has a nice, fruity aftertaste. I could also identify carrot and pineapple. It's bursting with fruit flavors and this one was my favorite until I tasted the Berry Cassis.
Berry Cassis – notes of black currant, tangerine, and lemon. Pairs well with hummus & pita and tandoori chicken.
This was my absolute favorite! It has a rich berry smell and prominent berry taste. I could detect a hint of grape in smell and taste as well. This one is light and crisp and reminds me of a non-alcoholic bellini.
The nice folks at Cascal want to share the tasty experience with one lucky So, How's It Taste reader! Cascal will send the winner a case of their flavor of choice.

To enter: All you need to do is comment on this post and tell me which flavor of Cascal you're most excited about trying.
Optional entries: For up to two additional entries, do one or both of the following and leave a separate comment for each optional entry.
1. Follow @SoHowsItTaste & @CheersCascal on Twitter and tweet the following: Win a case of @CheersCascal natural soft drinks from @SoHowsItTaste! Choose from 5 amazing, unique flavors. http://bit.ly/Cascal
2. Like So, How's It Taste? and Cascal on Facebook.
I'll randomly select the winner on Wednesday, May 2 at noon Central. Please make sure you enter a valid email address as an alternate winner will be chosen if I don't hear from you within 48 hours. Good luck!
Congratulations to comment #15 from Michelle!
Winner chosen using Random.org