In my last post, I shared with you a recipe for homemade Cranberry & Citrus Sauce. While it may have changed my canned sauce ways, the only reason I made it in the first place was for a cocktail. You know where my priorities are! This Cranberry Culprit intrigued me because I'd never heard of making a drink with cranberry sauce. The homemade sauce is really easy to make, but if you want, you can also try it with the canned stuff.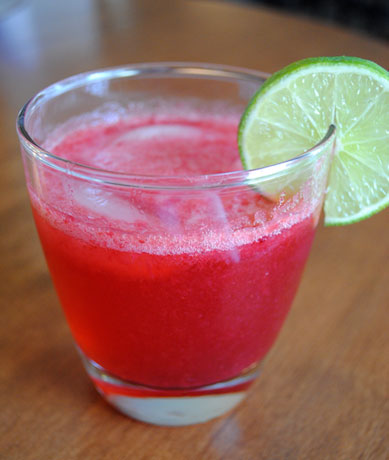 So, how's it taste?
The first one I made, I was too lazy to squeeze on the lime juice. Which makes absolutely no sense since I made the cranberry sauce from scratch, but heaven forbid I cut and squeeze a lime! In my head it made perfect sense at the time. I really liked my first drink, but without that squirt of lime, it reminded me of cough syrup. Drinkable, but just so so. I also didn't strain the drink, which I didn't mind at first, but then halfway through the drink the cranberry bits really annoyed me.
For my next drink, I added the squeeze of lime and strained it into my glass. Perfection! The lime really added that little something it was missing and removed the cough syrup aftertaste. I preferred it strained, too. No bits hitting my teeth so I was a happy camper. Whether your prepping your feast or looking for a way to use your cranberry sauce leftovers, put this drink on your holiday sipping list.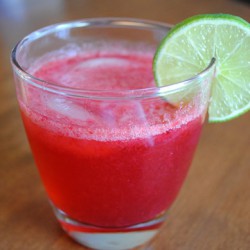 Cranberry Culprit
Directions:
1. Combine cranberry sauce, bourbon, and amaretto in a cocktail shaker and muddle until most of the cranberries and citrus are broken up.
2. Fill the shaker with ice, cover, and shake vigorously. Pour the contents into a highball glass (straining optional), and top with ginger ale. Squeeze the lime wedge over top and serve.