As you can see from the Bourbon Bacon Chex Mix post, I had a lot of fun tailgating a few weeks ago. Along with the seriously addicting snack mix, I made Mexican Brownies, fruit and doughnut hole skewers (more on those later), and Jell-O shots. Yep, you read correctly. I went old school and brought Gourmet Jell-O Shots! I had so much fun making Bushwacker Jelly Shots not too long ago, that I just had to bring them. Then I had the idea to bring multiple flavors. My kitchen was Jell-O shot central and boy were they a hit!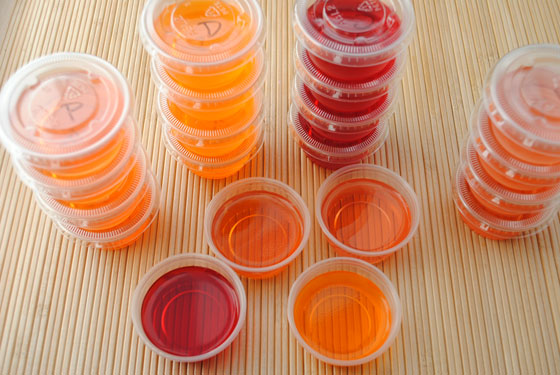 So, how's it taste?
I had so much fun with the different flavors and my fellow tailgaters really enjoyed them, too. I call these gourmet because they aren't just vodka mixed with Jell-O. They are strategically planned to make a tasty, alcoholic concoction.
First up was Peach Pie. Spiced rum mixed with peach Jell-O. It didn't taste exactly like peach pie, but pretty close. The spicyness of the rum paired nicely with the sweet peach.
Next was Cherry Amaretto. You guessed it, amaretto mixed with cherry Jell-O. This one was good, but I ran out of amaretto, so I only used half of the amount I should have. I could smell the amaretto, but couldn't taste it. It's supposed to taste like the juice from a jar of maraschino cherries, but it tasted like plain cherry to me. I'll have to make these again soon.
The third batch was Dreamsicle. Vanilla vodka mixed with orange Jell-O. This was one of my favorites. It really did taste like the popsicle. Sweet vanilla with a splash of citrus. Very tasty.
Lastly, was the Jolly Rancher. Sour apple schnapps mixed with watermelon Jell-O. It was hard to pick a favorite between this one and the dreamsicle. It tasted just like the candy. Seriously, just like it.
Surprisingly, the Bushwacker shots didn't do as well as the other four. Most people had never heard of a Bushwacker (which made me shed a little tear). Those shots are best served slightly cooler than room temperature. Eaten fresh out of the cooler, they tend to be way too chewy, so I think that turned people off.
The good news is that the other four are much easier to make with only three ingredients and everyone loved them! There are a lot more of the flavor combinations I'd like to experiment with, so you may see Jell-O Shots part two on the blog soon.
You'll find the original recipe below and they make very strong shots. If you want to tone it down a bit, I'd suggest using 3/4 cup of the alcohol instead of a full cup. You'll need to add 1/4 cup water to that to have the right amount of liquid. I wouldn't suggest using less than 3/4 cup of alcohol or you won't be able to taste much of it and the shots will be too weak.
Enjoy!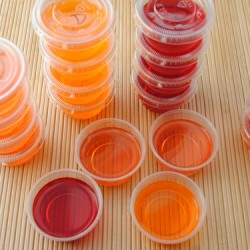 Gourmet Jell-O Shots
Ingredients:
Basic Recipe
1-3 oz. box Jell-O
1 cup boiling water
1 cup alcohol (or 3/4 cup alcohol plus 1/4 cup cold water)
Peach Pie
1-3 oz. box peach Jell-O
1 cup boiling water
1 cup spiced rum (Captain Morgan's or Bacardi)
Cherry Amaretto
1-3 oz. box cherry Jell-O
1 cup boiling water
1 cup amaretto
Dreamsicle
1-3 oz. box orange Jell-O
1 cup boiling water
1 cup vanilla vodka
Jolly Rancher
1-3 oz. box watermelon Jell-O
1 cup boiling water
1 cup sour apple schnapps
Directions:
1. Add boiling water to gelatin mix; stir 2 minutes until completely dissolved.
2. Stir in cold water and alcohol combination or all alcohol. You'll need whatever you use to total 1 cup of liquid.
3. Refrigerate 4 hours or until firm. Store in refrigerator.