I love meal planning, especially this time of year for holiday dinners. I always try to have a signature cocktail and this year was no different, although I think I made the best one yet! I picked Crimson Spice Champagne Cocktail for a few reasons. One, I was really curious about making a syrup from cranberry juice cocktail and wanted to see how it would turn out with the aromatics. Two, I've never used star anise. Three, the Iron Bowl was Thanksgiving weekend and well, the name and color just kind of fit. 😉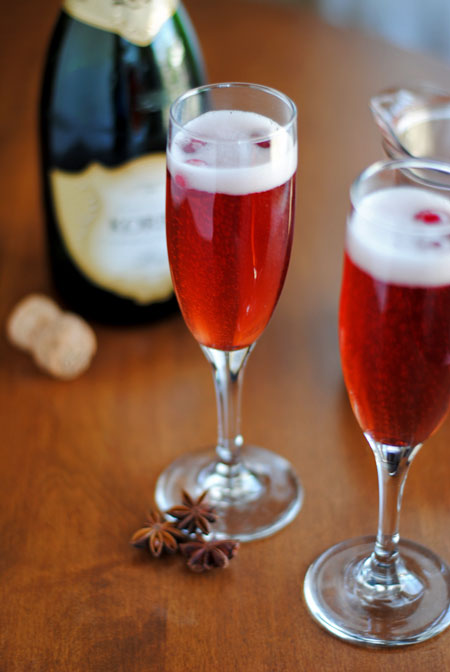 So, how's it taste?
I got so excited in anticipation of this cocktail just from how the cranberry juice cocktail smelled as it was reducing. I need to find a way to make that smell into a candle! Make sure you use cranberry juice cocktail and not cranberry juice. The latter will be too tart for the drink. My juice took about 20 minutes over an hour to fully reduce. Once it hit the hour mark, I poured it into a glass measuring pitcher and if it wasn't down to two cups, simply poured it back into the saucepan and let it boil away longer.
The result was this amazing syrup that just screams holiday. If this time of year had a smell, it would be this. I'm not a fan of licorice at all so don't let the star anise deter you from making this if you're like me, and definitely don't leave it out! The cinnamon, ginger, and star anise give this syrup that special holiday touch. Along with the champagne, there's a bit of brandy in each drink and it adds such a nice depth to the cocktail. If you aren't drinking, try the syrup in lemon-lime soda or club soda for a fun mocktail. You can store the syrup covered in your fridge for up to one week. This is a really great cocktail for a crowd or just a few people.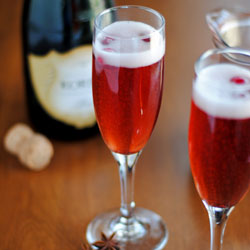 Crimson Spice Champagne Cocktail
Ingredients:
2 quarts cranberry juice cocktail (make sure it's cocktail and not just cranberry juice)
8 slices (quarter size and about 1/8 in. thick) peeled fresh ginger
2 cinnamon sticks (about 3 in. long)
2 whole star anise
1/3 cup cognac or brandy (I used brandy)
8 cups Champagne or other sparkling wine (about 2 2/3 bottles, 750 ml. each), chilled
32 to 48 fresh cranberries, rinsed, or frozen cranberries (optional)
Directions:
1. In a 3 1/2- to 4-quart pan, combine cranberry juice cocktail, ginger, cinnamon sticks, and star anise. Boil over high heat until reduced to 2 cups, about 1 hour. Let cool about 30 minutes, then pour through a fine strainer into a small pitcher. Chill syrup until cold, at least 1 1/2 hours.
2. For each serving, pour 2 tablespoons of the cranberry syrup and 1 teaspoon cognac or brandy into a Champagne flute (6 to 8 oz.). Add 1/2 cup (4 oz.) Champagne. Garnish with 2 or 3 cranberries if desired.