I can't even read the title of this post without getting tongue tied. Blackberry Pear Cider Arnold Palmer. Say it slowly, or say it three times fast for a fun drinking game! See, there's always a bright side! If you're not familiar, an Arnold Palmer is half tea, half lemonade. I like to spruce it up from time to time with alcohol. I mostly stick to adding whiskey, but a project had me thinking a completely different route…cider. This fun cider project started when my friend Alexandra from Sweet Betweens posted about a dinner she attended with pairings from Crispin Cider. She had the fun idea to contact Crispin and ask if they'd be on board with us developing a few recipes using their products. They agreed and the fun in the kitchen began! I've always been a fan of the Arnold Palmer, and thinking about the lemonade part of it, I thought it would pair well with other fruits. Apple of course from the cider, but I really wanted to do something with their Fox Barrel Blackberry Pear flavored cider. It's a lot going on, but who doesn't like a pitcher full of fruit-flavored goodness in the summer?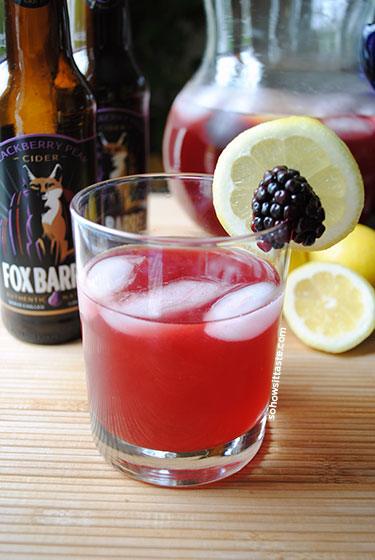 So, how's it taste?
I was really surprised at how well this turned out. I kind of flew by the seat of my pants creating it and crossed my fingers. The final product ended up being very refreshing, just the right amount of boozy-ness, and quite complex. I say complex because you could taste the different flavors, instead of them being jumbled into one concoction. First, you get the tart from the homemade lemonade. You could use store-bought lemonade (which would be easier, and may make a sweeter drink), but I liked the tart punch of real lemon juice. Next is the sweet blackberry. I created a blackberry simple syrup as my sweetener and it was fantastic. I wanted to amp up the blackberry from the cider and this was certainly the way to do it. Last is the aftertaste of cider and tea. You get a hint of the cider and mellowness of the black tea and it becomes quite an addicting beverage.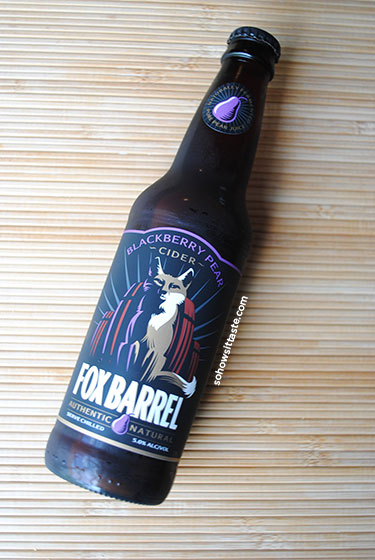 The final drink is pretty tart, which is how I tend to lean when it comes to anything involving lemon. If you prefer a sweeter drink, try using store-bought lemonade that is already sweetened or a better option is to increase the amount of blackberry simple syrup. I'd start by doubling it and adding the extra gradually until you reach your desired level of sweet.
Stay tuned to find out what we did when it comes to cooking with Crispin!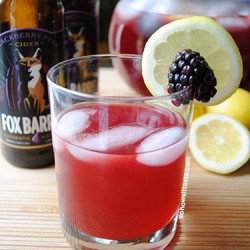 Blackberry Pear Cider Arnold Palmer
by Leah Short for So, How's It Taste?
Ingredients:
Blackberry Simple Syrup*
1/2 cup granulated sugar
1/2 cup water
6 large blackberries
Drink
1/2 cup freshly squeezed lemon juice (about 6 lemons)
Blackberry Simple Syrup
2 (12 oz.) bottles Fox Barrel Blackberry Pear Cider
3 1/2 cups prepared sweet tea
blackberries for garnish, optional
lemon slices for garnish, optional
*Note: This recipe makes a tart drink. You may want to double the simple syrup to sweeten to your liking, or add more sugar/sweetener to the pitcher.
Directions:
1. For the blackberry simple syrup, combine the sugar and water into a small saucepan. Heat over medium-high heat. Add the blackberries and crush with a fork in the saucepan. Heat until boiling; boil for 1 minute. Strain mixture and discard blackberry seeds. Cool in fridge.
2. In a large pitcher, combine the lemon juice, blackberry simple syrup, Blackberry Pear Cider, and sweet tea. This recipe will be a tart. Sweeten to taste with sugar or additional blackberry simple syrup.
Disclosure: Crispin Cider sent complimentary ciders at our request to sample and use in recipes. I was not compensated for these recipes and all opinions, as always, are my own.