I love hot cocoa. I have it year round regardless of the temperature outside, but I love it most when it's this time of year and freezing out. I get all cozy on my couch under my heated throw and wrap my hands around a big, warm mug of it. Add a good movie and we're talking Best. Night. Ever. If you're a fan of hot cocoa, then I'm about to be your best friend for introducing you to the Nutella Melt. The recipe sounds amazing already, but it is nothing compared to the taste. This is the most decadent and luxurious mug of cocoa you will ever drink. It has Nutella, so enough said there, but it's also spiked with Frangelico (hazelnut liqueur), topped with homemade espresso whipped cream, and garnished with a sprinkling of coconut and hazelnuts. <<drops mic>>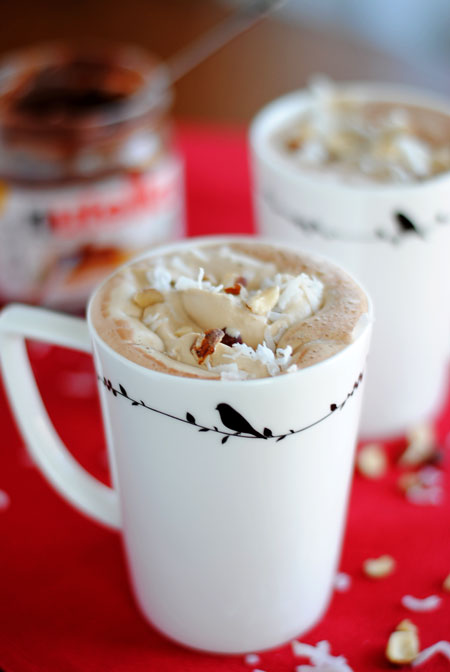 So, how's it taste?
Can I gush over this any more? Sure I can! Seriously, make this. It's so perfect. If you're a skim milk drinker like me, splurge on that whole milk goodness. Trust me. This not the time to try to squeeze out some calories. You want full on, unabashed indulging. You could skip the Frangelico if you want a non-alcoholic drink, but oh does it add such a boost to the hazelnutty-ness going on. I tasted it without and it was pretty fantastic (hello Nutella!), but with it, Oh Em Gee.
I don't have enough fancy words to describe it with the espresso whipped cream. Which, by the way, I want to use in all the desserts now. I may or may not have stolen a few huge spoonfuls from the mixing bowl. The garnishes really take it over the top and while I liked the flavor, I don't always love bits of things in my cocoa. So if you aren't feeling the garnishes, don't worry. The main focus is the cocoa and whipped cream. Now go ahead and get your milk simmering. You deserve it.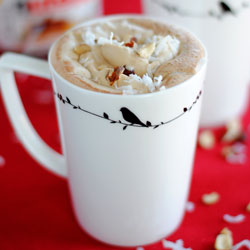 Nutella Melt
Ingredients:
4 cups whole milk
1/4 cup Nutella
pinch salt
6 oz. hazelnut liqueur, such as Frangelico
1 cup heavy cream, chilled
1/4 cup confectioners' sugar
2 tsp. instant espresso powder
1/4 cup toasted hazelnuts, chopped, for garnish
toasted* coconut flakes, for garnish
*To toast coconut flakes: Arrange them in a single layer on a rimmed baking sheet and bake in a preheated 350F oven for 7 to 10 minutes, stirring halfway through baking, until toasted. Alternatively, toast them in a large dry skillet over medium heat, stirring occasionally, until golden, 5 to 7 minutes.
Directions:
1. Bring milk, Nutella, and salt to a simmer in a medium saucepan over medium heat, stirring until Nutella is completely dissolved. Stir in liqueur. Turn off the heat but leave the pot on the stove while you whip the cream.
2. Using an electric mixer, beat cream, confectioners' sugar, and espresso powder on medium speed in a large, chilled bowl until soft peaks form, 2 to 3 minutes. Ladle drink into warm cups and top with whipped cream. Sprinkle with hazelnuts and coconut.
Source: Winter Cocktails: Mulled Ciders, Hot Toddies, Punches, Pitchers, and Cocktail Party Snacks
This post contains affiliate links.