Yesterday I introduced you to Bama Bombs. Innocent-looking cherries soaked in vodka. Pop one in your mouth and you'll understand the name. Luckily I have two more recipes to share with you that use the Bama Bomb and tame it just a bit. First up is Rammer Jammer Jell-O Hammers! Cherry Jell-O shots with a Bama Bomb inside. The name comes from the Rammer Jammer Yellow Hammer cheer usually heard in the closing minutes after an Alabama win. There's also The Van Tiffin. Van Tiffin was Alabama's kicker from 1983-1986 and known for "the kick" in the 1985 game against Auburn. The drink is made with the cherry juice from a Bama Bomb and Sprite…so it's Sprite with a kick!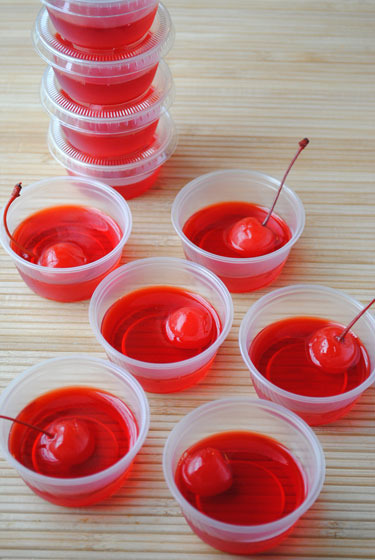 So, how's it taste?
Now that you've had a bit of Alabama football history, on to the fun. For the Jell-O shots, I used vanilla vodka. I really like the flavor of cherry and vanilla and I made the Bama Bombs with vanilla vodka as well. I chose to use 3/4 cup of alcohol because the bombs have such a kick. You could increase it to 1 cup but I think they would be too strong. The bombs are much easier to tolerate surrounded in a Jell-O shot. They're sweet with just a slight alcoholic aftertaste. Not as powerful as a Bama Bomb by itself, but really tasty. I made my shots with stemmed and stemless cherries. I was thinking the ones with stems would come out when you pulled the stem. Nope, it just pulls out the cherry, but it does make for a cuter presentation.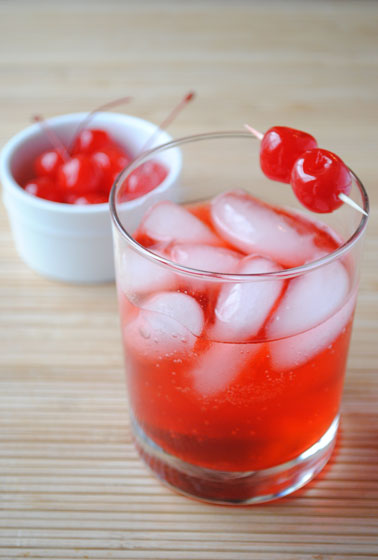 The Van Tiffin is addictive. I only made one when I was prepping for this post because I want to save some for my friends on Monday. Talk about having some willpower! The cherry and vanilla vodka mixed with Sprite is awesome. I used 1 1/2 ounces of the cherry juice, so your recipe may vary with the alcohol level depending on how you make your Bama Bombs. The alcohol in this drink comes from your Bama Bomb juice, so if it's too weak, add more juice or add a bit more vodka to the drink. Adding more juice will make your drink sweeter and more syrupy. This is one of those drinks where you won't realize how much you're drinking because it's that good…dangerously good. I garnished my drink with two Bama Bombs on a toothpick, but you could also put a few in the drink. You can also easily serve a non-alcoholic version using cherry juice and cherries that haven't been soaking in alcohol.
Roll Tide Roll!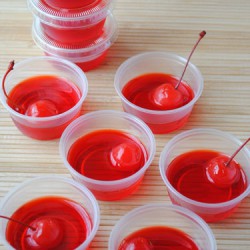 Rammer Jammer Jell-O Hammers & The Van Tiffin
inspired by fans from TideFans.com
makes about 24 Jell-O shots
Ingredients:
Rammer Jammer Jell-O Hammers
1 (3 oz.) package cherry Jell-O
1 cup boiling water
3/4 cup vodka or vanilla vodka
1/4 cup cold water
cherries from Bama Bombs
The Van Tiffin (recipe for one drink)
1 1/2 oz. cherry juice from Bama Bombs
Sprite
Directions:
1. For the Jell-O shots, add boiling water to gelatin mix and stir 2 minutes until completely dissolved.
2. Stir in vodka and cold water.
3. Place one Bama Bomb cherry into each shot cup. Add the gelatin mixture. Refrigerate 4 hours or until firm. Store in the refrigerator.
4. For The Van Tiffin, fill a glass 1/2 way with ice. Add 1 1/2 oz. of cherry juice from Bama Bomb. Fill the rest of the glass with Sprite.