In case you don't live in the college football world like I do, there's a big game coming up this Monday night. The BCS National Championship game between Alabama and LSU. I've been looking forward to this rematch, but I'll be a ball of nerves come game time. To help me with that, I've made Bama Bombs! I'd heard about these goodies a few years ago, but had never seen them at a tailgate. To be honest, I forgot about them…until I got a gift from Shannon of Bake. Frost. Repeat. She gave me The University of Alabama Cookbook and in the back was a recipe for the non-alcoholic version. I never found a true recipe for the alcoholic kind, but after reading a few posts from TideFans.com, I forged ahead and put together my own version.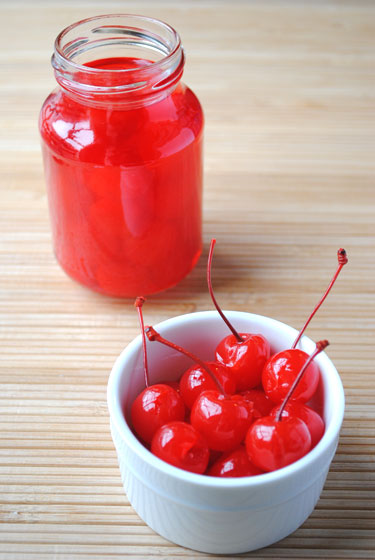 So, how's it taste?
The name suits them well. They are bombs of alcohol going off in your mouth! They look so sweet, delicious, and innocent. Bright red cherries in their sweet cherry juice, just waiting to be popped in your mouth. They're sweet for about a second and then it's like taking a shot of vodka. They pack a kick! I can taste why these would be a hit tailgating. I could barely handle two in a row. I've heard of making these with PGA, but since I'm not 20 anymore, I chose vodka and vanilla vodka. I liked the vanilla vodka better because it tamed the "bomb," and vanilla and cherry go really well together. Mine have been in the fridge for about two weeks. I hear they get better and better the longer they "marinate." Some Bama fans start their batch on A-Day and they're ready just in time for football season.
You can use Bama Bombs to make Rammer Jammer Jell-O Hammers and The Van Tiffin. Roll Tide!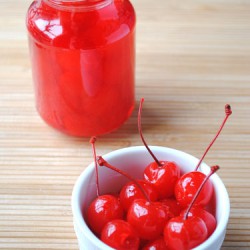 Bama Bombs
Ingredients:
1 jar maraschino cherries
vodka or vanilla vodka
Directions:
1. Pour half the cherry juice out of the jar. (You can save this cherry juice for a non-alcoholic version of The Van Tiffin!)
2. Fill the jar with vodka or vanilla vodka.
3. Refrigerate at least 3 days before serving. They get better the longer they sit. Some make them 6 months in advance.