When I saw this Whiskey Cranberry Slush in Food Network magazine, I instantly knew it would be my beverage of choice for Thanksgiving. I had fabulous plans of sipping on these while I cooked Thanksgiving dinner. I think I've annoyed you enough with my pity-party on being sick on Thanksgiving, so obviously drinking alcohol didn't happen that day. But two days later was the Iron Bowl, and that was reason enough for me to break out the whiskey.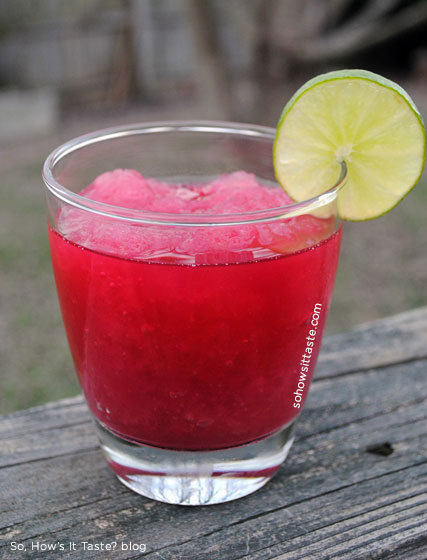 So, how's it taste?
Loved. It. So. Much. It's as fantastic as you expect it'll be. I think a whiskey with some bite to it works great in this as opposed to a sweeter whiskey or bourbon, but use whatever you prefer. The drink is a tad bit sweet, but also tart from the cranberry and lime. It all comes together for one delicious drink. I'm a huge fan of whiskey so this fruit drink was a nice change from whiskey and Coke. Another perk is there's no ice. It's all slush, so the drink never dilutes. I thought for sure the slush would melt when I added the additional cranberry juice, but it doesn't. It forms into a beautiful slush drink and stays pretty slushy for a good while. The recipe makes enough for a crowd, but can be easily divided in half or quartered.
This quite possibly may turn into my Thanksgiving/Iron Bowl beverage of choice! Roll Tide!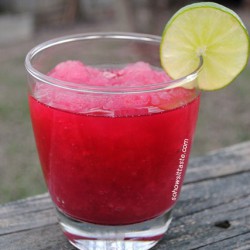 Whiskey Cranberry Slush
Ingredients:
2 cups whiskey (I used Jack Daniel's)
6 cups cranberry juice*
4 1/2 cups pomegranate juice*
2 cups orange juice
Juice of 2 limes
1 cup sugar
1 cup fresh cranberries, diced
Mint leaves, for garnish
*Or use 10 1/2 cups Cran-Pomegranate juice.
Directions:
1. Combine the whiskey, 3 cups of the cranberry juice, pomegranate juice, orange juice, lime juice, sugar and 1/2 cup water in a large, shallow freezer-safe container. Stir well, cover, and freeze until the mixture is icy, stirring every 20 to 30 minutes, 4 to 5 hours. The mixture won't freeze completely due to the alcohol, so if you forget to stir ever so often, no big deal.
2. Scrape and break up the frozen mixture with a fork and divide among glasses, filling them three-quarters of the way. Divide the remaining 3 cups cranberry juice among the glasses and top with the diced cranberries; stir until slushy and garnish with mint. (I left out the cranberries and mint, and garnished with a slice of lime instead.)