I'm always on the lookout for a new tasty beverage, especially around the holidays. It was the perfect setting to try a Strawberry Sangria for this recent 4th of July. I'm a huge fan of white sangrias (the beverage of choice from past 4ths), so I jumped at the chance to put a twist on an old favorite. A great summer drink with a combination of strawberries, fruit juice, and wine.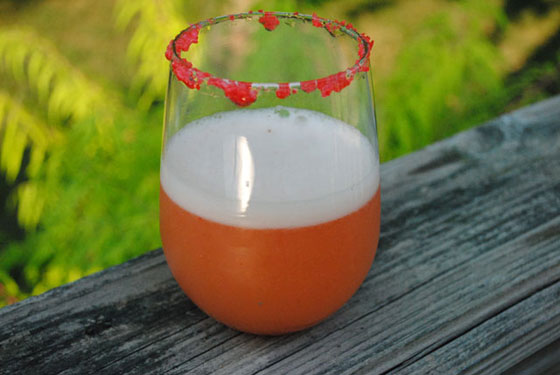 So, how's it taste?
Insanely good! So much so that you have to be a little careful with your consumption as it goes down so smoothly with the taste of sweet berries. Even those that aren't wine lovers will enjoy this drink. You taste the strawberry right away and then a note of the fruit juice. I used orange pineapple for the one in the picture, and I've also made it with orange, pineapple, apple that was equally delicious. The Sprite gives it just enough bubbly. The original recipe calls for a blush wine which I don't care for and felt would be too sweet. I've made this with Chateau Ste. Michelle Gewurztraminer and again with their Riesling. Both paired beautifully with the rest of the ingredients.
To add a little spark! to the festivities, the rims were dipped in Pop Rocks! You'll have to forgive my picture as my rimming skills aren't as top notch as those from the Food Network where I got the idea. It added some fun to our evening, but of course isn't necessary for the drink. This drink is perfect for sipping on your patio on a gorgeous summer day!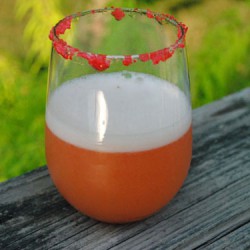 Strawberry Sangria
Ingredients:
2 (10 oz.) packages frozen sliced strawberries in syrup, thawed
1 (12 oz.) can frozen orange, strawberry and banana fruit juice concentrate, thawed
2 (750 ml) bottles blush or white wine, chilled
4 (12 oz.) cans lemon-lime carbonated beverage (Sprite), chilled
6 fresh whole strawberries, halved
Directions:
1. Puree strawberries in blender; pour into strainer. Press mixture with back of spoon through strainer to remove seeds.
2. In 3 quart nonmetal bowl, combine strawberry puree, fruit juice, and wine; mix well.
3. Just before serving, stir in Sprite. Serve in wine glass over ice. Garnish with strawberry half.