Happy New Year! I hope your 2014 is getting off to a wonderful start. I always look forward to January 1st because it feels like such a fresh start. I don't really make resolutions (other than getting rid of those holiday pounds), but I do enjoy feeling like I have a clean slate. To kick off 2014, I say cheers to you with a Blissini!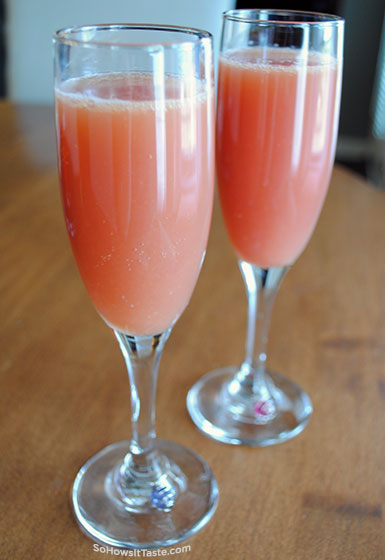 So, how's it taste?
This was our tasty beverage for Christmas and we loved it. It's basically a mimosa with the addition of pomegranate juice. Super simple to make and the best part is that you can make them individually. No need to get out a huge pitcher and have leftovers. Just make it as you drink it, unless you're making it for a lot of people, of course. It's one part Prosecco, one part orange juice, and one part pomegranate juice. That's it! The color is gorgeous and it's not too sweet thanks to the pomegranate.
How did you ring in 2014? Did you make any resolutions? Happy 2014!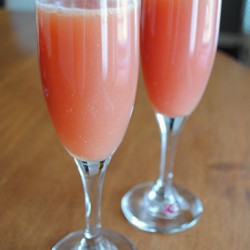 Yield: 9 servings
Total Time: 5 min
Blissini
Ingredients:
1 1/2 cups Prosecco (or champagne), chilled
1 1/2 cups orange juice, chilled
1 1/2 cups pomegranate juice, chilled
Directions:
1. Combine all ingredients and pour into individual flutes. Alternatively, make individual drinks using 1 part Prosecco, 1 part orange juice, and 1 part pomegranate juice.