Look at that simple bowl of polenta. Unassuming, nothing fancy, but oh how your eyes can deceive you! This Rosemary Parmesan Polenta is one of those dishes that I want to faceplant in and eat my way out. Yes, to all zee carbzzz! I served this with the Sausage, Cannellini, and Tomato Ragout and together…sweet, sweet harmony. Plus they don't blow our your calorie budget. You can have both!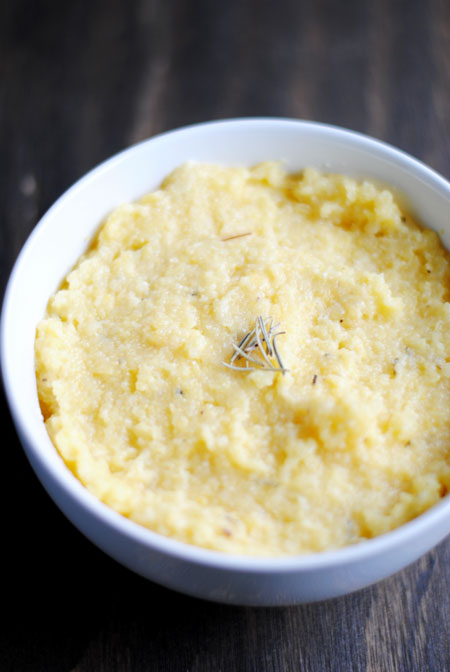 So, how's it taste?
By itself, this is one tasty side. The salty nuttiness of the Parmesan is a lovely addition to creamy polenta. It gets its creaminess from the fat-free yogurt and you'd never know this wasn't loaded with calories. Just a touch of rosemary finishes the dish. I used dried, so it only takes a tiny amount. Pair it with the ragout, and it's one of my favorite low calorie meals. The creaminess cuts some of the acidity from the ragout's tomatoes and then you get that chunky ragout texture as a contrast. Oh it was so, so good. The leftovers are even better, so go on and make a few batches to get you through the week. 🙂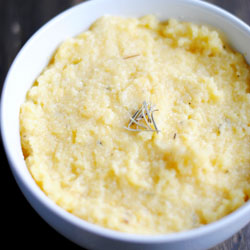 Rosemary Parmesan Polenta
Ingredients:
3 cups water
3/4 cup instant polenta
2 tbsp. grated Parmesan cheese
1 tbsp. plain fat-free yogurt
1 tsp. minced fresh rosemary
1/4 tsp. kosher salt
Directions:
1. Bring water to a boil in a medium saucepan over medium heat. Gradually add polenta, stirring constantly.
2. Reduce heat to low, and cook 3 minutes or until thickened, stirring frequently.
3. Remove pan from heat. Stir in Parmesan cheese, yogurt, rosemary, and salt.
per serving: 113 calories, 0.7g fat, 3g protein, 16g carbs, 3g fiber