This past weekend I made a visit to Dipped Delights at the West Nashville Farmers' Market. They are a local company specializing in chocolate bark. I'd been planning on trying out their chocolate bark for months and finally had the chance. Oh man have I been missing out! I didn't realize they had so many flavors. They have milk chocolate, dark chocolate, milk & dark chocolate pretzel, milk & dark chocolate almond, and…chipotle! I think you can get chipotle with the pretzel and almond as well. I sampled a few and brought home dark chocolate chipotle and milk chocolate almond.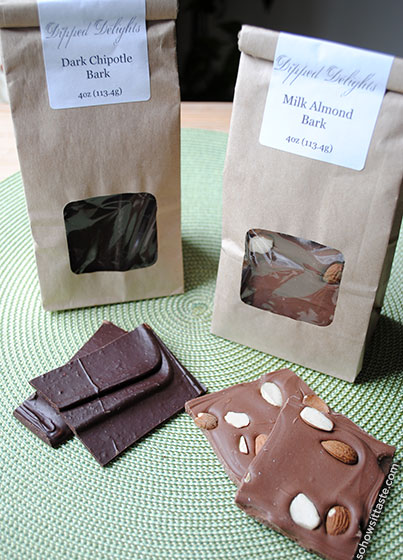 So, how's it taste?
I couldn't keep my hand out of the bags! The milk chocolate is really smooth and creamy and goes wonderfully with the crunch from the almonds. I like how it's big pieces of almonds and not bits, so you can really taste the almond. I sampled the ones with pretzels and it's the same way. Big pieces of pretzels in the chocolate, so you get a really big crunch mixed with the creamy chocolate.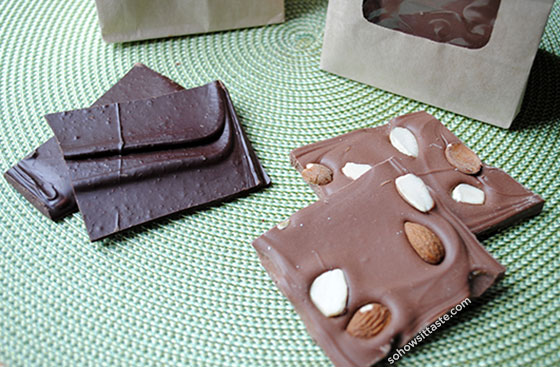 The dark chocolate was equally delicious. It's a very good dark chocolate, but not too bitter. The chipotle gave it a nice kick, but also a bit of smokiness. I like that they use chipotle over cayenne, so it's not just hot, it has some flavor. Don't worry, it's still spicy! You taste the dark chocolate and then you start to feel a warmth in the back of your throat. Good stuff for those who are adventurous with their chocolate. I also tasted the chipotle with the milk chocolate and I like that one as well. Not as much of a kick since the dairy in the milk chocolate keeps it at bay at little.
I spoke with Jodi Tucker, one of the owners, for a long time about Dipped Delights. Anyone that pursues a business in chocolate immediately gets my attention. What's best about Dipped Delights is they use really high quality Belgian chocolate and take care to get the best, natural ingredients. There's nothing in their bark that you can't pronounce, nothing artificial, and it's non-GMO. I'd say it's almost healthy to eat their chocolate! 😉
I hope you give them a try. You can find Dipped Delights at various Farmers' Markets around Nashville and if you don't live near Nashville, they ship!