A few weeks back I was contacted by Mr. Coffee to see if I would like to try their Cafe Latte maker. Being a coffee lover, I had no problem saying yes. I was curious how this machine would work. Could it really make a decent latte at home? I've worked as a barista twice in my life, so I'm well versed in making lattes. A lot of special equipment is involved and you have to steam milk, which is easy in a coffee shop, but not so easy at home. I have never been able to duplicate at home what I would make in a coffee shop.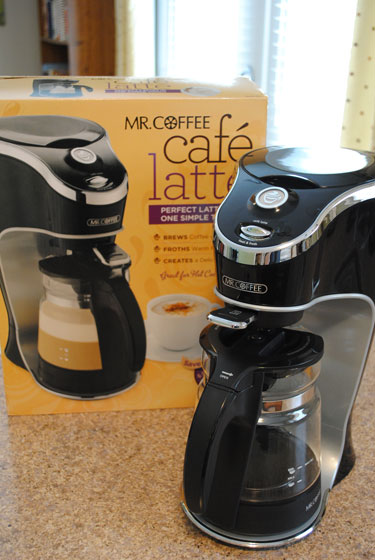 So, how did the Mr. Coffee Cafe Latte stand up to the test?
It passed! I won't deny that I was shocked it really makes a great latte. I've tried at-home espresso makers in the past and they were so difficult to use and produced a sub par product. I always enjoyed steaming milk on the big machines in coffee shops, but not at home. There's a fine line between perfect froth and scorching the crap out of your milk. I enjoy espresso drinks, but I find I like my lattes better with coffee. With this machine, you can choose to make them the traditional way with espresso or if you want something not as strong, use coffee.
Out of the box the machine is pretty much ready to go. All you have to do is snap on the frother to the lid of the carafe. No other assembly is required. While the base is really light and doesn't take up much space on your counter, I did notice the carafe is heavy. The bottom of the carafe contains the electrical elements to heat the milk and plug into the base, so that's where the weight comes from. This feature also makes the carafe hand-wash only. You cannot put it in the dishwasher or submerge it in water. This was the only thing I found that I didn't like. You have to be a bit careful cleaning it.
The cafe latte comes with a manual, a quick start guide, and a recipe booklet. The quick start guide is easy, but you'll want to review the manual first so you'll know how to clean the carafe before you use it the first time. There are a lot of great recipes included. A basic latte, flavored lattes, lattes with liquor, lattes with tea, and hot chocolates. I had a tough time deciding which to try first!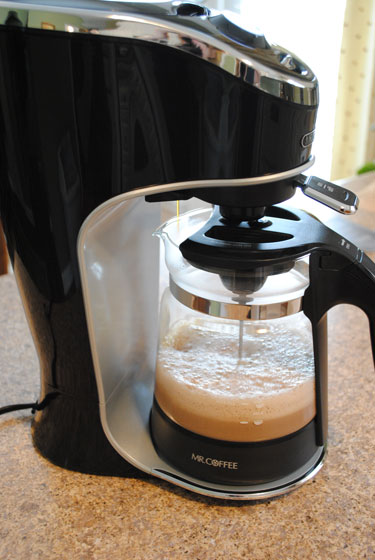 A great feature of this machine is that it's really quiet. Espresso machines with steamers are pretty loud, so I was surprised at how you could barely hear this one brewing and frothing. It only took a few minutes to have everything ready, which is really great for those mornings you're headed out to work. No lines, no waiting. It took no longer to make a latte than it would to brew a regular cup of coffee.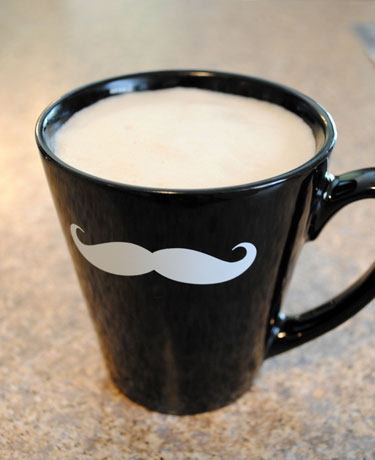 The first one I made was a caramel mocha. Coffee goes in the brew basket, milk, chocolate and caramel syrup in the carafe and in minutes I was sipping on a delicious drink. I've since made caramel and a vanilla cinnamon that was out of this world! Of course, another benefit is the price. Pennies compared to what you'd spend in a coffee shop! So if you're looking for a fast, inexpensive way to enjoy lattes at home, this Mr. Coffee Cafe Latte is for you.
Bonus! The nice folks at Mr. Coffee have a special offer for my readers! You can purchase the Cafe Latte at www.mrcoffeelatte.com and receive $10 off your order AND free shipping! Just enter code MLAT10A during checkout. This would make a fantastic gift for you or a friend!
For fun I made a video using the Mr. Coffee Cafe Latte. You can see how quick and easy it is to make lattes at home and how quiet the machine is. Please excuse my novice video skills and my I-didn't-realize-it-was-this-thick Southern accent!
Disclosure: Mr. Coffee provided me with a Mr. Coffee Cafe Latte at no cost and I was not compensated for this post. All opinions expressed here are solely my own.