About a month ago, I got wind of the Hamilton Beach Breakfast Sandwich Maker and thought it was the best idea ever. I reached out to Hamilton Beach to see if I could review it for So, How's It Taste. Luckily they chose me as one of their breakfast maker brand ambassadors! I talked about this machine for weeks at work. You would have thought I'd won the lottery! (Psst…there's a chance for you to win, too!)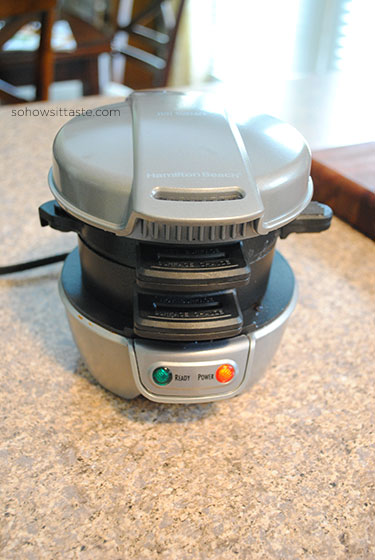 So, how's it taste?
I brought the Breakfast Sandwich Maker to work to put it to the test. English muffins, cheese, butter, sliced ham, and eggs. We made a build-your-own-breakfast bar. The machine is so compact, it was perfect for our tiny work kitchen. It would also be great for back-to-school since it's doesn't take up much counter space and in five minutes you can have a hearty sandwich. Much better than getting out a skillet to cook the egg, using the toaster oven, and then trying to time it all to be ready at the same time.
Be sure to check out the entire post for a fun video and a chance to win your own Breakfast Sandwich Maker!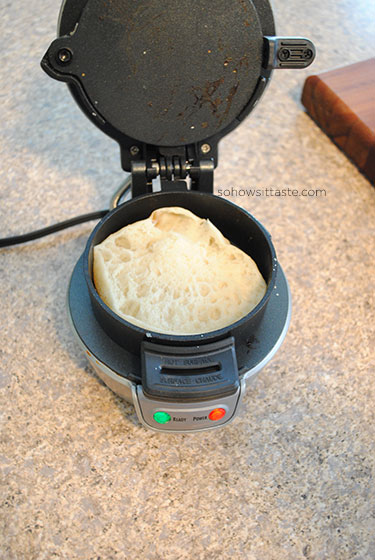 It's very easy and quick, plus the possibilities of sandwich combos are endless. I tried English muffins, biscuits, and Bagel Thins. I found English muffins work perfectly. I had to trim the Bagel Thins and I don't think a regular bagel would fit. The biscuit worked pretty well, but mine weren't quite big enough, so they got swallowed up by the egg.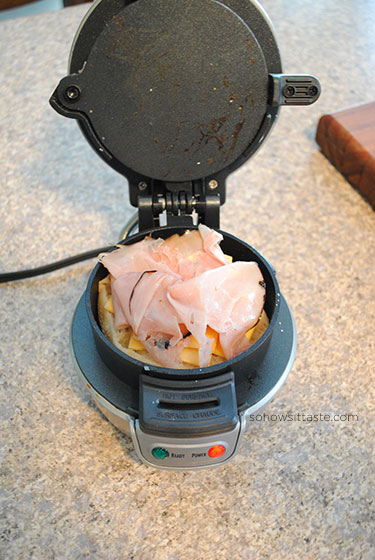 You start by putting your bottom bread in the first ring, then add your toppings. I like to add cheese and then a meat like sliced deli ham or turkey sausage. A great tip for the cheese is to tear it in half so it fits better on the bread. Otherwise it drips over the side and gets messy. The meat has to be already cooked when you add it, too.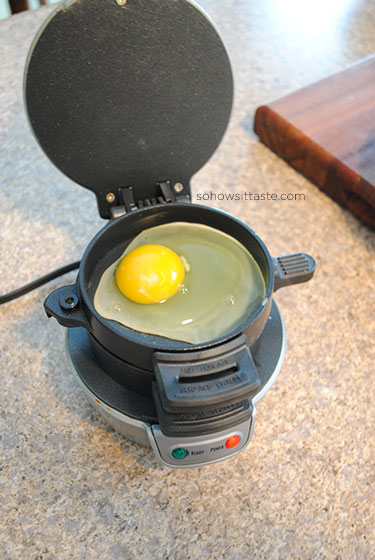 Now you flip the next panel down and crack your egg right into the maker. Yep, right in it! You could also scramble the egg first and pour it in, use egg beaters, or egg whites. You can make this sandwich really decadent or keep it healthy.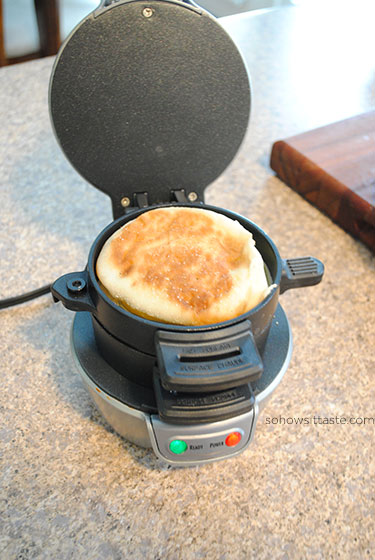 Top the egg with your bread and lower the maker lid. Now it's only a five-minute wait until breakfast!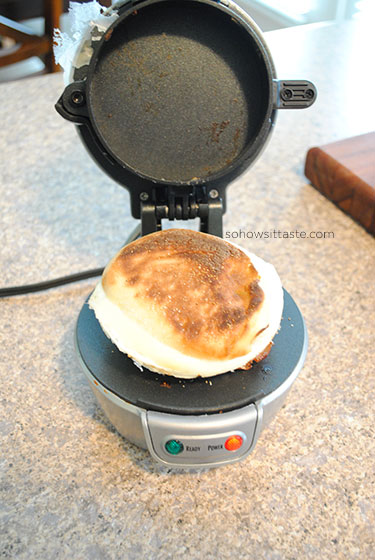 The possibilities are endless with how many sandwiches you can make. There's a recipe that comes with the maker using frozen pancakes as the bread! You could also use this for some awesome savory or sweet sandwiches. From eggs benedict and mini pizzas to grilled cheese and a warm chocolate croissant, find more recipes from Hamilton Beach.
I made a video to show how easy it is to use the Breakfast Sandwich Maker. I hope you enjoy it. I had a lot of fun making it and apparently I'm quite the hand-talker!
Bonus! The awesome people at Hamilton Beach want you to enjoy the Breakfast Sandwich Maker, too!
Mandatory: Leave a comment on this post telling me what sandwich you would make in your Breakfast Sandwich Maker! (Giveaway open to contiguous U.S. residents only.) One mandatory entry per person. Multiple entries (except for the optional entry below) will be deleted.
Optional entry: For one additional entry, tweet the following: "Win a @HamiltonBeach Breakfast Sandwich Maker from @SoHowsItTaste! Enter here: http://bit.ly/1aGpUQo" and leave a separate comment that you tweeted.
Contest ends on Sunday, September 1, at 1 p.m. central. Please make sure you enter a valid email address as an alternate winner will be chosen if I don't hear from you within 48 hours. Good luck!
Congrats to Katie, comment #4!
You've won the Hamilton Beach Breakfast Sandwich Maker!
Winner chosen using random.org.
Disclosure: Hamilton Beach provided me with a Breakfast Sandwich Maker at no cost and I was not compensated for this post. All opinions expressed here are solely my own.
This post contains affiliate links.