I am not one to turn down a piece of cake, much less anything in the sweets department. But man do those calories love to latch on to my hips! So the few times a year I actually start doing something about it, I like to eat healthy. Enter yogurt.
Yeah, yeah, yeah, it's good for you, but if I eat another strawberry or key lime pie I'm going to hurt someone. Which is why I was thrilled to see Yoplait introduce some new indulgent flavors. Indulgent? And you're talking about yogurt? Yes!
How does Cinnamon Roll, Raspberry Cheesecake, Pineapple Upside Down Cake, and Red Velvet Cake sound? Yep, you heard me. Red. Velvet. Cake!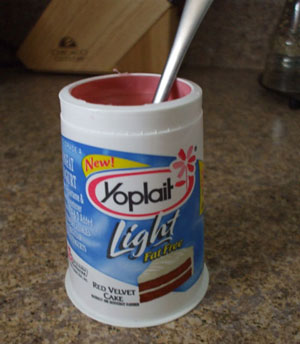 So, how's it taste?
Fantastic! The Red Velvet Cake is so good! It still has that yogurt tang, but you get a nice flavor of cream cheese icing. I don't really taste much of the cake part, just an overall sweetness. But I like it…a lot. The other new flavors are pretty fabulous as well. I swear the Pineapple Upside Down Cake tastes just like the real thing. All for around 100 calories! Kudos to you, Yoplait. Nothing like making healthy food taste like bad food to make me start eating better!