Imagine coming home after a long day at work and finding a package on your doorstep that you weren't expecting for a few weeks. And it's Friday! That was me a week ago today. A fairly decent-sized box waiting patiently for me to get home. Snuggled inside a cooler-type setup was this super cute striped box with a sweet note from Sucre. Sucre is a sweet boutique with two locations in Louisiana. I've never been and sure do wish I lived closer. Checking out their web site, they've got pretty amazing desserts like macarons, chocolates, marshamallows, chocolate-covered macarons. Um, how quick can I get to New Orleans? Lucky for me, the nice folks at Sucre sent me their 15-Piece Signature Collection Macaron to try.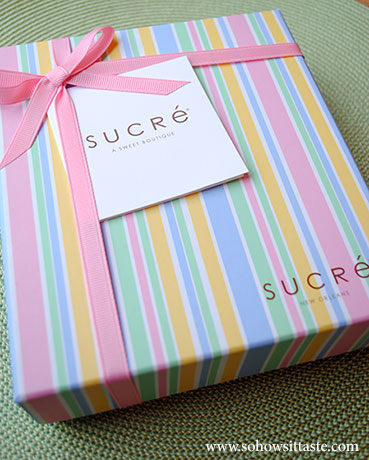 So, how's it taste?
I really had good intentions of saving a few of these and sharing them with my coworkers that following Monday. Yeah, that didn't happen. (Sorry if you're reading this guys!) I spent the entire weekend sampling and snacking my way through each delicious bite…all by myself. Hey, I'm an only child. I don't comprehend sharing very well.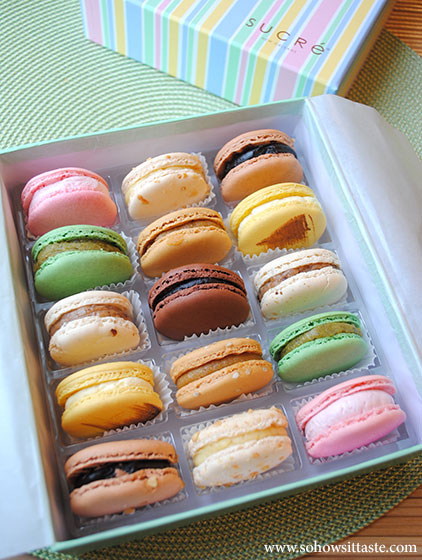 Can you blame me? The box is pretty, but look at those macarons. They are almost too pretty to eat…almost. Bite-sized works of art and they taste even better. Check out the flavors: chocolate, hazelnut, almond, pistachio, bananas foster, strawberry, pecan, and salted caramel. Hello!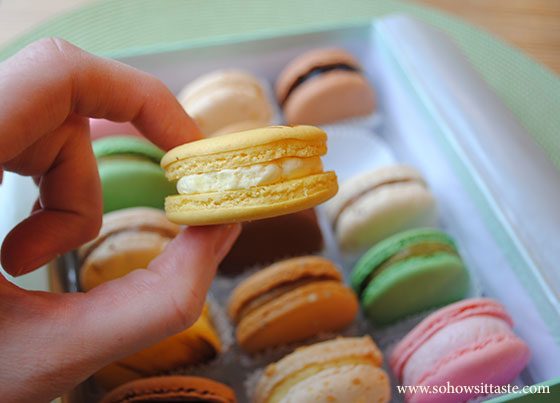 I had so much fun tasting these beauties. The standouts for me were chocolate (of course!), pecan, and bananas foster. I don't normally like anything banana, except real bananas, but this one was spot on. I could taste the caramelized bananas. I don't know how they get that into a macaron. The pecan tasted just like pecan pie. This southern girl was impressed with that one. You can't go wrong with chocolate in my book and this one was perfect for this chocoholic. My only complaint? There was only one of the chocolate!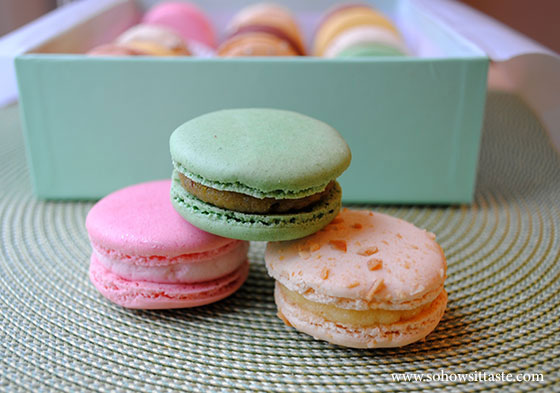 Now here's where I'm learning about sharing. Not only did I get to indulge in a box of macarons, but one lucky reader will, too! My friends at Sucre were kind enough to offer a 15-piece Signature Macaron Collection for one of you!
Mandatory: Visit Sucre's web site and leave a comment here on this blog telling me what sweet treat makes your mouth water! (Giveaway open to contiguous U.S. residents only.)
Optional entry: For one additional entry, tweet the following: "Win a box of @SucreNewOrleans signature macarons from @SoHowsItTaste! Enter here: http://bit.ly/sucremac" and leave a separate comment that you tweeted.
Contest ends on Friday, May 10th at 5 p.m. central. Please make sure you enter a valid email address as an alternate winner will be chosen if I don't hear from you within 48 hours. Good luck!
Disclaimer: I was sent the 15-piece signature macaron collection for review. I was not compensated for this post. All opinions are solely my own, as always.
Congrats to Sharon on comment #35!
You've won your own box of Sucre macarons!
Winner chosen using random.org.