Brace yourselves, I'm about to tell you about the most genius idea ever, especially for all you Nashville lovers out there. Batch Nashville is a new Nashville business bringing you a goodie box of products from local businesses. It's mostly food, but I hear sometimes you may get a non-food goodie item, too. I look at it like Stitch Fix, but it's food and it's Nashville! It's such a great idea for gift giving, sending Nashville love, or if you're like me, getting a taste of local products that would normally take way too much time to hunt down yourself. Sign me up!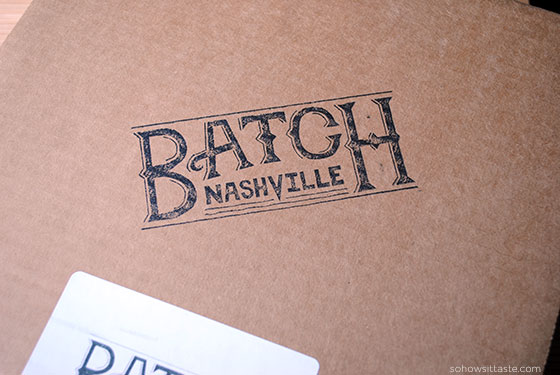 I ordered the October box, but was completely bummed I'd missed out on their first box for September. As luck would have it, my friend Stephen Moseley is one-third of the team behind Batch Nashville and sent me a nice email asking if I'd like to get in on the September box. Twist my arm YES! I know Stephen from high school, so not only was I supporting a local business that supports local businesses, I was more than happy to support a former classmate…and he reads my blog. 🙂 Together with Sam Davidson and Rob Williams, Batch Nashville came to life.
How does Batch Nashville work? You can purchase a month at a time for $30 per box or get three months together and it's $25 per box. I received my September box yesterday and I'm sold. Batch Nashville puts so much care and detail into their boxes and each one has a theme. The September box theme is Rise & Shine. It's all about my favorite meal of the day!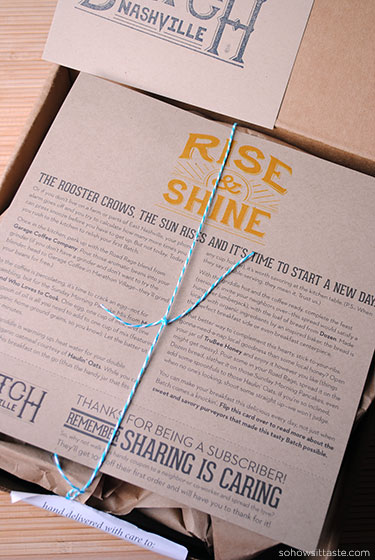 I opened my box to find it tied in blue and white string (it was in a pretty bow, but I was camera-less when I first dove into the box). On top is a sheet with details on what's inside. It's perfectly written to guide you through how you can use each product to have the best start to your day ever. I seriously wanted to call in sick to work the next day so I could eat my way through my September box!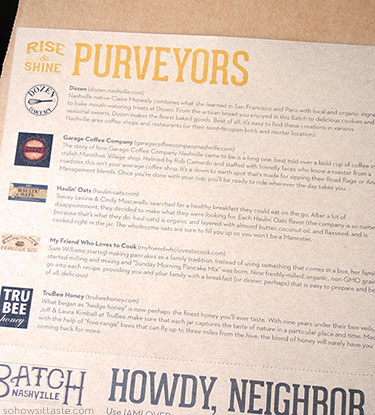 On the back of the sheet is more information about the purveyors included in the box and their web site addresses. I loved reading more about each company as I hadn't heard of some of them (bad Nashvillian!). So even if you live in Nashville, I think you will really enjoy Batch Nashville.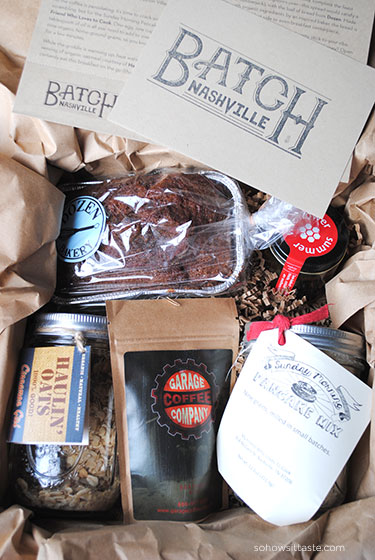 Let's get to what's inside! Rise & Shine!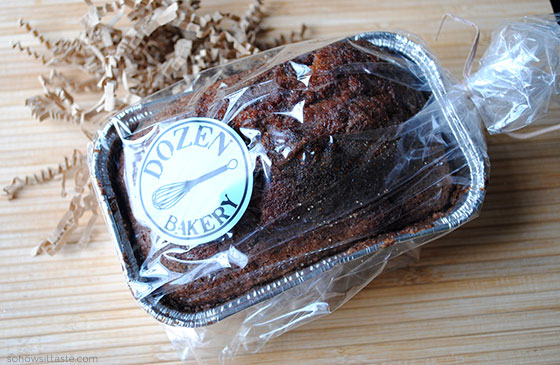 I instantly gravitated to the loaf of Strawberry Banana Bread from Dozen Bakery. I have a weakness for banana bread, but never thought about adding strawberry! I can absolutely get behind having this for breakfast, especially with a hot mug of coffee.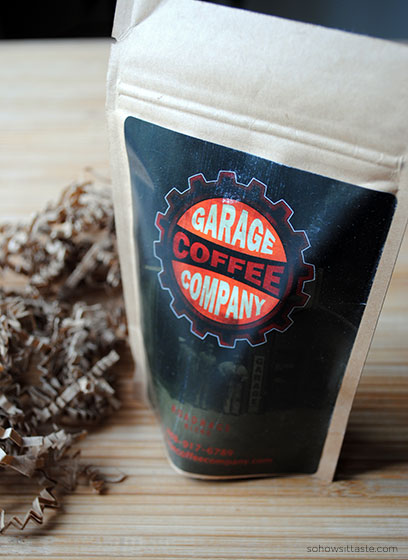 Speaking of coffee…next up is a bag of whole coffee beans from Garage Coffee Company. This pack is the Road Rage blend. Yes, I for sure need a big cup of that! If you don't have a grinder, they'll grind them for you for free!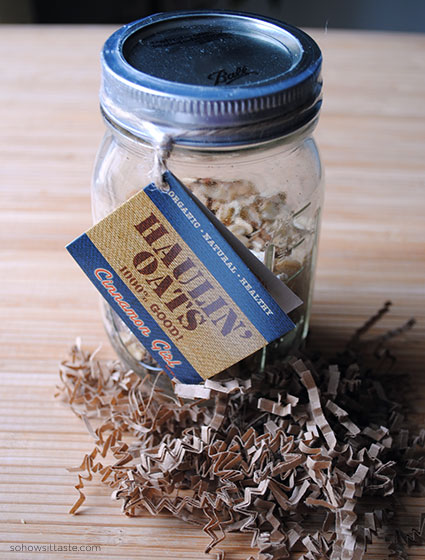 Next up is a Mason Jar of oatmeal from Haulin' Oats. They use healthy, organic ingredients so you can have a healthy breakfast on the go. I received Cinnamon Girl. It's pecans, raisins, apples, cinnamon and other spices. That Mason jar isn't just for looks either; you make the oatmeal in the jar!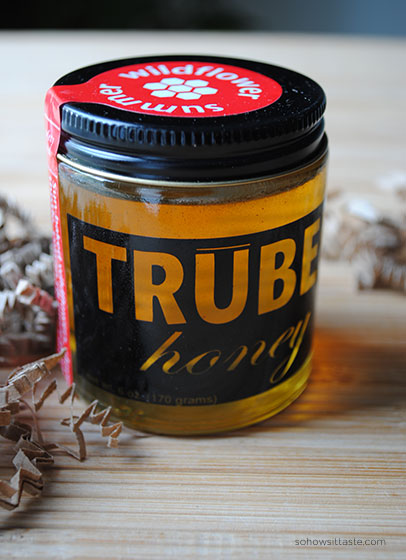 In the box was also a jar of TruBee Honey. I've heard so much about this honey that I can't wait to dig in. Hovering over the sink eating this with a spoon is perfectly acceptable behavior, right? This jar is their 2013 Summer Wildflower variety. There's a biscuit in my future with this drizzled all over it!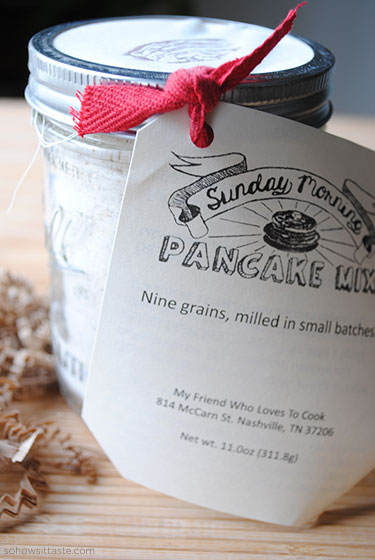 The last gift is a big Mason jar full of Sunday Morning Pancake Mix from My Friend Who Loves to Cook. The mix includes nine grains, milled in small batches. Healthy pancakes, y'all! You know I'll be firing up my griddle this Saturday morning.
I hope this gives you a sense of the awesome concept of Batch Nashville. Now you see why I call it genius. It's perfect for a gift or for yourself. I'm already counting down the days until my October box is delivered! Check out BatchNashville.com to get in on the November box…they sold out of October already!
Disclosure: I ordered the October box myself and was sent the September box at no cost. I was not compensated for this post and all opinions expressed here are solely my own, as always.