Now this post may bring on some chuckles for my selection in "fine items," but I couldn't resist. I'm a sucker for any new product, especially with that "limited edition" stamp! Looking around during my weekly stroll through the grocery store, I found a Snickers Fudge. Um, yes please! It never ceases to amaze me how many different versions of a candy bar the makers can come up with. Can I have that job please?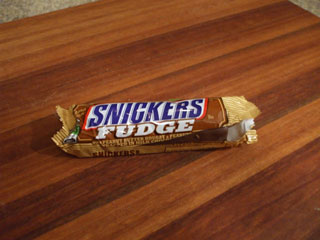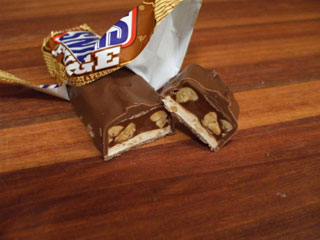 So, how's it taste?
Pretty much like a Snickers. It's no secret that Snickers is the #1 candy bar. It's hard to improve on a good thing. This fudge bar has fudge where the caramel is in a regular Snickers, but hey, I ain't complainin'. It's pretty darn good. I don't really get a fudge taste because there's so much going on with the nougat, peanuts, and milk chocolate. Go on, twist my arm, I'd eat another one!
Brace yourselves. I went against everything I've been taught and bought…wine in a box! What sparked this craziness you ask? Reading MSN one day, they resurrected an article from 2006 I believe, where they ask if good wine can come in a box. Find it here on Slate. It really got me to thinking. I like to have a glass of wine every now and then, but it's rare I'm in the mood to polish off an entire bottle by myself. And it only lasts so long after opening. So why not give wine in a box another try? Seems as if more quality winemakers are adding greener packaging. Don't worry, I didn't buy Franzia! (Although I did break down and drink it a few years ago at a Tennessee wedding…shocker, I know.)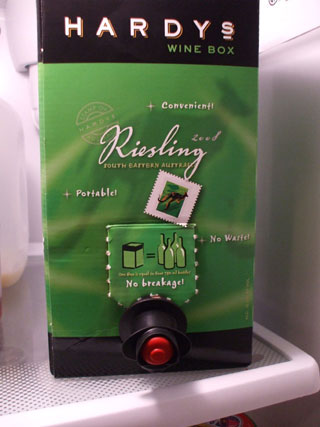 So, how's it taste?
My local liquor store didn't have any of the brands in the article, so I manned up and chose Hardy's Riesling. I was pleasantly surprised! It won't take the place of my beloved Chateau St. Michelle Riesling any time soon, but wine in a box has come a long way! This riesling is very crisp and has a super light flavor. It's not sweet, like most cheap rieslings can be. I'm not sure I would buy it again. It's A LOT of wine in one box and if I'm going to have some wine on hand, might as well be what I love. Maybe someday our favorite wines will follow suit with greener packaging as well!